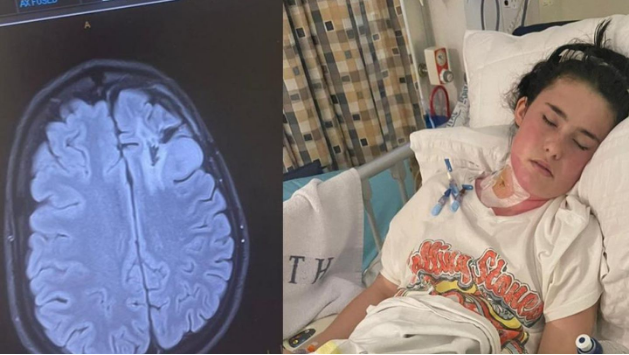 A teenage girl with an extremely rare brain tumour will have surgery tomorrow while fully awake so she can talk to the surgeon as he removes the growth.
Devonport teen Portia Swan is the youngest known patient in New Zealand to undergo awake craniotomy - a surgery that has only been performed on adults because of the calm maturity needed.
Immediately after the complex surgery, a sample of Portia's tumour will be put on ice and sent on the next flight to Australia for analysis. The specimen will be examined by the world-leading Zero 2 trial - a life-saving Australian child cancer programme.
The programme is called Zero because its founders say "that's how many children should die of cancer".
Specialists analyse the genomic sequencing in tumour samples and are able to provide precision treatments for each individual child. More than 70 per cent of children in the programme saw a shrinkage or stabilisation of their cancer.
"This week is huge for Portia and we are so grateful for both the surgery and then for it to be followed up with the Zero 2 programme," dad Matt Swan said.
"It is all very overwhelming but this will give Portia the very best shot - we know we have the very best people in our corner."
Tomorrow Auckland surgeon Dr Andrew Law will remove as much of the cancerous growth as possible. Portia, who has just turned 15, will be awake for the surgery so Dr Law knows he is not touching healthy and vital parts of her brain.
A speech and language therapist will be Portia's support person and will ask Portia questions as Dr Law operates.
"We met with the therapist last week so she knows Portia's favourite things and how she speaks so she knows if Portia is answering normally," Matt said.
"It is overwhelming but we know she is in the very best hands."
The four-to-five hour surgery does not hurt because there are no pain receptors in the brain but it can be uncomfortable and overwhelming and Portia will need to stay completely still.
Law, who also performed brain surgery on Rolling Stones rocker Keith Richards after a head injury from a fall in Fiji, said he will tell "dad jokes" during the surgery to keep Portia relaxed.
Portia's parents Matt and Penny Swan went to Melbourne last week to meet with Professor David Eisenstat from the Zero Programme at the Royal Children's Hospital in Melbourne.
"He asked us if we knew just how rare Portia's cancer was and in the 30 years he's been in cancer research he couldn't count the cases on one hand," Matt Swan said.
"He said the data they can get from the specimen is incredible and it would help their research as well as helping Portia."
The programme has been credited with curing cancer in numerous children and giving others more time with their families.
Portia's surgery comes a year after her initial heartbreaking diagnosis.
In September 2022 doctors discovered a 4.5 x 2.5 cm tumour in Portia's brain after seizures first indicated something was seriously wrong.
Tests revealed the mass was a grade 3 Astrocytoma - a fast-growing and aggressive tumour usually seen in adults.
The tumour was sitting on the part of the brain that controls speech and movement making removing it more difficult.
The past year had been a living nightmare for the family with Portia undergoing brain surgery that removed 80 per cent of the tumour and then nine rounds of oral chemotherapy to keep the remainder at bay.
The aggressive tumour is the type that grows back so Portia will need ongoing treatment.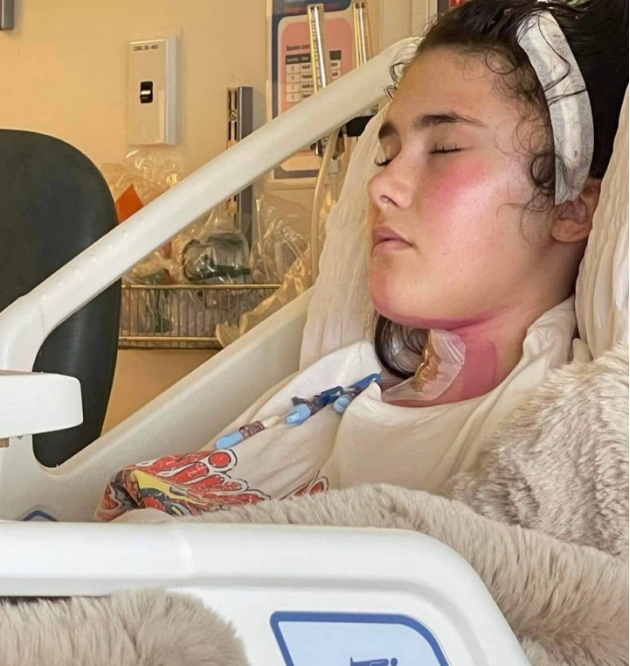 The Swan family said they are willing to relocate to Sydney or Melbourne for the trial if they need to.
"We've been told it is highly likely so that's what we are prepared to do," Matt said.
"We have never wanted to "wait and see" with this because we have to do all we can for Portia."
The family are fundraising to help pay for the costs of the trial including inhibitors and so mum Penny can afford time off work to care for Portia.
"We know there are going to be a lot of costs but we just have to do it," Matt said.
Fundraising drive for brain cancer teen
Top restaurateur and former MasterChef judge Michael Dearth had pulled together two luxury auctions on Trade Me hoping to raise tens of thousands for ongoing treatment and probable relocation costs to Australia.
Dearth was touched by Portia's story because he has children her age and wanted to help.
The owner of Italian restaurant Baduzzi has pulled together an exclusive package holiday he has called "The Italian tale of two cities" which includes a weekend of luxury spent in Melbourne and Auckland with return flights, luxury accommodation in both cities, Italian dining in both cities, breakfasts and limousine transfers in Auckland.
The winner of the Trade Me auction will fly to Melbourne with Qantas with a friend, dine out at top pasta bar Tipo 00, stay in a luxurious king room at the Park Hyatt, followed by breakfast at Radii.
Back in Auckland, the luxury continues with dinner or lunch at Baduzzi, a harbour view room at the Park Hyatt in Auckland and breakfast at Onemata. The reverse can also be redeemed if the winner of the auction is based in Australia.
In a separate auction, Dearth is also offering a luxury cruise on the Hauraki Gulf aboard the luxury 16m powercat The Savoy. The day on the harbour for 20 people includes Baduzzi's famous meatballs, pasta and tiramisu and drinks from Sipora de'Italia.
The boat comes equipped with all the toys needed for a fun day on the water and space to relax and lounge, dive, swim, wine and dine with two entertainment levels.
Greg Owen from Savoy Charters said the cruise would be an amazing experience for a group of friends or a company Christmas party.
Guests could go paddleboarding, sea-biscuiting, fishing, or just relax and keep an eye out for dolphins, seals and whales.
The auctions will help with much-needed funds for Portia's ongoing treatment.
The family also has a Givealittle page to help with ongoing medical costs.