Sir Bob Charles has been named the first patron of the Clearwater Golf Club.
Sir Bob and Lady Verity have been an integral part of the club since the 1990s when Bob first became involved with Clearwater working with the golf course's designer, John Darby.
Said Sir Bob: "To become Patron of the Clearwater Golf Club is an honour which I am most proud of, particularly, as I was part of the team which built the course some 20 years ago.
"The feature of the course is the clear water visible and in play on almost every hole. Clearwater is not just a stand-alone golf course, it is a residential community with a neighbourly environment which we are all proud of, welcoming golfers and non-golfers alike.
"Most good, successful, golf courses are a work in progress making it not only great for the present but better for the future.
"My vision is to see more planting of trees and shrubs, mainly natives, on the perimeter of fairways, tees and waterways to enhance the panoramic views.
"Also, my immediate wish, is to have more sets of tees to accommodate tee shots of 100-150 yards.  I am confident Clearwater has a good future but with investment has the potential for a great future."
Sir Bob is New Zealand's greatest golfer coming to prominence in 1954 when, at the age of 18 and still an amateur, he won the New Zealand Open, beating the then Open Championship titleholder, Peter Thomson.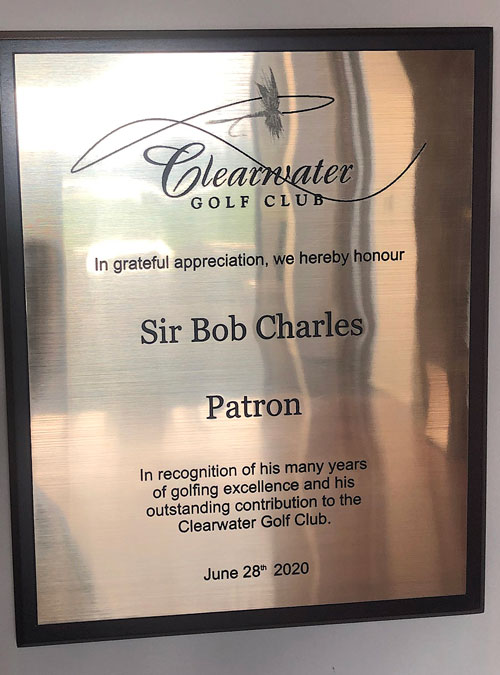 Turning professional in 1960, Sir Bob won several times on the European Tour before notching his first win on the PGA tour with victory in the Houston Open in 1963. It was followed later that year with his 36-hole playoff triumph over Phil Rodgers to win the Open Championships at Royal Lytham and St Anne's, the first left-hander to win a major.
In total Sir Bob has won 80 times around the globe, including runner-up in the 1968 and 1969 Open Championship, tied for second in the PGA Championship (1968), third in the US Open (1964) and tied for third (1970) as well as winning the 1969 Piccadilly World Match Play.
He has won five National Opens, including the British Open, Canadian Open, South African Open, Swiss Open (twice) and, of course, the New Zealand Open (four times) and three New Zealand PGA Championships.
In 1993, 30 years after his Open victory, he won the Senior British Open while in 2007 he became the oldest player to make the cut in a European Tour event at the New Zealand Open, at the age of 71.
A spokesperson for Clearwater said the club is both honoured and fortunate to have, not only a major winner, but one who is still enthusiastically involved with the day-to-day performance of our golf course through his involvement with the Golf Committee.