When the Mainland Premier League starts this weekend former New Zealand international defender Kelly Almond-Jarden will become the first ever woman head coach in the competition.
Almond-Jarden, 46, will coach Western AFC's first-team when they begin their MPL campaign against Coastal Spirit on Saturday.
She is also believed to be the first female to hold a head coach role at a premier club throughout any of the federations in New Zealand.
After returning to Christchurch last year from 10 years of living and coaching in Perth, Almond-Jarden admits she was shocked when asked if she would be interested in coaching the club's MPL side.
Western were left searching for a new coach after Robbie Stanton departed to take the assistant coach role at Christchurch United under Danny Halligan.
Coming into the role Almond-Jarden's biggest concerns were around being able to earn the respect of her players.
Although the club's first-team has experienced the exodus of more than half a dozen of the key players who helped the side to a fourth placed finish in last year's league, she says those who have chosen to remain at the club are buying in.
"That was my biggest concern. Are the guys going to respect me and are they going to leave the club because they've got a woman coach," Almond-Jarden said.
"I'm sure that's not the reason, but the ones that have stuck at the club, they don't have a problem. They just want to play football and be competitive. I'm really passionate about coaching them because they're excited to play and they're buying into what I want to do in terms of how we want to set up as a structure."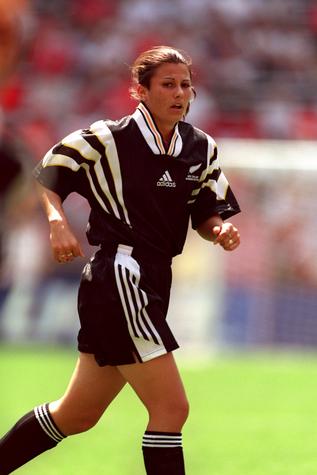 Almond-Jarden earned 13 caps for New Zealand between 1997 and 2003.
She was then a player coach for Western's premier women's team for three seasons in the late 2000s.
The side won the Mainland league and also became the first South Island club to make the final of the Kate Sheppard Cup in 2008.
Almond-Jarden acknowledges that she could be seen as a pioneer for other top woman coaches coaching at a high level in the men's game in New Zealand.
However, her ambitions are purely to help Western achieve the best possible result this year.
"I don't want to be known as the first woman to coach. I just want to be known as a good coach," Almond-Jarden said.
In pre-season Western had wins over FC Twenty 3-1, FC Twenty reserves 6-1, and a 0-4 loss to Nomads.
"Against Nomads we went out and tried to play the gameplan they played last year, and we just don't have the personnel to do that, so we have to change our tact this year on how we come at teams because we're definitely not the same team. We don't have the player capability to play the high press game that Robbie Stanton played last year."
After the loss of some of their key players, many have Western tipped to be a club battling to avoid relegation this season. Almond-Jarden admits it's going to be a tough season, but is confident the team has enough about them to stay in the league.
"That will be our first goal – to stay in the MPL. We want to be competitive and I think the boys have a lot of belief that we're still competitive. They're motivated and there is a core group that have stuck together . . . so we won't be going down without a fight.
Defending champions Cashmere Technical are once again expected to be favourites.
Many eyes will be on whether newly-promoted and talent-rich Christchurch United can become title contenders.
MPL round one fixtures: Coastal Spirit v Western 12.30pm, Linfield Park; Nelson Suburbs v Ferrymead Bays 1.30pm, Saxton Field; Selwyn United v Cashmere Technical 2.45pm, Foster Park; Christchurch United v Nomads United 2.45pm, Christchurch Football Centre.