On Saturday, Canterbury have a shot of winning their third straight Farah Palmer Cup title. The Star continues its Canterbury sporting legends series by taking a look back at a try-scoring machine from the late 1980s and early 1990s, who also represented the province in netball. Sports reporter Gordon Findlater caught up with Helen Mahon-Stroud.
When Helen Mahon-Stroud began playing rugby in the late 1980s the sport was in a far different position than today.
The former New Zealand winger got introduced to the sport somewhat by chance when Canterbury netball teammate and Black Ferns legend Anna Richards was on the hunt for a ringer.
"I think it was after a Canterbury netball training one Sunday morning. Anna [Richards] said she was off to play rugby and that they were short on players and did I want to go along, so I ended up going from
Hagley netball courts across to South Hagley rugby fields and putting on someone's spare boots which were about two sizes too big . . . I played on the wing, scored a couple of tries and that was it," said Mahon-Stroud.
"I ended up going home and saying to my father: 'Wow I've just played a game of rugby,' to which he replied in the very traditional sense: 'Girls don't play rugby,' and that was the beginning of a rugby career."
Her early rugby days were spent playing for the Crusadettes – a Canterbury University team put together by Laurie O'Reilly who converted many netballers to the game.
"Kay O'Reilly was the matriarch of the Hearts club. Her husband Laurie used to come down to netball and was running a bit of a talent ID and recruitment programme. He used to come down and spot all the tall netballers and say: 'You'll be a lock,' or: 'You're quick, you'll play on the wing."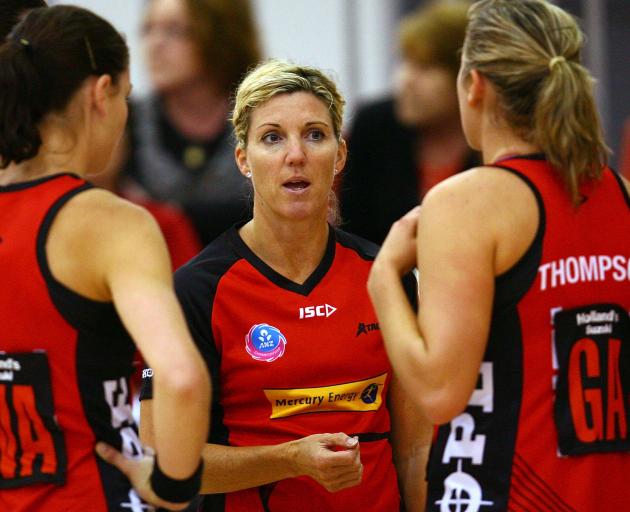 The Crusadettes broke new ground when they toured the United States and Europe in 1988 which saw them play in six different countries. The team won 17 from 21 matches abroad and racked up a staggering 520 points with only 67 conceded.
"We were sleeping on floors of clubrooms. In Wales we slept on the floor at a pub . . . I look back at it now and you just think how crazy it was, but what it did for us in terms of us for our passion of the game was incredible," said Mahon-Stroud.
The side were a milestone for both Canterbury Women's Rugby and New Zealand Rugby as 10 members played for the country's first women's team at the first ever Women's Rugby World Cup in 1991 in Wales.
Mahon-Stroud created a bit of world rugby history herself by scoring the tournament's first try in a 24-8 win over Canada. New Zealand went onto be defeated by eventual winners United States 0-7.
However, her fondest memory with rugby came just last year when she was one of 46 Black Ferns acknowledged at a capping ceremony at Eden Park which was held as a 20th-anniversary celebration of the Black Ferns first World Cup title in 1998.
"A number of the former and current players performed a haka at the back of the room as we were presented with our caps. That was hugely emotional, it really hit home the culture and the value these women placed on the importance of that first team," she said.
Mahon-Stroud played both rugby and netball for Canterbury through the late 1980s and early 1990s. One year she says she even played both codes at both club and provincial levels at the same time which was manageable due to netball being played on Saturday and rugby on Sunday.
In 1993 Mahon-Stroud finished playing rugby due to commitments with netball and beginning full-time work as a police officer. However, she continued playing national league netball through to 1998 before the birth of her first child Ben.
Following her playing career Mahon-Stroud began a coaching career which started with humble beginnings as a player-coach with Heart's B team and finished with her coaching the Tactix in the trans-tasman competition between 2008 and 2011.
In 2008 and 2009 the Tactix finished a respectable eighth and sixth in the 10-team competition, but finished last in 2010 and 2011.
"It was a pretty challenging four years. Huge learning experience, but with it I was given a big opportunity. It was a new competition and the beginning of semi-professionalism. The insights that I got from that and the learnings was pretty huge," said Mahon-Stroud.
Mahon-Stroud also spent three-and-a-half years with New Zealand Cricket as the White Ferns' high performance manager before returning to the police where she now works as an investigator.
"After 23 years it's what I know, what I'm good at and what I enjoy. Being back working for the police is really nice, it's like coming back home," she said.
"One of the things that attracted me to working for the police in the first place was that it is a very big team environment. You work with people, you workfor people and in sport that's no different."
While working full-time in sport has been put on the back-burner for now she says she will "never say never" to another high performance role.