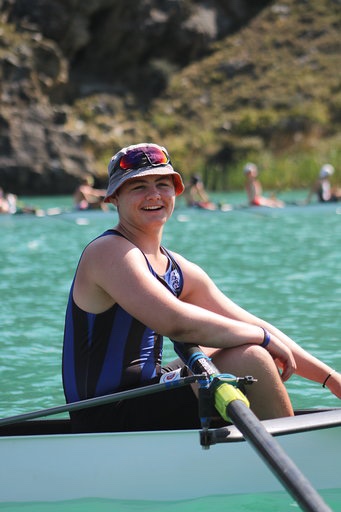 Six months ago, up and coming Christchurch rower Ed Lopas' promising career looked potentially sunk.
The 16-year-old was diagnosed with Hodgkin's lymphoma, a form of blood cancer, in July last year. The diagnosis came as a shock.
"I just thought I was a little sick," Ed said.
"I wasn't expecting it to be as serious as it was."
After five months of successful chemotherapy, Ed was cleared to start physical activity again and late last week he joined his Christchurch Boys' High School teammates at a rowing camp on Lake Hayes in Central Otago
to prepare for a busy season ahead.
His big goal is to represent his school at the national Maadi Cup regatta at Lake Ruataniwha in Twizel in March.
"I'd lost a lot of muscle over that time but to be this close to racing is a great feeling."
The rowing team will try to break a world record in Ed's name early next month to show their support.
The 63-strong squad will try to beat the record for a continuous erg, more commonly known as an indoor rowing machine, by boys aged under-19.
The world record attempt, named Rowing with Ed, will start on February 5 at CBHS from 3pm and will go through to the weekend.
The current record stands at 96 hours, and the team hopes to make it to more than 140, with each member of the squad rowing for an average of two hours.
The team aims to raise at least $5000 for Leukaemia and Blood Cancer New Zealand.
"It means a lot for everyone to show their support for me like this," Ed said.
"I just wanted to get back into sport - that's what kept me going."
Team manager Ricardo De Sousa said it was a good way for the team to bond and give to a cause which has affected them.
"It's a way for us to bond as a squad - but also show our support for Ed and what he has been going through."
Ed will take part in the world record attempt during a school assembly, where he will be cheered on by 1300 fellow CBHS students.
De Sousa said the squad is up for the challenge.
"I think all the boys want to be heroes at this point," he said.
"They don't care what shift they have to do even if it is in the middle of the night.
"We know it will be a challenge to keep going for such a long time, but we also know it's nothing compared to what Ed has been going through."