An Irish pub will take up residence in one of Christchurch's smallest heritage buildings - Shand's Emporium.
Inkster Company, the owner of OGB, The Parlour and Austin Club, has signed a lease with the Christchurch Heritage Trust to refurbish Shand's Emporium and the Trinity Congregational Church, on Manchester St near the corner with Worcester St. The new pub will be called Paddy McNaughton's.
"Upstairs in Shand's will be Grimstone Treacle Emporium, and downstairs will be the very tiny Paddy McNaughton's Irish Pub," said Inkster Company owner Nick Inkster. 
The former Trinity Congregational Church, designed by Benjamin Woolfield Mountfort and opened in 1875, is the oldest masonry structure in the central city. Shand's was built in 1860 by Liverpool merchant John Shand and is the last surviving colonial commercial building in Christchurch's central business district.
Both buildings are listed as Category 1 heritage sites.
Trinity Church and Shand's Emporium were weeks away from demolition when the Christchurch Heritage Trust purchased them in 2013 and 2015, respectively.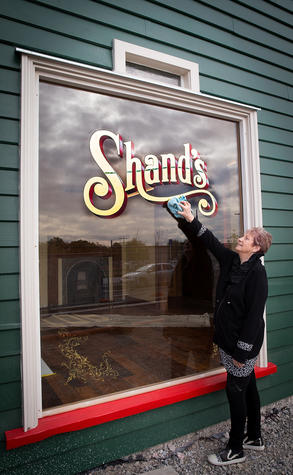 Shand's Emporium, which was purchased for $1, was relocated from Hereford St to its current site in 2015.
"The two buildings are a tribute to their strong and indomitable character and a reminder to us of their roles as a portal to the past," said trust chairwoman Dame Anna Crighton.
A community loan of $1.2 million from Christchurch City Council helped finish the restoration.
"Before this loan, we were in a conundrum," said Crighton.
"We were unable to get a tenant without the restoration finished, but didn't have the funds to finish the job.
"We are honoured with the confidence the council has placed in the trust and operator to deliver an exceptional outcome for the city.
"It shows locals and visitors the pride our city has in its history, and how important it is to see our heritage adding to the vibrancy of the city while being commercially sustainable."
Trustee James Stringer said it has been working with Inkster for more than a year to develop his vision.
"This new offering will be a place that celebrates these remarkable structures, provides a glimpse of the original craftsmanship this city was built on and will ensure we can continue to enjoy these iconic buildings well into the future," Stringer said.
Said Mayor Lianne Dalziel: "When we invest in heritage on behalf of the city, we know that it is the future use which is often the most challenging aspect of making the funding work. I love these buildings and have many happy memories of both.
"I am absolutely thrilled. As a city we have seen a high level of support for heritage, particularly in the wake of all that we have lost and I know this news will be very well received," Dalziel said.
Paddy McNaughton's is named after Inkster's two business partners Andrew and Richard Norton's great, great, great, great, grandfather Patrick, who was caught stealing an orange in Ireland and sent to Australia on a prison ship in 1810. In 1830 he escaped on a ship to New Zealand.
"It will be an intimate old school pub, with timber floors, antiques and beer on tap," said Inkster, who will take over possession of the buildings on August 1.
He hopes to have Paddy McNaughton's open by October at the latest.