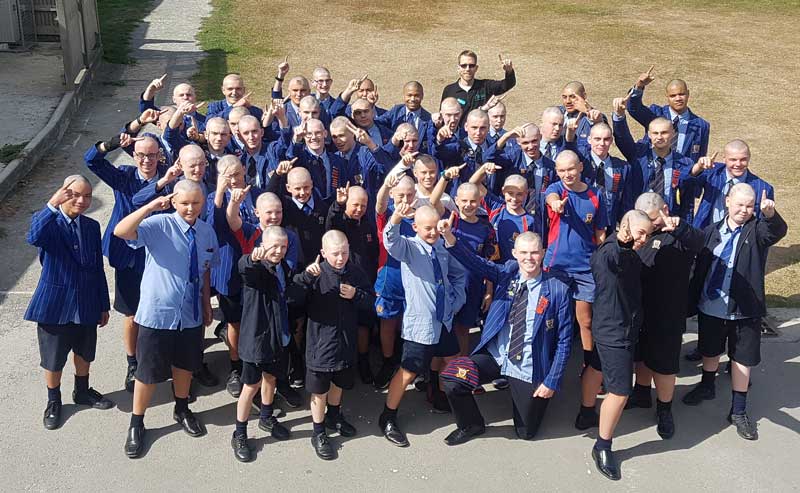 Born with a full head of hair, Daniel Fogarty has never been bald in his whole life.
But in spite of the upcoming winter, that did not stop him from cutting off 18 inches of his hair and shaving his head to support Shave for a Cure last week.
Daniel was one of 50 students along with a teacher from St Thomas of Canterbury College to have helped fundraise more than $28,000 to support the organisation - raising the most money out of any school, individual, business or community organisation in the country.
Shave for a Cure is a fundraising initiative raising money for Leukaemia and Blood Cancer New Zealand (LBC) by shaving their hair.
Individually, Daniel fundraised $2670.
He said it was important for him to donate his hair to support those living with cancer, along with remembering those who have lost their lives to the disease.
Like many Kiwi families, the 17-year-old knows what it feels like to lose a family member to cancer.
Eighteen months ago, Daniel's grandfather was diagnosed with lung cancer before passing away over Queen's Birthday weekend in June.
While he described his grandfather as a "very proud Southlander" which often led to friendly rivalry when the Highlanders played the Crusaders, the two shared the same love for horse-racing.
Daniel said his grandfather was "light-hearted", didn't take himself too seriously and was a great Kiwi.
Motivated by his grandfather to take part in the fundraiser, he said it was a "humbling feeling" to know his school had helped raise the most out of any school in the country.
Daniel hoped shaving his hair would help find more effective treatments to save lives and make sure people with cancer get the support they need to get through.
The school's director of religious studies and teacher in charge Stephen Kennedy, who also took part in the fundraiser, said the cause is one way of teaching the students to live their faith, and have the courage and compassion to help other people.
He said the students are looking at hope and positivity during the difficult time of Covid-19 and allowed them to achieve something meaningful during a difficult time.
This year, the process of cutting the student's hair took a lot longer with only two hairdressers from Rangiora hair and beauty salon Hi Gorgeous helping out and ten students allowed in the school hall at a time.
St Thomas was not the only school to raise a large amount of money and land itself on the Shave for a Cure's school leaderboard with Villa Maria College raising more than $7000 -placing third nationwide.