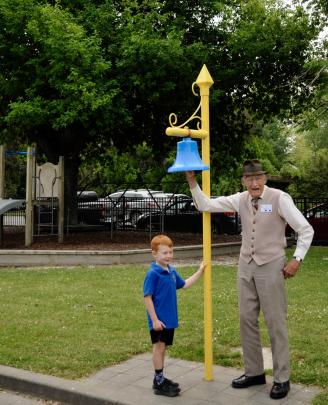 A flowering cherry tree has been planted in the grounds of Loburn School to mark the school's 150th anniversary.
The celebrations, which also incorporated Okuku School, began at the school with the annual pet parade. Devonshire teas were provided throughout the day by the Loburn Women's Institute and the school's jubilee committee members.
Registrations for the event took place, with a gathering to allow former pupils from both schools the chance to catch up.
Okuku School celebrated its centenary in 1986, but closed in 1987, and the pupils moved to Loburn School.
Because of this, it was decided to include Okuku School in celebrations.
Loburn School principal Stuart Priddy said the weekend was about nostalgia.
''Occasionally we are permitted the luxury of looking back.''
The programme included a waiata by the Loburn School kapa haka group, and the cutting of the celebration cake which was made by teacher Katie Steele and her sister, Susie Lowe.
The cake was cut by Des Terry, 89, the oldest former Loburn School student attending the celebrations, and Tyler Goddard, 5, the school's youngest pupil.
Later in the day, Bill Ensor, a former pupil of Okuku School, rang the bell on behalf of all the pupils and families of Okuku School and after that Des and Tyler rang the Loburn School bell to end the formal afternoon ceremony.
After the cherry tree was also planted, the celebrations continued with official speeches, a buffet dinner and local band Who Da Funk, which featured Loburn School pupil Shae Jackson, 11, on the drums.