By Gavin Searle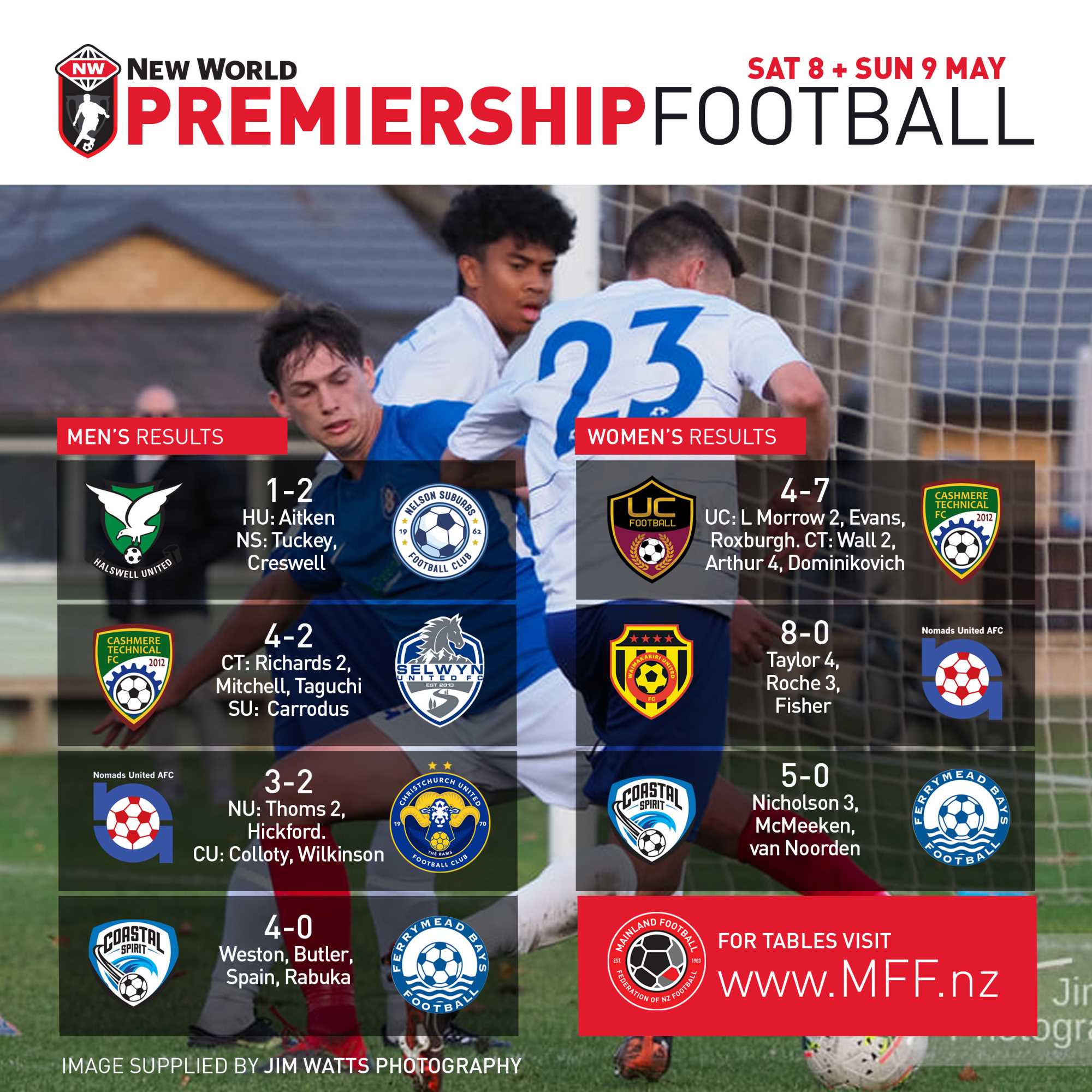 A three-point gap has opened up between fifth and sixth place of the New World Men's Premiership, with both Cashmere Technical and Nomads producing vital come from behind wins in round 8.
Cashmere Technical looked to be heading for their first league defeat on 42 games when trailing Selwyn 0 - 2 with 15 to play, but in a storming finish, won 4 - 2. Nomads looked to be out of the game after Christchurch United dominated the opening half but only lead 2 - 1, with Nomads scoring twice after the break to claim a 3 - 2 win. Nelson Suburbs edged Halswell 2 - 1, and on Sunday, Coastal Spirit defeated Ferrymead Bays 4 - 0. With six games to play, Technical move to 22 points, Coastal have 19, with United remaining on 14. Suburbs and Nomads move to 13 and 12, respectively, to round out the all-important top five. Bays stay on 9, Selwyn has 4 with Halswell still points-less.
Two Jamie Carrodus goals, the first right on half time and the second in the 75th, looked to have Tech on the ropes, but as expected, the seven-time champions lifted. Jacob Richards finally forced the ball home with eight minutes to play and was followed three minutes later by Cory Mitchell, having his first runout of the season, having come in the game off the bench just minutes earlier. Tech continued to push forward, with Richards adding his second with three minutes of normal time to play. Yuya Taguchi then scored the final goal deep into added time to complete the dramatic turnaround and retain the Hurley Shield.
It was a game of 'two halves' at Tulett Park with poor defending from Nomads allowing Benji Lapslie to cross the ball unchallenged after just three minutes with Oliver Colloty on hand to tap the ball home. United keeper Eddie Ashton then produced a good save to deny Guy Reeves but couldn't stop Daniel Thoms from drawing Nomads level with a good finish after nine minutes. United then dominated the chances and regained the lead when Eddie Wilkinson was allowed to run into the area and along the goal line before scoring from a tight angle with the ball going in off the far post. The half finished with Seth Simpson having two great chances to increase United's lead. One cleared on the line, and the missed chances proving to be a turning point. Nomads defence lifted after the break, and the side levelled when Declan Hickford finished well in the 53rd minute. Thoms then scored what turned out to be the winning goal on the hour mark.
A solid start to the second half took the game away from Bays after Coastal took an early lead when Blake Western scored in the opening minutes. Bays finished the opening half strongly, with both Will Pierce and Zac Gordon going close. Treye Butler doubled Coastal's lead minutes after play resumed, with Jordan Spain adding a third in the 54th before Mika Rabuka finished well to complete the scoring. Bays tried hard to get on to the scoresheet but to no avail.
It was a game of missed chances for both sides early on between Halswell and Suburbs, with Andy Tuckey finally breaking the deadlock when firing home a rebound on the half-hour. Suburbs went close several times before the break. Josh Creswell finally gave Suburbs a deserved two-goal buffer after a great ball in by Ben Polak. Tuckey and Hamish Cardigan both went close for Suburbs, with Halswell's Albert Aitkens scoring a late consolation for the Hawks in added time.
The leagues take a break next weekend due to the next round of the Chatham Cup.
New World Men's Premiership
Cashmere Technical 4 (Jacob Richards 2, Cory Mitchell, Yuya Taguchi) Selwyn 2 (Jamie Carrodus) HT 0 - 1.
Coastal Spirit 4 (Blake Weston, Treye Butler, Jordan Spain, Mika Rabuka) Ferrymead Bays HT 1 - 0.
Halswell 1 (Albert Aitken) Nelson Suburbs 2 (Andy Tuckey, Josh Creswell) HT 0 - 1.
Nomads 3 (Daniel Thoms 2, Declan Hickford) Christchurch United 2 (Oliver Colloty, Eddie Wilkinson) HT 1 - 2.
First full round of women's league completed
The first full round of the New World Women's Premiership was completed on Saturday with Coastal Spirit SAS defeating Ferrymead Bays 5 - 0. Waimak were 8 - 0 winners over Nomads, with Cashmere Technical coming out on top of Universities in the unusual scoreline of 7 - 4. After five games, Coastal SAS have a maximum of 15 points, three ahead of Technical. Universities and Waimak are both on 7, Bays have 3, with Nomads still points-less.
Last season's Golden Boot Holder, Britney-Lee Nicholson, scored a first-half hat-trick after teammate Zoe McMeeken opened the scoring for Coastal SAS after 15 minutes. To Bays credit, they almost kept the defending champion's scoreless after the break, with the final goal coming in the last minute of normal time when substitute Bel Van Noorden found the back of the net. The result also means the Hawkey Shield will not be on the move.
Three early goals, a double to Jonelle Arthur and one to Nicola Dominikovich, saw Technical set the early pace. Arthur then scored twice more before the break, sandwiched between one from Lara Wall. Universities pulled a goal back just before halftime through Frankie Morrow. Morrow added a second early in the second half, with Grace Evans and Erin Roxborough adding goals for the students to reduce the margin before Wall added Tech's final goal.
Waimak made went back-to-back when securing their biggest win of the season over Nomads. Lucretia Taylor bagged half of the goals, with Charlotte Roche scoring a hat-trick and Lily Fisher claiming the other goal.
New World Women's Premiership
Coastal Spirit SAS 5 (Britney-Lee Nicholson 3, Zoe McMeeken, Bel van Noorden) Ferrymead Bays 0 HT 4 - 0.
Universities 4 (Frankie Morrow 2, Erin Roxburgh, Grace Evans) Cashmere Technical 7 (Jonelle Arthur 4, Lara Wall 2, Nicola Dominikovich) HT 1 - 6.
Waimak 8 (Lucretia Taylor 4, Charlotte Roche 3, Lily Fisher) Nomads 0 HT 5 - 0.
Top three win in championship
The top four sides, Waimak, Western, Burwood and FC Twenty11, all secured wins in the latest round of the New World Championship, with a three-point gap now opening up between 3rd and 4th place.
Waimak produced a solid finish to the second half against St Albans Shirley, to win 4 - 1 after leading 1 - 0 at the break. In the final ten minutes, a double from Danny Loney saw Waimak collect their seventh straight win on the bounce. Western was back on winning form when edging Universities 2 - 1, for the second time this season, with the sides locked at 1 - all at the break. Western regained the lead when Omar Cameron scored minutes into the second half. Burwood made it three wins in a row when they defeated neighbours Parklands 4 - 0, with the goals split evenly on either side of the break. FC secured their first win in three games when overcoming Mid Canterbury 2 - 0.
Waimak has 21 points, Western 18 with Burwood now on 12. FC jump up two spots on the table to sit in fourth place on 9, Parklands are also on 9, Universities and SAS both have 6 with Mid Canterbury at the foot of the table on 3.  
New World Men's Championship
Burwood 4 Parklands 0 HT 2 - 0.
Mid Canterbury 0 FC Twenty11 2 HT 0 - 2.
St Albans Shirley 1 Waimak 4 HT 0 - 1.
Western 2 Universities 1 HT 1 - 1.