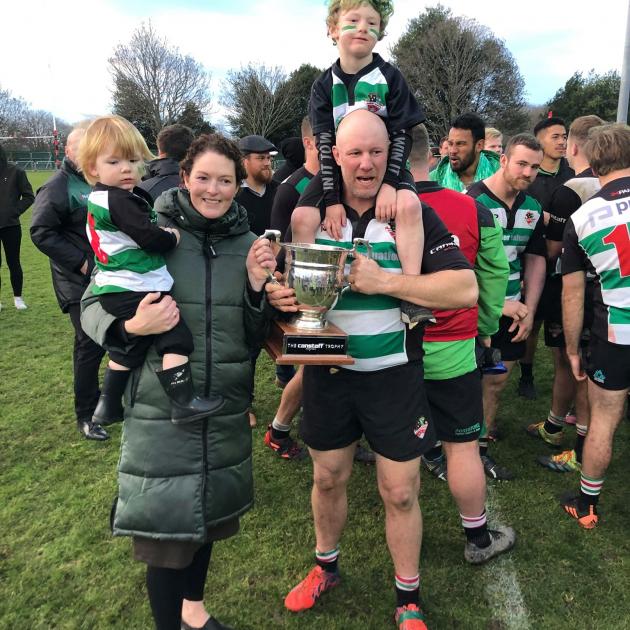 Rowan O'Gorman can create history by playing premier rugby for his beloved Marist Albion this weekend, yet non-selection against Christchurch can be tempered by an off-field success.
While the veteran hooker would relish the opportunity to finally eclipse Tala Kele's club record 330 appearances, his wife Jennifer's ongoing battle with breast cancer puts that achievement into perspective.
She was diagnosed in 2020 is due to undergo her latest round of treatment soon.
So O'Gorman is just as keen for Saturday night's Marist Albion Pink Ribbon Charity Ball to reach its goal by raising funds for two organisations that have supported for his the mother-of-two, Breast Cancer Foundation NZ and the Pinc & Steel cancer rehabilitation foundation.
"I'm pretty excited we've managed to get that off the ground. It's great to provide support to two great organisations and the meaningful work they do," he said.
O'Gorman, who made his senior debut in 2000, played off the bench in last season's triumphant final with Burnside but until last Saturday's clash with Shirley he was confined to division two duties.
The 40-year-old was philosophical after missing the first eight rounds of the title defence after new coaches Tom Wallace and Ian Robertson opted to start him in the premier reserve team.
"There's a bit of competition at hooker this year, there's five including me," he said, happy to finally get a crack as Trent Lawn's deputy.
He made the most of the opportunity, hitting his jumper and scoring off a lineout drive with five minutes to go to seal a 42-34 victory at Burwood Park.
O'Gorman, who also coaches the club's under-8s side, was proud to have finally match mentor Kele, a former Canterbury prop who played 62 games from the province between 1986-95.
"I can remember my first training (at South Hagley Park). I walked through the door and Tala told me to sit beside him. I still sit in the same spot every training," he said.
Auction items include a signed 2022 Crusaders jersey, Pink Marist Albion jerseys worn against Christchurch, a Fijian training kit signed by former Crusaders winger Manasa Mataele and an hour with All Blacks manager and mental skills coach Gilbert Enoka.
Details on tickets for the charity ball can be found here.