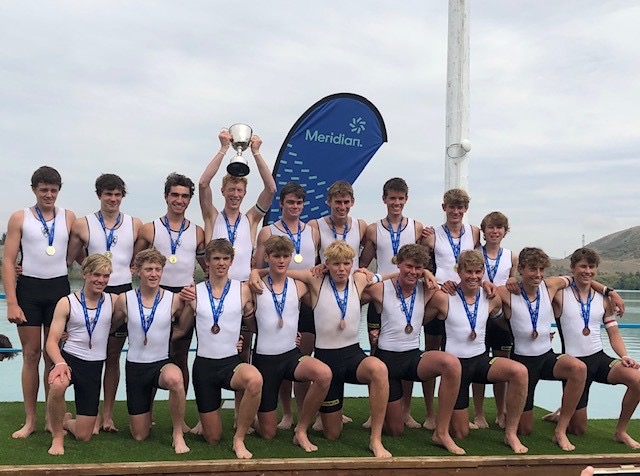 Canterbury schools have brought home a swag of medals from the South Island Rowing Championships.
The event, held on Lake Ruataniwha near Twizel, is usually a prelude to the national Maadi Cup, but is likely to be the pinnacle of the season after all secondary school sports events were cancelled this week to prevent the spread of Covid-19.
At the champs, which finished on Sunday, Christ's College finished with nine medals, including four golds. The school finished first and third in the under-18 eight final. The eight of Archie Batchelor, Thomas McEwan, Tom Tothill, Johnny Lee, Liam Alexander, Guy Chaffey, Dominic Edmond, Louie Bethell and coxswain Henry Mossman beat Christchurch Boys' High School by more than a second with the Christ's College's second eight crew in third.
Christ's had a strong regatta in the eights, also claiming the under-17 title and the under-15 octuple sculls title.
CBHS earned 11 medals, including five gold. The school's under-18 rower, Scott Shackleton, won three gold medals in the singles, pair and coxed quad.
Christchurch Girls' High school won three gold, two silver and two bronze medals. The school won the under-17 eight final which is a positive sign for next year,
Marian College earned a silver medal in the under-18 coxed quad.
Rangi Ruru Girls' School earned 13 medals, including four gold.
Rangi won and finished second in the under-18 novice eight final, with the two crews split by less than two seconds.
Two novice crews bagged gold medals for Cashmere High School with the under-18 novice eight and under-18 novice coxed four both winning their finals.
Shirley Boys' High School earned two silver medals and three bronze.
St Bede's College got four medals, including three golds.
St Margaret's College won two golds among their eight-medal haul.
St Thomas of Canterbury College brought home a gold and silver medal. Their gold was won in the under-18 novice double by Angus Lucas and Johnny McArdle.
Villa Maria College earned two bronze medals.
Avonside Girls' High School took out bronze in the under-16 coxed quad finals.
Burnside High School made six A finals with a best finish of fourth.
Rangiora High School made five A finals.