A Canterbury-based charity that has supplied hundreds of emergency baby supplies for vulnerable families needs a new home - and it will take a village to get there.
It Takes a Village Canterbury currently operates out of the garages of two volunteers, but it's no longer safe or realistic to do so, given they live more than 30 minutes apart.
Keeping up with increasing demand – while clambering over towers of donated clothing, toys, feeding and bathing items, nappies, linen and high chairs – produced issues only a dedicated, permanent facility could fix.
"It's getting to the point now where it's becoming unsafe. We both have families, and the kids climb all over this stuff in the garage," said Jess Roberts, who is in charge of the toddler bundles.
"We need a proper place where people can donate items to, where we can store, pack and distribute bundles."
The charity donates free baby and toddler bundles to families who may not be able to afford basic items for their children.
It sources the items from others through a number of pay-it-forward Facebook groups started by the charity in 2016.
When the groups collectively grew to more than 10,000 members, It Takes A Village Canterbury was established in 2017 as a way to share resources to where they were most needed.
Now consisting of more than 20,000 members who regularly pay it forward, the small team of volunteers is struggling to keep up with the mammoth task of sorting through donations.
Donations were currently being sorted and stored at the homes of bundle managers, Roberts and Danielle Petterd, who have to travel back and forth from Kaiapoi and Southshore.
But as the amount of donations continues to grow, so does the demand for the families receiving them.
Since 2019, the charity has put together about 200 bundles a year on average.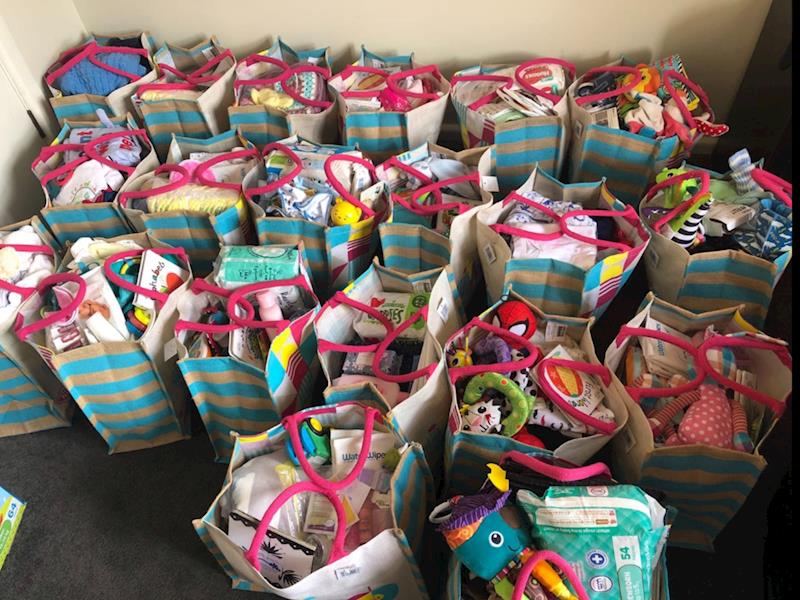 In the wake of Covid-19, demand has increased significantly over the last 12 months.
"It's just getting bigger because more and more people need help, especially because of Covid-19," Roberts said.
"We've already made 70 [bundles] this year, but by the end of the year, I think it'll be 700.
"We do this in our spare time, and this is taking over our spare time now. It's very clearly become full-time, but I can't make 27 bundles a month, work full-time and be a mum."
Needing a permanent facility did not mean the charity wanted to build a new one from scratch.
In line with its ethos on sustainability, where it prevents thousands of items from making their way to landfill, an existing building was all that was needed, like an old doctor's office.
More than $27,000 was needed through its Givealittle fundraiser to go towards rent, operational costs, and the ability to hold workshops.
Said Roberts: "Part of our ethos is sustainability, and there are enough empty places in Christchurch. If we had a dedicated space, then we could look at the option of a delivery service as a lot of people don't drive.
"We're also looking for some space available to run classes to help these families, like how to reduce your food bill and still enjoy it – where you can help yourself, but you need someone to show you how."
Donate to the cause here.