A 15-year-old plans to educate people on the importance of recycling through his skateboard business.
Neith Absalom has found a way to reuse plastic bottle tops by melting them down to make skateboard decks.
Neith is a student at special character school, Ao Tawhiti, in central Christchurch and got the idea to make skateboards during a self-directed learning session.
Neith decided he wanted to take up rowing, but needed funds to cover the cost of the sport, inspiring him to start a business that worked towards eco-friendliness at the same time.
After some research, Neith learned that number two plastics (high-density polyethylene), used in plastic bottle tops, often isn't recycled.
"It's really easy to melt safely," he said.
"I had a thing with skateboards because I really love skateboarding so it turned into art pieces and skateboards.
"The current crisis that we're in now is people kind of saying it's going to be alright and really it's not, and my whole thing is to open people's eyes up to the stuff that we're not recycling which is quite easily recycled."
Neith uses just over 1000 bottle tops to make a board, shredding the plastic before melting it down at 120-150 deg C in a metal frame using a "bake oven".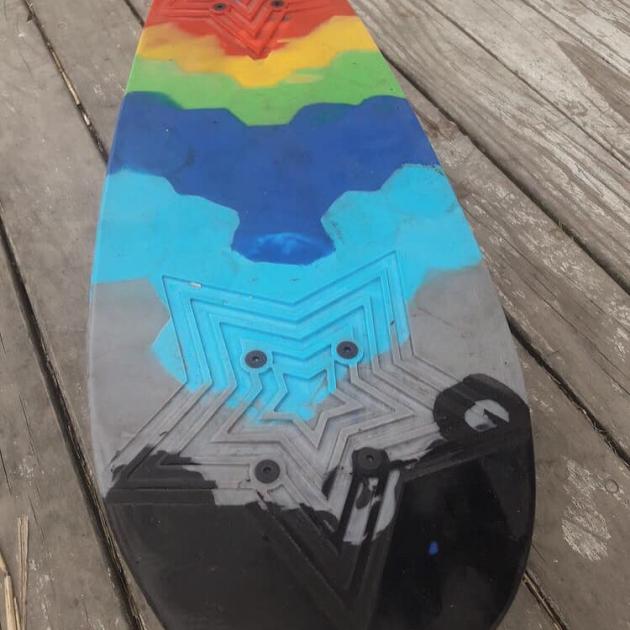 Neith made his first board last year with an old heat plate he found on Trade Me. He used a wooden frame, but this burnt so he switched to a metal frame that his friend Monty shaped for him in their school's tech room.
Now he uses what he calls a bake oven, but said it's really just an old barbecue.
It takes about one and a half to two hours to fully melt the bottle tops down, applying pressure with a non-stick sheet.
Neith then takes the board to the school's tech room to smooth out the edges and put holes in it where the wheels would be attached.
A problem Neith ran into during the process was the lack of grip on the board, which didn't matter if the board was put on display as art, like the ones he has in his school's cafe and New Brighton's Pier People art gallery.
However, if they were being used practically, they needed to have more grip on the surface, so his mother Natalie suggested getting old coffee sacks that cafes throw away and pressing them into the board.
This would not only create a cool pattern but gives the surface of the board a much better grip, Neith said.
He said his mother has often chipped in to help with his business and is very supportive of him as is his learning adviser (teacher) Ian Hayes.
"He's real good to me and helping me get on the right track and believes that I can do it and nothing's going to get in my way," Neith said.
Now that Neith has figured out the right process to making the boards, he plans to start selling them and working on getting his brand out there.
He sells the boards for $120 each and said the money he makes will go straight back into the business for now before he can start making a profit.
When asked if he was going to take up rowing soon, he said he wasn't sure anymore.
"I've kind of made this really good eco business that I kind of maybe want to carry on forever," he laughed.
When people ask Neith if the boards are strong enough, he says they seem to be stronger than the wooden ones you get from places like The Warehouse.
"As long as you know how to put a skateboard together then you're sweet," he said.
Neith, who lives in Greta Valley, sources the bottle tops from cafes around the city and a retirement village in Amberley, as well as from the Halswell Community Hub.
He's even received a load of bottle tops from someone in Waikato who had come across his Facebook page, which he said was pretty cool.
When he leaves school, Neith wants to be a chiropractor or physiotherapist, as he likes helping people but doesn't like blood.
He has future plans to make longboard decks and include wheels on them as a step up from the smaller boards he's making without wheels.
He said he doesn't mind what people do with the skateboards, whether they use them practically or hang them up on display.
"That's cool with me as long as it's loved, as long as it's not thrown back into the rubbish I'm happy," he said.