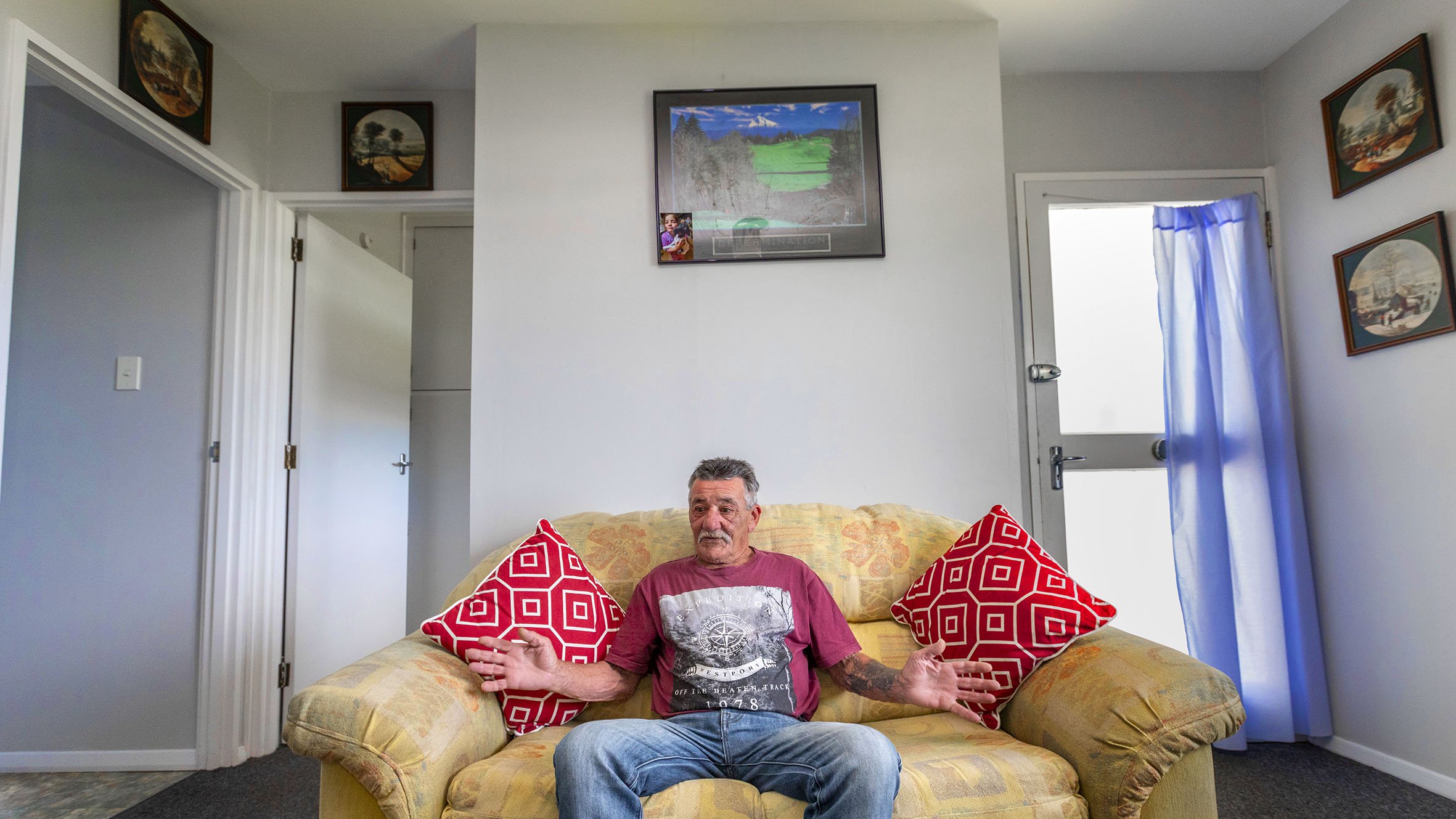 It has taken former homeless Christchurch man Woody some time to adjust to having a comfortable home of his own after years of sleeping rough on the streets.
His lifestyle change is due in part to support from the new Christchurch programme Housing First, which assists chronically homeless people and helped Woody move into his own unit in late September. 
For the first few weeks he says he couldn't sleep because lying in a soft bed inside felt so strange.
Now he is proud of his unit, which he keeps spotlessly clean and tidy. The shelves are full of ornamental mugs he found at a local op shop and there are photos and second-hand paintings on the walls.
He has planted tomatoes and potatoes in the small garden plots outside and is hopeful that one day he might be able to have a cat for company.
It's a big step up from sleeping in an old shed or camping among trees near New Brighton beach. 
"It's awesome," he says. "Just look at it."
Woody is one of 70 people who were sleeping rough in Christchurch but now have a secure roof over their heads through Housing First. 
The joint initiative between the Christchurch Methodist Mission, Emerge Aotearoa, Comcare, Christchurch City Mission, Ōtautahi Housing Trust and Te Whare Roimata started in May last year.
Eighteen months later, it has helped 70 previously homeless men and women into housing, and continues to provide them with support.
Of these, 36 have been in their accommodation for less than six months, 12 people for between six and 12 months, and 22 people for more than a year.
The Christchurch City Council is providing financial support to the Housing First two-year pilot programme, which aims to make homelessness "rare, brief and non-recurring". 
City council social housing manager Carmen Lynskey says it is great to see the initiative having a positive impact. 
"Christchurch is a caring city and we want to make sure all our residents have a safe, secure place to live. 
"We're happy to support Housing First to help achieve that goal."
Woody hadn't had a stable place to live for years after working on oil rigs in Taranaki and on fishing boats. 
When he arrived in Christchurch he knew no one and caught a bus out to New Brighton.
For about two years he camped in parks near the beach, and for a while stayed in an old shed.
He says without Housing First and a friend who has supported him, he would probably still be living on the streets. 
"On the streets I got to know a lot of people I respected and some I didn't respect. But here I've got security," Woody said.
Housing First team leader Nicola Fleming says housing people is a satisfying achievement. 
"Before that they were people in the 'too hard basket' that no-one gave any time to or seemed to care about," she said. 
"The programme is about choice, offering them housing in a location that works for them and providing support, which is why the programme is so successful."
Housing First staff refer to the people they support as "kaewa", which loosely translated from te reo Maori means traveller.
Some of them like Woody are living in units that were part of the council's social housing portfolio, which is now being managed by the Ōtautahi Community Housing Trust. 
But others are in accommodation provided by private landlords with the tenancy relationship managed by the Ōtautahi Housing Trust or Emerge Aotearoa.
Woody says it was a lonely time being homeless: "I used to sit down at the beach or go into the library. Sometimes I'd sit on my backpack outside the pub and watch the rugby through the window.
"Now I feel looked after."