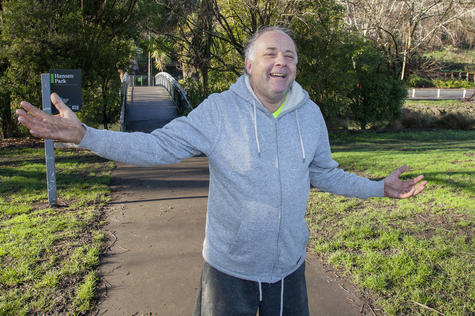 "I'm really proud of our local park, I don't want to see it becoming a rubbish zone."
Most days you'll find Woolston resident Andrew Meads down at Hansen Park socialising with other dog lovers in the Opawa community.
But lately the ritual has been marred by increased rubbish dumping in places where bins used to be – seven of which were recently removed by Christchurch City Council in favour of two larger bins.
It was why Meads launched a petition demanding the removed bins to be reinstated, or at the very least, for the city council to install one more bin.
The more than 40-signature petition follows growing complaints from residents across the city watching bins at their local parks disappear to accommodate the new "smart bins."
"I just felt so strongly about it," said Meads.
"We're all very concerned about [council] taking the rubbish bins away, it's just ridiculous. My concern is that people are still putting piles of doggy poo bags where the original bins were.
The city-wide project involves the removal of more than 800 bins at neighbourhood parks, but only 81 of them are being replaced with BigBelly bins.
It is meant to be a solution to overflowing rubbish bins as they can hold up to six times more rubbish than a standard bin, and reduces scattered litter as they have lids.
The changes, discussed during Long Term Plan talks, is also anticipated to save the city council about $300,000 a year, reducing the number of times contractors emptied them.
City council head of Parks Andrew Rutledge said since installing the smart bins at Hansen Park, contractors have emptied them once every nine days, compared to once every 2.3 days with the old bins.
The two new bins are 600-litres each increasing overall provision for litter capacity at the park by 62 per cent.
However, he said the city council has received four complaints of rubbish dumping in spots where bins once stood.
Contractors have also revisited the park on six different occasions to pick up the dumped trash, "including dog poo."
Rutledge said residents' views were welcome as they had valuable information to make bin placement more effective.
Said Rutledge: "This has been the case for other areas in the city where the community have assisted us in the placement of additional smart bins where required.''
The move is expected to encourage more people to take their rubbish home instead.
Meads was not convinced this would happen.
He was not against the new bins, he just opposed the $830,000 installation cost and that not enough of them have been replaced.