Mt Hutt's new modern chairlift will double the skifield's hourly capacity and is set to be revealed on opening day - June 11.
The eight-seater chairlift, called the Nor'West Express, has been handed over after final commissioning and will be independently certified ahead of the planned opening.
Skifield manager James McKenzie said if the new lift was compared to a car it would be a sleek, speedy Jaguar. The old chairlift was more humble Morris Minor.
The new lift is fast, more weather-resilient and has improved safety features. It replaces the previous chairlift which was 30 years old.
Mr McKenzie said the decommissioning of the old lift had started in November, with the rope cut and foundations taken out.
After extensive civil works, assembly of the new chairlift had started in March and generally progress had been very smooth, with the weather playing its part most of the time.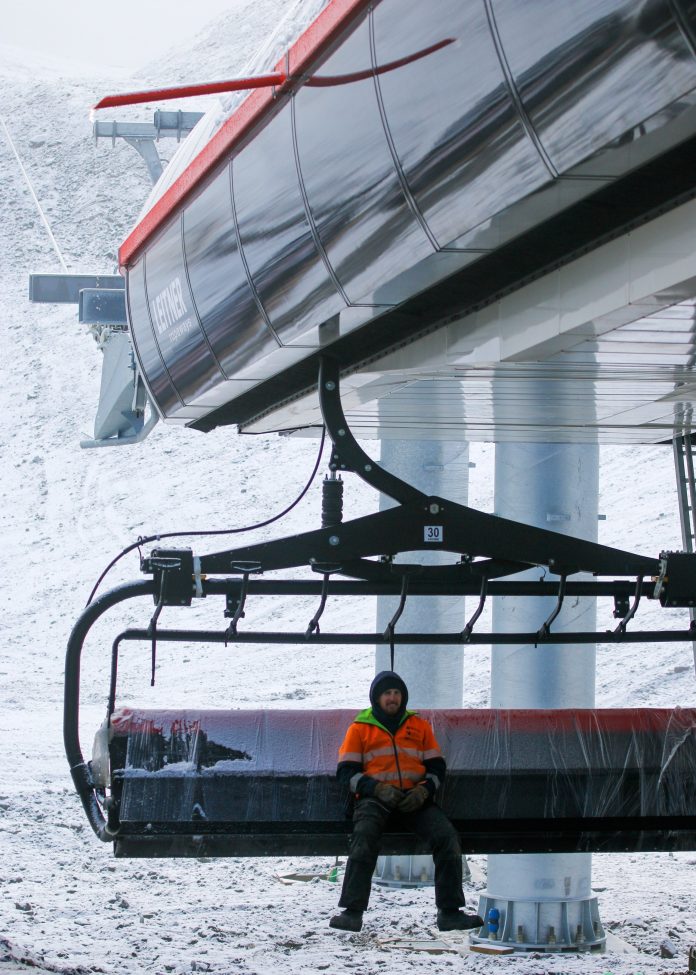 A team from Italy had come out to do splicing and final assembly work. "We've got padded seats and there's no real noise because of the technology being used. The chairlift has more general resilience and stability and there's a loading conveyor to make getting on and off easier and safer."
Twenty-five chairs on the lift will enable the skifield to take up to 2400 passengers an hour up the mountain – around double the capacity of the old lift.
It is also possible to add six more chairs at very busy times to bring capacity up to 3000 people an hour.
Mr McKenzie said the infrastructure upgrade was a multi-million dollar investment by skifield owner NZ Ski and a fantastic addition. Staff would receive training and familiarisation with the new infrastructure over the new two weeks.
He said most of the skifield staff needed for this season were now in place and they included some home-grown talent and rookies brought through to learn jobs such as grooming.
Mt Hutt's water supply had increased with the addition of a new bore, which meant more water in the reservoir and the ability to make snow for longer periods.
Another upgrade was a major overhaul of the skifield road through a resurfacing initiative, which would make a real difference, he said.
Mr McKenzie said in an ideal world there would be a big dump of snow at the start of June and a sustained period of cold weather for snow making.
He welcomed the trans-Tasman bubble and hoped for big visitor numbers and a great season on the mountain.
-By Mick Jensen