Colleen Cole started Highland dancing as a five-year-old and 76 years later she is still immersed in a quintessentially Scottish passion in New Zealand's 'English' city. She reflects on a life-long interest with
Chris Barclay
.
When did you take up Highland dancing, and why?
I started when I was five in Invercargill. My parents thought I had a bit of a cough, so they thought Highland dancing would do me good. So here I am 76 years later. I faintly remember the first teacher I went to had a lot of kids so my parents took me away to a high school girl, her name was Betty Thompson. She just gave me one-on-one lessons. When we came to Christchurch I went to Betty Carnachan when I was eight-ish. She used to teach Highland, ballet and tap … modern dance.
You finished up Highland dancing in a competitive sense when you were 18, an age where many are lost to the discipline. Yet you persevered. What is the enduring appeal?
You do make a lot of good friends, though by the time you reach my age (81), you've lost a few of them. When I finished dancing I was already a teacher and a judge. I've always enjoyed teaching the kids. A lot of people come up to me and say: 'I remember you teaching at the Cale (Canterbury Caledonian Society) when I used to come along and now I've got my grandchildren here.'
Your parents got you involved to benefit your health, but did you ever suffer any injuries when doing, say, the Sword Dance?
I never had any, but they seem to have a lot of injuries these days. They seem to pull muscles and pull tendons and goodness knows what. Maybe it's because of some of the flooring they dance on. We had tongue and groove all the time when we were kids. It (discomfort) was only an issue for me when I got older and I couldn't turn my knees out so far because of my hips.
The Scots are known for their fiscal restraint. Is it expensive to get kitted out in a kilt?
Some get their kilts made locally, some of them get them from Canada. You can spend a lot of money on kilts, $500 off the top of my head for a new one. When I was a kid we wore the plaid, the jacket. We were really weighed down with brooches and things. Nowadays up to the age of 14 they can wear a nice little waistcoat and a lighter weight kilt.
Does the dancer decide what tartan they wear, or is it specified?
Do they ever. We only had the Royal Stewart which was all red. Then the dress tartans came in and became popular. There's a rule on how it should be worn, there's no rule regarding the actual tartan they should wear.
Is Highland dancing primarily confined to people of Scottish heritage?
My heritage is actually Irish. My maiden name was Fergus.
How popular is Highland dancing in New Zealand's 'English city, surely it's a bigger deal in Dunedin, the 'Edinburgh of the South?'
We have about 20 teachers in Christchurch. Canterbury-West Coast as we call it is the largest centre for dancers and pipers in New Zealand. The Caledonian Society and the Scottish Society of New Zealand contribute to the large numbers. We have winter lessons there on Saturday and that brings the children in. Well, we try to bring the children in. There's a lot of uphill work getting new kids to start. You've got to have the parents wanting to do it.
Highland dancing was originally a male bastion, but now it's associated more with females isn't it? How do you get more laddies involved?
Highland dancing was for men in the beginning, not the women, way, way back. Quite often boys come along because their sisters are learning and then the boys get a bit of a grip on it and away they go. But they want to play rugby as well, or football. We've got some very strong male dancers in New Zealand, but not many. I could probably count them on two hands, but they carry on dancing right into their 20s.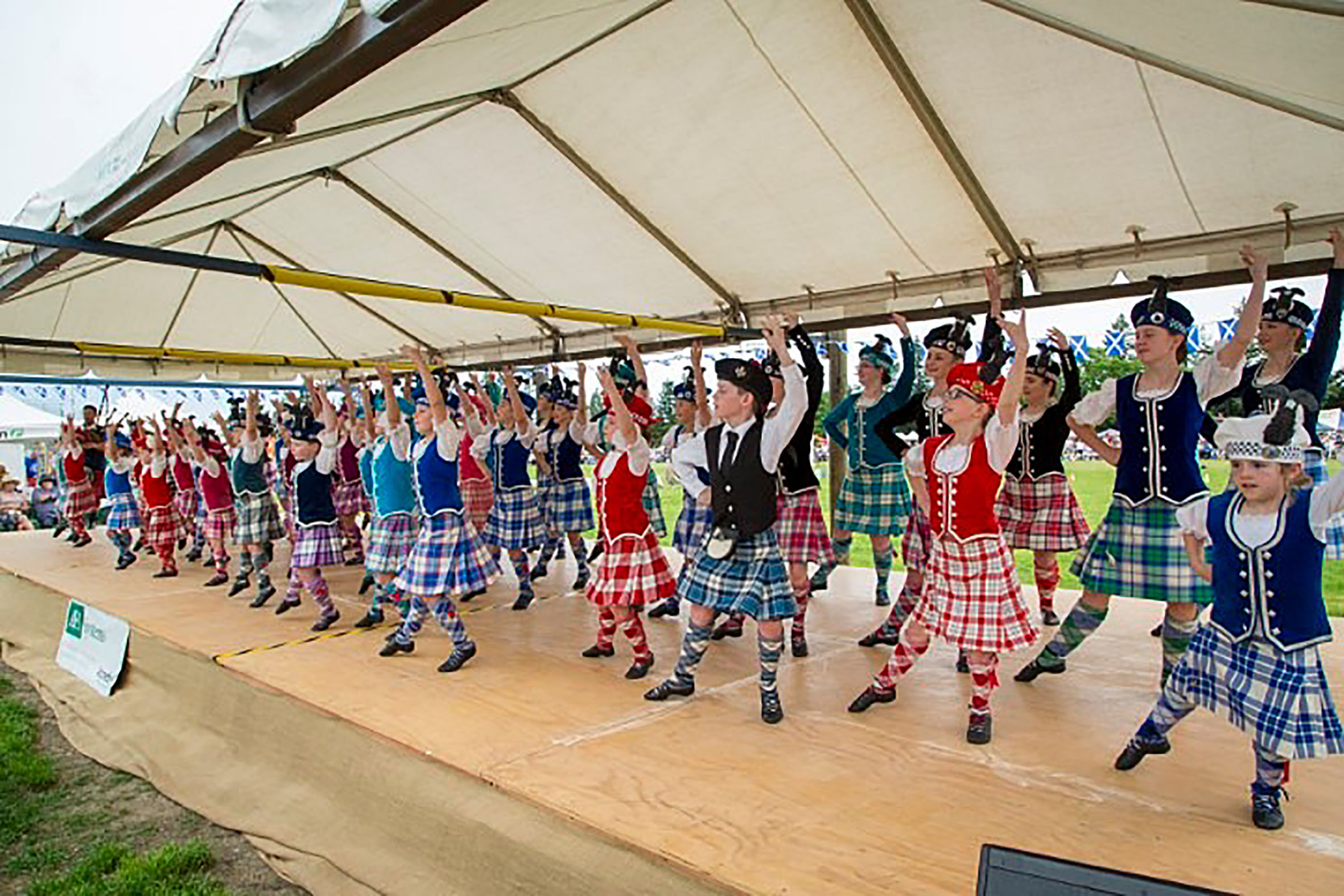 You have two boys, were they encouraged to give it a go?
Jason had lovely feet (for ballet). The teacher I took him to, she had a son and he'd come to the class too. As soon as that boy stopped that was it for Jason. He started to learn the bagpipes but I think his friends told him it wasn't the thing to do and he gave it up. I never pushed (eldest boy) Gregory. Wendy, my daughter, learnt Highland dancing. When she got to about 14 her friends said to her: 'It's not the thing to do Wendy.'
How much time should you spend on Highland dancing weekly in order to master it?
You would have one or two lessons a week with your private teacher and go to a society class for the piped practice on a Saturday morning during the winter. You should really practice every day.
What attributes do you need to impress judges like yourself?
You've got to have good timing, good technique. Generally, there's an overall pattern you have to achieve. This is where the history of the dance comes in.
Are the children aware of the historical context of Highland dancing? Do you drum that into them?
I don't know if it always get taught. The history of the dance is very important, especially the Seann Triubhas. That was when the Scots were defeated by the English and were told they could no longer wear the kilt unless they were in the armed forces. The Seann Triubhas depicts the happiness they felt when they were once again allowed to wear the kilt.
Which is the hardest dance to learn?
The Highland fling. It's the first dance they learn and there's a lot of pressure on their little legs. To turn your knees out and understand the time count and everything.
At what age can you start Highland dancing?
About five. Some children start younger but you've got to be able to count to 16. The Highland fling puts a lot of pressure on one leg at a time. There's four counts on  one leg and then four counts on the other. That's quite a lot of springing on one leg for a little kid.
Talk up the selling points of Highland dancing?
It's good for posture, they carry themselves well. I also find they're very respectful. I think it's the discipline of Highland dancing. They also need a certain determination to achieve what's required.
Where and when are the major Highland Games in New Zealand?
There's Waipu on January 1, then there's Turakina (Wellington) at the end of January. Hastings is at Easter and then there's Hororata (November). Hororata would probably be one of the biggest in the southern hemisphere. 
You had an eye operation recently but were you still able to take in the Hororata Highland Games weren't you?
I helped organise the Highland dancing. We had 93 dancers out there (on November 7). At the games most of our dance pipers were involved in pipe bands they couldn't commit to playing for the Highland dancing so we had to use iPod music. 
Have the now decade-old Hororata Highland Games been beneficial in terms of dancing's profile?
It's good exposure to the general public. A lot of people bring their little kids along, they watch the dancing for quite a while and think: 'I wonder where you have to go to learn that?'. You've only got to go on the website for the Piping and Dancing Association of New Zealand and you'll get all the names of teachers in your area.
Are you still focused on teaching?
I'm there to relieve if any of the young ones can't come in to teach. You've got to make room for young ones. I'm always there to be called upon if needed.
Have you seen Highland dancing in Scotland?
Yes, and I was quite surprised by the lack of promotional material for Highland dancing. Mind you, that was in 2008. When I was in the pubs they'd occasionally have a Highland dancer come out and perform and they weren't of a very high calibre. We've had the Canadian dancers out here in Christchurch one year, they were absolutely beautiful.
How do you see the future of Highland dancing in New Zealand?
I think it's positive but we have to keep getting it out there in the public eye. You've got to keep promoting it otherwise they'll go and do something else.
Your service to Highland dancing has been recognised in recent years hasn't it?
I was made a Member of the New Zealand Order of Merit in 2008 for services to Scottish stuff. They called it the Scottish arts. In June I was made a life member of the Highland dancing section of the Caledonian Society (www.canterburycaledonian.org.nz). It's nice, I do appreciate the recognition.
Does a love of the pipes and drums go hand in hand with Highland dancing?
I do like pipe band music. I do a programme, I've been doing it for 15 years, on Plains FM 96.9. It's a Scottish session. I go in there and pre-record it about once a month.