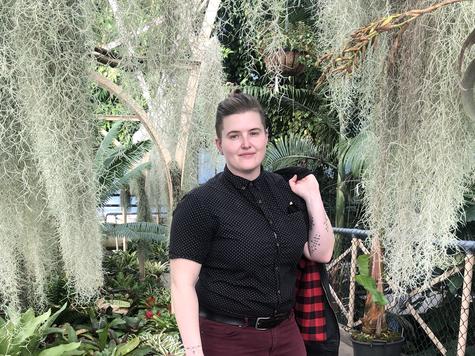 Khye Hitchcock has always wanted to explore new ways of supporting the well-being of everyone, including the environment.
The Green Lab programme director now works closely with residents to design and build urban green spaces across the city that communities can be proud to call their own.
But helping to create a kinder and more equitable world went beyond their love of all things design and the natural world – it extended to the LGBTQIA+ community.
Said Hitchcock: "In my career as an artist and curator, I have responded to things like the degradation of our freshwater systems, climate change, and creating large-scale community projects. I've been involved in feminist and queer art collectives that sought to create a kinder and more equitable world.
"All of these things are interlinked; I've always been motivated to explore new ways that support the well-being of everyone."
When Hitchcock was a teenager in small-town New Zealand, they were often threatened with homophobic violence.
As someone who identifies as non-binary, it was a push to ensure others never went through the same thing and to remind others of why kindness and well-being matters.
"The world has changed a lot in 20 years, but it's still not easy being trans in 2021."
Formerly known as Greening the Rubble, Hitchcock joined The Green Lab three years ago as project manager, before becoming its director early last year.
They were invited to join the team after producing the Festival of Transitional Architecture in 2018, involving more than 150 participants and 17 art installations.
The trust emerged following the September 2010 earthquake to green rubble sites with temporary landscaping and planting projects, bringing people back into the central city.
Hitchcock oversees programme scheduling, budgeting, builds relationships with other organisations, manages funding applications and does most of the graphic design and social media content.
Like all cities, Christchurch is home to many overlapping communities.
"I think The Green Lab's strength is that we don't try to serve everyone all once, but will spend several months serving a particular community, learning about their aspirations and supporting them in creating something that's theirs," they said.
"Our community co-design process is empowering to those engaged in it."
Recent projects included kotahitanga – a gathering space created with Phillipstown residents, Linwood tiny shops, a tree museum in the CBD and a wayfinding route in Richmond.
But the newly constructed Hornby Community Care Centre courtyard space was what stood out for Hitchcock the most.
Against the odds, it was completed last year within months in spite of Covid-19 throwing a spanner in the works.
"Instead of building in the relatively settled weather of late summer/early autumn, the lockdown meant our team were working with volunteers in winter to get the project done," said Hitchcock.
"The project had such a beautiful cohort of folk that showed up week after week, in the rain, in the cold.
"We had a grandmother who learned how to use an angle grinder, a woman from the Philippines wanted photos to send home because she'd never been able to use power tools in her country, and a volunteer said the process helped him find his voice."
But one of the biggest challenges of running a non-profit was resourcing enough people, materials and funding. Many of the team members worked part-time.
"The Green Lab is really lucky; the city council has supported our mahi from the early days. However, the context we're working in has changed dramatically since then," they said.
"Finding ways to sustain our mahi, to make sure we are taking good care of our team, the communities we're working with and the environment is sometimes a juggle."
Prior to Covid-19, the trust had interior greening projects lined up in commercial spaces, but the pinch on the economy meant uptake on this had been slower than expected.
"We know plants support well-being and that kind of work felt [like] a way to live our values as well as provide an income stream that supported our community-based work."
Hitchcock's family hails from England, making the move to New Zealand when they were born.
Growing up in Whanganui and following a three-year stint in Japan and England, they returned home to study a Masters in Fine Arts at the University of Auckland, graduating in 2012.
Hitchcock found themself in Christchurch a few years later on a 10-month work contract and has remained in the city ever since.
And they have been busy, having worked in curatorial roles at SCAPE Public Art, the Centre of Contemporary Art and FESTA.
Hitchcock is currently volunteer manager for Te Pūtahi's Open Christchurch event in May, where 40 building owners will "literally" open their doors so that the public can experience architecture from the inside.
"I'm interested in the ways we can engage with the architecture of this place to see what values were historically, and how they're changing," they said.
"I think the awareness of things that have shaped our current beliefs allows us to imagine new possibilities."
Hitchcock was co-chair of Qtopia until last year, which provides support for rainbow youth across the region.
Along with partner, Siobhan, they recently spoke on a panel about queer parenting in Wellington – a topic close to their heart as they both raised an 11-year-old, Jamie.
"I'm non-binary – this mahi is important to me because it's a huge part of who I am and my experiences in the world.
"There's still lots of work to do," they said.