A Christchurch park may get six more floodlights so teams can train at night.
The Ferrymead Bays Football Club has applied to Christchurch City Council for permission to install six additional lighting towers around the playing fields at Barnett Park in Redcliffs.
There is currently four lighting towers on the eastern boundary of the playing fields, but the club's steadily growing membership means it has more players training at night.
The club wants to install two additional lighting towers on the eastern boundary and four on the western boundary, next to the bush-covered slope by Moncks Spur Rd.
The new towers would be about 18m high, 4m taller than the existing towers, and would have three lights on each tower.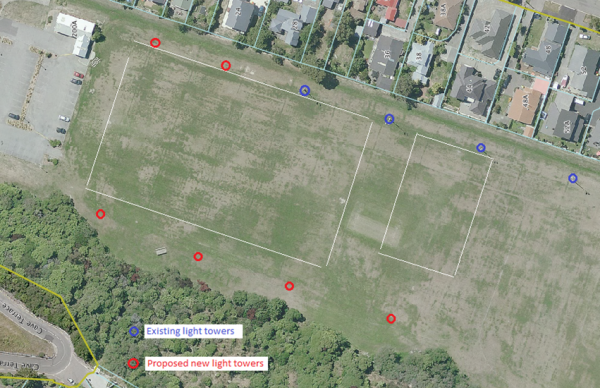 The lights would only be used by the club from 5.30pm to 8.30pm on weekday nights between April and September.
Said council community parks manager Al Hardy: "The club would like to have the additional lighting towers in place as soon as possible.
"However, before the council makes a decision on whether to allow the extra lighting towers to be installed, it wants to hear the community's views."
Feedback on the proposed lighting towers is open until Tuesday, August 24, here. Residents can also attend a council-run drop-in session at Barnett Park on Tuesday, August 10, 4pm-5.30pm.