Canterbury is harness racing's epicentre in New Zealand, home to a multi-million dollar industry which figures as one of the province's key employers. It is in the process of defying Covid-19, though it is plagued by another insidious disease – illegal activities. Chris Barclay reports.
Gavin Fry has never really been a betting man, though loved ones made sure every post was a winner at Addington Raceway during his 65th-birthday celebrations.
The harness racing enthusiast had race six named in his honour, and he was presented with a close up view of it unfolding when he sat in the cockpit of the mobile barrier as the field got into their stride.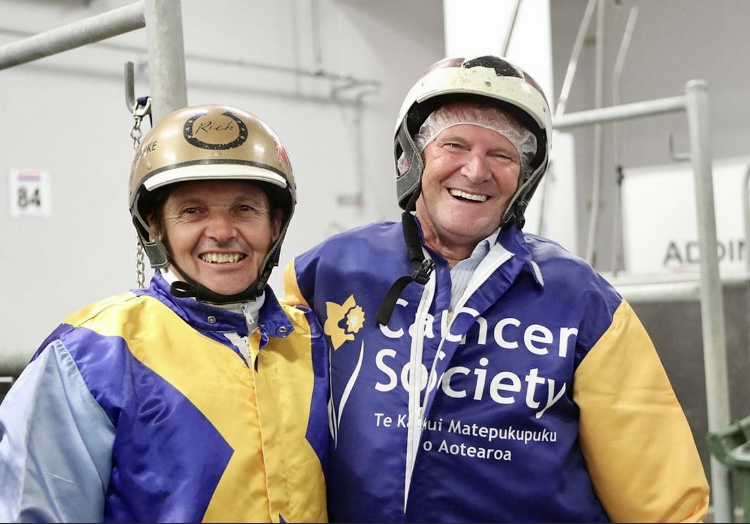 They were a mere foot and a half away, breathing all over him. Straining, wide-eyed. 
Later Fry donned silks promoting the Cancer Society. He fastened his helmet, goggles and joined reinsman royalty Ricky May in a dual sulky for a 1400m race after his kids, Andrew and Tracy, lodged the successful bid in a charity auction.
Fry and May hit the line first after the last … the icing on the cake before the birthday boy rejoined family and friends in a suite.
While his night under lights was unforgettable Fry, who joined his first syndicate with nine fellow fruit and veg market blokes back in his 20s, admits not all his mates are sold on one of Canterbury's key – and contentious – industries these days.
Operation Inca, Nigel McGrath, Matt Anderson, Mitchell Kerr and Jesse Alford, are all names synonymous with the brand of exposure which place Harness Racing New Zealand and the industry's rusted-on participants three-wide without cover.
"You hear it (scepticism) from your mates and things like that," Fry lamented.
"You try and defend it, but it's pretty hard at the moment."
Systemic doping, race-fixing, owners allegedly dudded by questionable financial dealings, recreational drug use by drivers …
Harness racing's heartland has been blighted by unsavoury publicity particularly since the Wellington-based police national organised crime unit launched Inca with a series of raids nationally in September, 2018.
They followed an unprecedented 17-month investigation designed to gather information on drug-taking by people in the industry and potential race-fixing.
So far 13 people have been arrested, five defendants have been dealt with and the remaining cases are pending.
On Monday two men were scheduled to appear in the district court on drug charges. The case has been deferred to another date.
While Inca continues to slowly make its way through the judicial process the industry's self-styled 'police' at the Racing Integrity Unit are also sifting through a variety of cases.
Prominent trainer-driver McGrath is the highest profile casualty to date. Last July he was disqualified from holding a training licence for eight years after pleading guilty to three charges – in spite of disputing the facts presented for two of them.
The case was based on a raid by investigators on McGrath's stables near Rolleston in March 2020 after the RIU was told he was 'tubing' horses to improve their stamina shortly before taking them to the races.
The illegal practice involves inserting a rubber or plastic tube through a horse's nose into its oesophagus, usually to administer sodium bicarbonate.
Electronic surveillance set up by Inca's investigators also implicated McGrath in race-fixing relating to a meeting at Addington in March, 2018.
While McGrath had trained horses for 20 years, racking up 570 winners and $6 million in stake money, the next generation of harness trainers are also under scrutiny by the RIU.
Mitchell Kerr, 29, is alleged to have defrauded hundreds of thousands of dollars from connections, including All Black midfield back Anton Lienert-Brown and Black Caps pace bowler Matt Henry.
Kerr, who recorded 87 wins during three years as a solo trainer based in Rangiora, handed his training licence to Harness Racing New Zealand last November citing the need for a break.
It subsequently emerged the RIU was investigating allegations that Kerr sold a non-existent horse, was over-selling shares in horses and charging owners for insurance policies that were never activated.
While the RIU initiated the investigation, the police became involved this month with a major focus of the probe involving wagering records after it is believed almost $1 million was lost through an Australian betting agency.
Kerr is also facing a Judicial Control Authority hearing before the racing industry's independent court involving numerous charges of breaching harness racing rules. A date has yet to be set.
Then, hours before Fry's birthday festivities got under way, RIU investigators witnessed Woodend Beach junior driver and trainer Jesse Alford allegedly administer a suspected performance-enhancing drug into two Addington-bound horses at his stable.
He has been suspended pending an investigation.
Fry sounded resigned when reminded of those issues as he contemplated the current state of an industry he will still persevere with.
"It's shocking, there's been a lot of bad publicity. The best thing harness racing can do is come clean about it and don't try to bury it. Then it becomes a deterrent for others," he said.
When he was starting out as an owner, Fry was given advice he still heeds today, for the most part.
"Even when my own horses are racing I very rarely have a bet because I want to watch the race, not the dollar. 
"An old guy told me that many, many years ago. He said: 'You put enough in there for training fees and getting your horse there. You don't put a dollar on it. You watch the race and you'll enjoy it more'."
Fry has also seen enough races unfold in peculiar circumstances to deter him from queuing at a tote.
"It is very frustrating. You're paying a lot of money for training fees and things like and then you see something go around, beat the field and kick off and win by 10 lengths," he said.
"You've been in it long enough to know that it's not natural. They've been with other trainers that can't get that sort of result. It's so obvious sometimes and you think: 'Why is something not being done about it?'"
Fry acknowledges the industry is now more proactive in detecting illegal activity, albeit belatedly.
"I think they're doing more now than they have in the past, and I think that's been brought on by the media and all the attention it's been grabbing," he said.
"I sometimes think it's because of all the comments on Facebook and things like that, they've sort of been backed into a corner."
The RIU conducts just under 5000 drug tests a year in harness racing, about 20 a meeting.
"On average there are six to eight positive tests in any year, so the vast majority of runners tested are racing drug free," RIU general manager Mike Godber said, who has six investigators on staff.
In spite of the controversies, Fry, who still revels in his star horse Talk About Me's three-win Easter campaign in 1994, won't stop supporting the likes of Prebbleton trainer Dean Taylor.
"It hasn't put me off, you still live in hope that it'll come clean – there's great people in the industry," said Fry, who had a warning for those at the other end of the spectrum.
"It's just not worth it. Most of them will end up with life bans and even if they try to come back they're not going to attract owners.
"I certainly wouldn't go to any of them. You wouldn't want to be associated with them. They're always going to be looked at . . . the whispers behind their backs."
That balmy-turned-chill Addington evening wasn't just a perfect gift for Fry.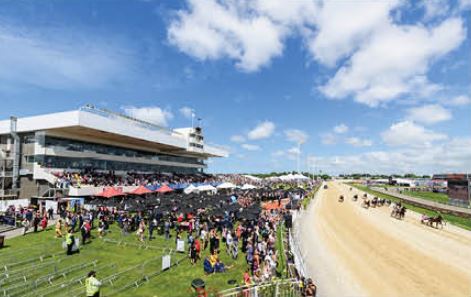 The Teal Journey Ovarian Cancer Foundation also benefited, a feel-good story that gained no traction whatsoever amid the unflattering headlines.
May was the focal point of an uplifting story of his own last year after he collapsed in the sulky while leading a race at Omakau in January.
Fortunately junior driver Ellie Barron raced to the stricken, unconscious, veteran and helped revive May after his heart had stopped beating.
May, 63, was diagnosed with hypertrophic obstructive cardiomyopathy and had a cardioverter defibrillator implanted in his chest. 
Undeterred he made his comeback less than six months after surgery at Addington and heading into this week was 17 career wins short of 3000.
"I thought when I came back after the mishap I had, I'd brought a bit of positivity back in the game," May said.
"Now all this other stuff comes up, you lose a bit of faith in it don't you?"
May, who celebrated his first win with Ruling River at Geraldine in November, 1976, tries to stay upbeat about the industry that runs in the family, though the stream of unwanted publicity is hitting home.
"I've been in it for a lifetime. My grandfather started off, then my father, then me. It's bloody disappointing what's going on at the moment," he said.
"It's only a handful of people, people in the game know it's just one per cent, probably less. It's just a shame we've got such a bugger of a name at the moment.
"I've got no time for cheats … they're all young too. They've got their life and futures ahead of them and they've ruined it for themselves and everyone else."
May pointed out harness racing was not the only sport tarnished by doping, personal drug use and highly-scrutinised financial dealings.
"It all comes from cycling a lot of it, with all that blood stuff," he said.
However, cyclists have a choice regarding performance-enhancing drugs, the trotter or pacer does not. May, then, is not surprised the punting and general public can get 'riled' up.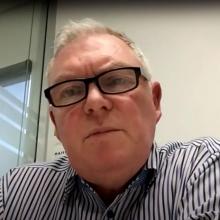 Addington's racing industry manager Darrin Williams agreed the spate of incidents plaguing one of Canterbury's cornerstone industries was unacceptable.
"Any rule infringement is a worry for anyone running events," he said.
"It's disappointing and the sooner those sorts of activities are cleaned up the better."
Williams, who spent 26 years at Harness Racing New Zealand before returning to Addington in 2020, pointed out harness racing was not the only sport to experience impropriety where vast sums of money were involved.
"We've seen it with cricket (match-fixing and spot-fixing) infringements. You could argue for the volume of people involved in racing the (rate of) infringement is very low in comparison to some other sports."
So is the dedicated punter or Cup Week carouser really worried about harness industry stories making the front or back rather than racing page?
"A lot of the people at Cup Week are here for the hospitality and the party as well but that doesn't mean the sport shouldn't operate as cleanly as it can," Williams said.
"No one can suggest the number of incidents we've had lately can be good."
Williams has been in the industry for 35 years, long enough to realise doping is hardly a new innovation.
After all, in 2004 the local harness racing industry was rocked by the Blue Magic doping scandal, a six-month investigation into the performance-enhancing drug that led to Canterbury businessman John Seaton, one of New Zealand's most prominent horse owners, taking his own life that November.
Seaton, who was worth an estimated $35 million, had been formally charged by HRNZ with "being a party to the alleged administration of attempted administration of a prohibited substance" before his pacer Light And Sound won a race in March, 2004.
Seaton's trainer Mark Purdon was also charged and ended up pleading guilty to acting in a manner detrimental to harness racing.
Canterbury trainer Rob Asquith, who supplied blue magic to trainers in New Zealand and Australia, also took his own life as the investigation unfolded.
Still, harness racing's popularity – and importance to the Canterbury economy – endures.
The latest Size and Scope of the New Zealand racing Industry Report (2018) estimates the racing industry was worth $338 million in the Canterbury and West Coast region, with harness accounting for $199.7 million.
There are currently 1375 licence holders including trainers, drivers and stablehands nationally, with 625 (329 trainers) residing in Canterbury.
New Zealand Trotting Cup Day at Addington is the jewel in the crown, regardless of Covid-19 restrictions limiting crowd numbers on November 10.
Betting turnover on the meeting was a record $6.9 million, compared to $6.3 million in 2019.
Veteran horseman Robert Dunn, who leads the trainers' premiership, said wagering indicated the industry was weathering the wave of negativity.
"If you look at the betting you'd have to say no, because betting has gone up," he said, when asked if harness racing's reputation had been harmed by recent events.
"People love going to races to watch them, they look past what is portrayed in the papers and over the media," said Dunn, who claimed three of his horses were deliberately drugged in an attempt to frame him in 2017.
He eventually had his fine reduced on appeal.
Dunn, who has three other convictions for breaches of the prohibited substance rule, would not discuss the Alford case.
"It's with the RIU now and it's probably not for me to comment on really," he said.
But Dunn rejected whispers within the harness industry he had helped with legal representation for Alford, saying it was "untrue".
It is not unusual for senior harness racing figures to support the wayward members of the next generation.
Former HRNZ chairman Ken Spicer and former trainer Peter Jones met with new HRNZ chief executive Gary Woodham in January to explore a pathway for disgraced premiership-winning driver Anderson to return to the industry.
Anderson is barred from racecourses until at least next year due to his criminal offending.
Last November, Anderson was sentenced to three months community detention and 12 months' intense supervision after he was found guilty of charges of assault and strangulation.
A judge-alone trial at the district court heard how Anderson grabbed his victim around the neck and choked her.
Anderson's racecourse ban came after a six-month stand-down imposed by the JCA last August after he was discharged without conviction after admitting possessing the party drug MDMA (ecstasy) for supply, and two charges of supplying MDMA.
Racing has been in Ken Barron's blood for 35 years, so it's illicit substances that concern the Canterbury branch president of the New Zealand Trainers and Drivers Association.
Barron admits recreational drug use among the industry's youthful brigade is an issue.
"Years ago it used to be alcohol and now it's party pills for people aged 25 and below," he said.
"It's happening in the schools and it's just flowing on from there. It seems far too readily available. It's a society problem.
"I've got three kids and they've all told me at varying times through high school that it was easier to get drugs than it was to get alcohol."
After Anderson walked from court on his drugs charge, senior harness racing trainer and driver Colin de Filippi told The Star drug use among drivers was not a significant problem.
"I know some of the drivers that do long hours, they tend to do eight hours a day at the stable and then drive to Dunedin and then home again … some pretty long days and some say they need some stuff to keep them going."
Barron said junior drivers had anti-drug warnings drummed into them when they were cadets and felt HRNZ's education programme was sufficient.
"They're warned to stay away from those sorts of things and they're told there will be testing. Maybe the time's come to test more people," he said.
Barron conceded the industry's reputation had taken a hit in recent times by risk takers.
"It's not new, people just push the boundaries. I guess things are getting tighter, money's getting tighter," he said.
In spite of the setbacks, Barron was optimistic about the future.
"You've only got to look at the last two or three years," he said.
"The (bloodstock) sales have been through the roof."