Dunedin's Barbara Brinsley possesses a wardrobe of wonders. Katie Day finds out the stories that set her fashion collection apart.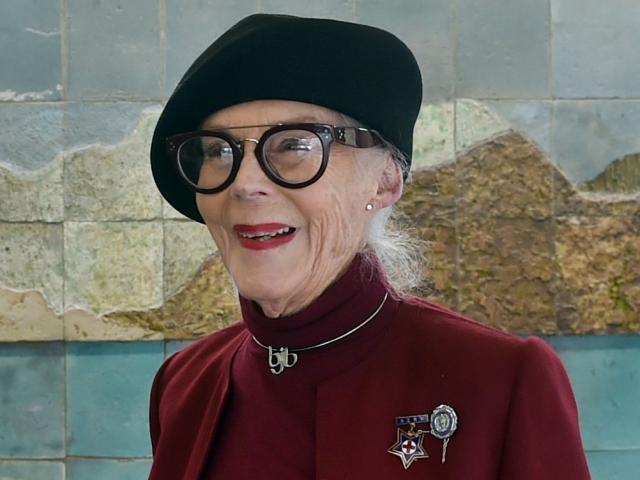 Sun sprawls across the furniture and fittings of Malcolm and Lyn Farry's sumptuous St Clair home in Dunedin. There, a select group of stylishly dressed women are welcomed with cake and Champagne and a Barbara Brinsley couture collection.
The room is a coterie of elegance and colour, a far cry from the moodier tones and Gothic influences of Dunedin street style, though perhaps it is the warmth of the personalities and the hum of anticipation that infuses the atmosphere with such vibrancy.
The women had gathered at the weekend for Champagne, Cake and Couture, an event raising money for the Otago Community Hospice. It featured a curated selection from Barbara Brinsley's couture wardrobe, outfits collected from across the globe, highlighting both New Zealand and international designers.
The well-dressed women on the Farrys' front room settees were primed for a display of exceptional garments and the stories that inspired them.
The Forbury Rd venue holds a strong connection for Mrs Brinsley, as it was built for her late husband's grandfather, William Richard Brinsley, in 1932. Mrs Brinsley and her husband lived in the house for six months as newlyweds. To present her clothing and stories there, also the residence of a close friend, brought Mrs Brinsley's experiences full circle.
Fashion historian Dr Jane Malthus joined Mrs Brinsley, the Southern District Health Board's aesthetic co-ordinator, to host the occasion. She began by asking Mrs Brinsley what she was wearing that day.
''I am of the McPherson clan and this is a McPherson tartan,'' declared Mrs Brinsley, proudly representing her heritage. She had paired the clan tartan with a Pringle green jumper, a Company of Strangers jacket, boots, tartan stockings, a Louis Vuitton belt and a little Italian hat.
Dr Malthus was wearing a Henrik Vibskov dress, sourced locally from Company of Strangers, and shoes that were her own design and make.
Quiet descended on the room as the first model appeared, wearing a brown sheepskin jacket crafted by their host, Mrs Brinsley, in the 1950s. She was raised on a farm near the Southland township of Waianiwa and credits a rural upbringing for her respect for the weather and a desire to dress with practicality and endurance.
Dressmaking was an intrinsic part of Mrs Brinsley's early life. After attending Southland Girls' High School, before beginning her nursing career in Dunedin, she attended a dressmaking course.
''I felt it was invaluable,'' she says. ''It taught me a great deal about how to even make gentlemen's jackets. I did make a suit for my late husband, so it was something in me. That was a part of my upbringing and my mother was a great sewer as well.''
The couture display continued, models bedecked in pieces from international designers such as Akira, Alexander McQueen, Burberry, Dior, John Paul Gaultier, Lanvin, Margiela, Vivienne Westwood and many more. Mrs Brinsley is also an avid supporter of New Zealand fashion designers, and exhibited outfits from Carlson, Marilyn Sainty, NOM*D and Zambesi.
Mrs Brinsley's interest in fashion took flight when she was living in England in the early 1960s. It was ''going to London and finding fashion there'' that sparked her passion for collecting couture. Most of her pieces have been found with her intuitive eye, in secondhand stores and on sale racks. When asked what she looks for, Mrs Brinsley reflects: ''It's the unexpected that I like''.
''Do you have a favourite designer?'' a guest queried.
''I knew I'd get that today,'' chuckled Mrs Brinsley. ''No, I don't have a favourite designer. Today is a favourite day in my life! Seize the moment! It's today, dear, and this is what I'm wearing and today it's my favourite.''
However, Mrs Brinsley did profess she is drawn to more edgy designers. She holds a deep admiration for Japanese designers, such as Rei Kawakubo, of Comme des Garcons, Yohji Yamimoto and Issey Miyake, proclaiming: ''I am an enormous admirer of the Japanese and I think they're supreme''.
The admiration seemed unanimous, and a hum of intrigued whispers erupted as the Issey Miyake pieces came into view.
Another talking point for guests was the Zambesi-designed black jacket and satin pants, adorned with a gold and red QSM medal. This was the outfit Mrs Brinsley wore at Government House for her investiture.
Following the display, cake and conversation was relished, as guests pondered the treasures they had witnessed and the stories shared.
The values of quality, practicality, endurance and point of difference underpin the style of Barbara Brinsley. She shares, with wisdom, that her clothes should be of quality that can withstand the elements and the test of time:
''They need to be enduring and that means they last friendships as well.''