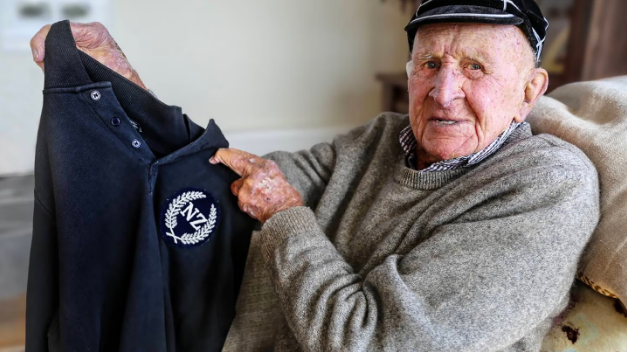 Roy Roper - the first ex-All Black to make it to the ripe old age of 100 - has died just weeks after celebrating the milestone.
One of Roper's sons, Guy Roper, confirmed to the New Zealand Herald he had died on Thursday.
"We will always value him as a father," Guy said.
"He made it to 100 years. A little bit of that time he spent as an All Black. But he spent a lot more of his time helping his family, friends and community."
New Plymouth-based Roy Roper – who wore the black jersey in 1949 and 1950 – celebrated the milestone on August 11.
No former All Black had ever lived long enough to blow out 100 candles on their birthday.
Ahead of his birthday, All Black No 515 spoke to the Herald about his life on and off the rugby field.
When he was asked what was the highlight of playing for the All Blacks during rugby's staunchly amateur era, he showed that his wit hadn't left him, chuckling: "The pay I got.
"I don't think I got a razoo out of the rugby union."
Roper's time in the All Blacks came at a time when it actually cost money to play for the country's national team; a tiny daily per diem might cover a meal or a couple of glasses of beer, but it came nowhere close to matching what they had sacrificed in lost wages to go into camp.
"But I just enjoyed being in the team and one of the guys able to rise to the occasion," Roper said.
"It was a great pleasure and a great thing to be picked.
"You are in the game, and you were there to [try to] play for certain teams. And the All Blacks were the peak of it, and you were all trying to get there."
Roper's 100th birthday came 74 years after making his All Blacks debut in the second test against the touring 1949 Wallabies.
The series was played at the same time as another All Blacks team toured South Africa; a team that was controversially missing players of Maori or Pacific descent when selectors decided on a white-only team due to South Africa's Apartheid regime.
Despite being one of the quickest and regarded as one of the best wings in New Zealand 1949, Roper was overlooked for the tour after missing the previous year's All Blacks trials.
Instead, he was part of a virtual third-strength team – including players excluded from South Africa tour selection due to politics – taking on the Wallabies at the same time in New Zealand.
Ironically, one of his previous experiences of international – but non-test – rugby had been playing in an Australian jersey.
He donned Australian kit after being called up with two other players to play for the All Blacks – Morrie Goddard and Ron King – to fill in for the Australian Air Force team in a clash against the British Liberation Army in Brussels.
"I only got picked because the Aussies were short," he recalled.
Roper also played for numerous New Zealand Services rugby sides.
That includes playing for the New Zealand Services XV against Paris University in the French capital in 1945; it was the only match in which he performed a pre-match haka before.
His wartime travels also saw him on board the Queen Mary along with 13,000 American troops and servicemen from other countries, including New Zealand, for a journey from New York to Glasgow.
The duties of Roper, and other Kiwis onboard, were to provide sentry duties outside of the luxury lodgings of a passenger known as "Colonel Warden"; the travelling alias of British Prime Minister Sir Winston Churchill.
The plucky Kiwis dined out on the same tucker as Churchill when the famous wartime leader made a trip ashore.
"I was on duty with another guy on the passageway and when he [Churchill] was gone, we got into his boardroom," Roper said.
"There was a rhubarb pie on the bench so we took it and ate it, naturally. We were bloody hungry, we didn't get much to eat on the Queen Mary going across the ocean for three or four days."
Roper said failing vision had meant he was unable to watch the current crop of All Blacks as they prepared for the Rugby World Cup, his mind was still full of memories from his own playing days.
That included the multiple-day travel to make it from Dunedin to Auckland to make his test debut.
Roper was approached by someone he didn't know at the after-match function following Taranaki's unsuccessful 1949 Ranfurly Shield challenge against Otago and told he had been selected.
A telegram later sent from New Zealand Rugby Football Union selectors to the Dunedin hotel Roper was staying in with the Otago team confirmed the news.
The day after the Shield clash, Roper began a long trip to Auckland. First was a train ride to Christchurch, then an overnight ferry trip to Wellington.
As well as a sense of pride, he took with him on the journey some painful injuries; badly bruised ribs and an injured big toe which required its toenail to be drilled "to let the juice out".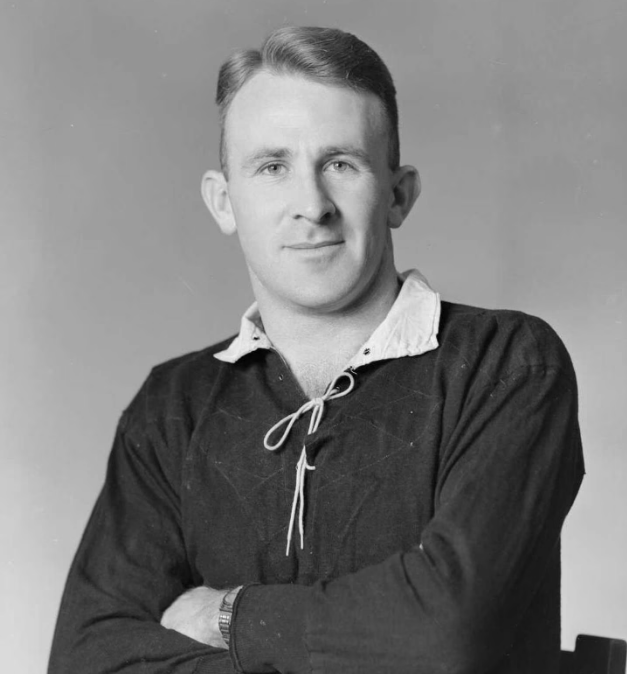 In Wellington, he underwent physio for his painful ribs.
"I got a bit of treatment in Wellington for my bruised ribs, caught one of the expresses later in the day and travelled all night to Auckland," Roper said.
"It was a long trip, going all the time."
When it came time for playing gear to be handed out ahead of Roper's test debut at Eden Park, given the state of the jersey given to him by management it was clear it wasn't the first test it had appeared in.
"It certainly wasn't new," Roper said.
"I've still got it, it's pretty faded. But that is what it was like in those days. A lot of rugby unions didn't have a lot of money and had secondhand gear that they handed out."
Despite being at least the second wearer of the black jersey issued for his September 29, 1949, test debut, Roper told the Herald how it was still a priceless item.
"It's your first jersey, you don't throw those away unless you have to."
Also not new were the boots he wore during his test debut; the one and only pair he wore during his provincial and test career.
"I couldn't afford to have another pair," he said. "They fitted and you just stuck to them."
The All Blacks went on to lose the test 16-9, Roper scoring his side's only try.
The following year Roper was back in the All Blacks for their four-test series against the touring British and Irish Lions.
He scored tries in each of the first two tests.
"Some of them were pretty quick," Roper said.
"I had a bit of speed at the right time, that helped, I was always doing my best. I was able to hold my own on the rugby field with most of those guys but couldn't catch [Lions wing] Ken Jones. He was too quick."
But when it seemed he might have a long hold on a spot in the All Black backline, his rep career came to a shuddering halt later in 1950 aged just 26.
A history of his life compiled by family members states: "In 1950, needing to earn a living, Roy concentrated on accounting studies and at the same time was building a family home and starting a family.
"He declared himself unavailable for the 1951 Australian tour and retired."
But he made his mark worldwide during his short All Blacks career.
He was one of 24 New Zealand players past and present depicted in a Playtime Gum trading card series released in the late 1960s that included players from around the world.
And All Blacks great Bob Scott wrote of Roper – a team-mate during the 1950 Lions series – in his book, The Bob Scott Story: "He was very fast, very aggressive and very, very determined and, given the luck of a long tour, with inside backs to appreciate his skill, he would have won a reputation.
"I feel sure, as a three-quarter of true greatness.
"He was a clean-cut, alert sort of man, rather small but beautifully built, and he had the power of acceleration which distinguishes the really good rugby back. I wish his time in New Zealand teams had been longer."
Given his eyesight, Roper had said his knowledge of the current era of All Blacks rugby is via what he is told by family or picks up from radio commentaries.
"I haven't been able to see a rugby match for a while now," he said. "My eyes are gone, they don't last too long sometimes when you get around 90.
"I try and listen to every game on the radio; I go to sleep in the middle of it most of the time."
After living several months with a son who is based in Hawke's Bay, Roper had moved back to his spiritual home of New Plymouth prior to his death.
He is rightly regarded as a member of Taranaki sporting royalty via his exploits for the province both on the rugby pitch and via competitive athletics.
"I am back in the hometown, it takes a bit of beating," he said.
"It's hard to put it [what Taranaki means] into a phrase."
Roper's long life was anything but ordinary.
His service to others was also been exceptional.
That included decades of volunteer service at Taranaki's famed Rugby Park ground, as well as giving his time to numerous sporting and school boards.