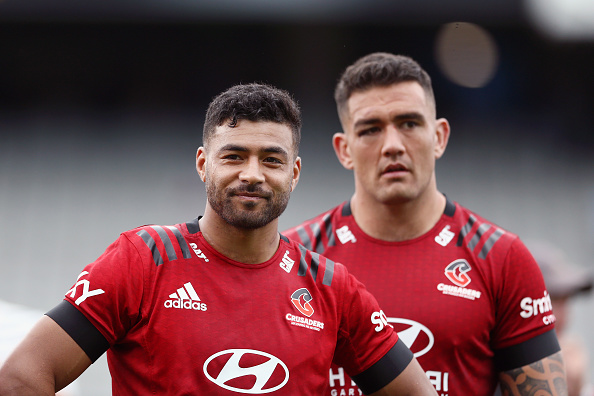 Opinion - To borrow a bit of professional wrestling parlance, the Crusaders turned full heel yesterday.
Not content with just beating a previously confident Blues team they decided to defile Eden Park while they were at it, then somehow claim the moral high ground - perfect marketing ammunition for when they next meet.
Blues coach Leon MacDonald talked last week about making the ground a fortress, but in the second half, Richie Mo'unga knocked whatever they'd constructed down with his right boot alone.
Perhaps what was missing from the game was his match up with Beauden Barrett, who is currently playing what appears to be the equivalent of President's Grade rugby in Japan.
That's why the crowd was officially counted as less than half of the capacity 44,000, and even that is a dubious figure given how generally untrustworthy the source those numbers come from usually is.
Little more than the bare minimum was really done to promote a game that was supposed to be the biggest Super Rugby game in years, that being the mandatory couple of boring stand up chats with coaches and players saying the same old stuff they always do. This, despite the media cycle last week being completely dominated by America's Cup.
It was amateur hour from NZ Rugby at a time when they should have been pumping every resource into ensuring Eden Park had as many people as possible in for the game.
Just to really ram home how out of touch things on Molesworth St have gotten, a press release stating that Ofa Tu'ungafasi had re-signed with them through to the next World Cup was sent out at 6pm Wednesday - just as Emirates Team NZ had triumphed and everyone's attention was firmly on the Waitematā Harbour.
While the game was pretty much a foregone conclusion as soon as the Blues started infringing with alarming regularity so close to their posts Mo'unga could have thrown the ball over for his five penalty goals, it did still provide plenty to digest.
The first five was effusive in his praise for the Crusaders' 'core values' post-match, most notably humility, which didn't track at all from what we saw of him and Sevu Reece in the final stages.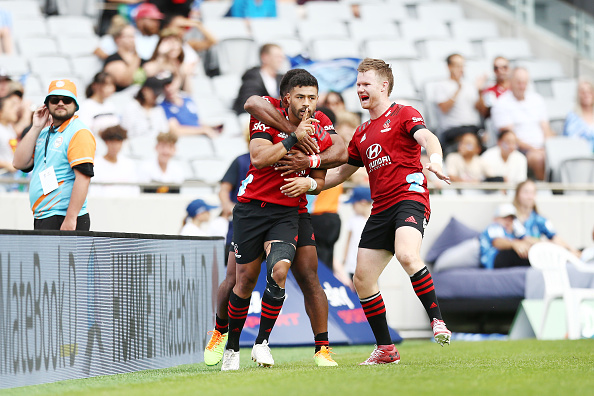 Mo'unga raised his finger to his lips to quiet the crowd after he scored, then the winger gave them something to boo long and loud about when his garbage time try was followed up with a very cocky impression of Rieko Ioane.
It's likely both will stick in the mind of the Blues when they travel south for the rematch on Anzac Day.
So too will be the Crusaders doing a presentation for Bryn Hall's 100th Super Rugby game on Eden Park after the game, despite the not-so-insignificant matter that it's not their home ground.
All of this and has already ignited a flurry of discussion on social media and, quite frankly, is brilliant.
It's exactly what is needed to get the turnstiles clicking over, to either see the showboating Crusaders do it again or their opposition smash them for attempting it.
Then there's Tu'ungafasi's yellow card that should have been his second red in six games and a massive reluctance to call any forward passes now, but we had enough of a spit at the referees last weekend.
Meanwhile, the Hurricanes' woes could fill an entire column, but frankly they don't deserve it after their horrible capitulation against the Chiefs on Saturday night.
Something is seriously wrong in the capital from the top to the bottom, as they've gone from having TJ Perenara and Beauden Barrett (combined All Black caps: 157 and counting) to Luke Campbell and Orbyn Leger (combined All Black caps: zero and that will never change) as their inside back combination in just two seasons.
It's taken a season and a half for Salesi Rayasi to finally start a game and he scored two tries, but those were half the entire times he was given the ball in the entire game.
But don't worry, they've just re-signed their coaching staff for the next two seasons.
At least the Chiefs won. The last time that happened the word 'lockdown' was just something that supermarkets used to try and rip off their customers.