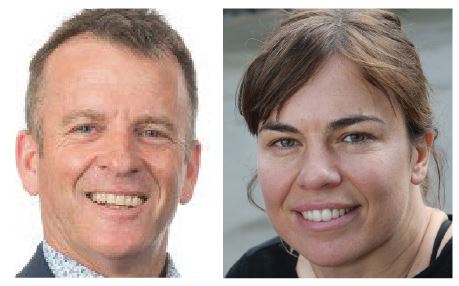 Labour's dismal showing in the Coastal Ward by-election could convince left-leaning candidates in next year's Christchurch local government elections to distance themselves from the party.
Kelly Barber, who stood under the Labour banner, polled fifth in the seven-strong field vying to replace James Daniels – a result that might see fewer incumbent and prospective councillors seek to capitalise on the Government's brand.
"It'll give them something to think about, that's for sure," Barber said.
Celeste Donovan, an independent with a Green Party background, won with 1638 votes ahead of former city councillor David East (1166), another independent.
Andre Hopman (1006) and Caleb Isaacs (996) also stood as independents; Barber received 545 votes.
"I had a lot of people telling me that they would have voted for me but there was always a rider," said Barber, who chairs the Coastal-Burwood Community Board.
"I thought maybe a lot of others will vote for me that are happy with the background I'm coming from, in other words, Labour. That didn't materialise.
"It was a bit of a shocker, but it is what it is."
In the 2019 local government elections Barber, who stood as a Labour and The People's Choice candidate, received 1199 votes when beaten by Daniels.
Asked if his second unsuccessful bid to be elected to the city council was influenced by a backlash against the Government, Barber replied: "It's really hard to know, there's probably a lot of factors.
"Other than the obvious, that people didn't want to support the (Labour) brand, maybe it hurt because I don't live in the Coastal Ward," said Barber, who resides in the neighbouring Burwood Ward.
With the benefit of hindsight, might it have been wiser to represent The People's Choice or join those who beat him by standing as an independent?
"That's another question I can't answer. It's always the people that decide."
Political scientist Dr Jean Drage said standing for a political party could be detrimental at local government level.
"I've always believed there's quite a strong feeling among voters that they don't want political parties between them and their councillors, they want councillors directly accountable back to them," she said.
"They're voting for a candidate to represent them on the council and they don't want a political party in the way because that might mean the councillor votes for the party view, rather than what they believe the community wants."
The People's Choice chair Joe Davies wouldn't to comment on the implications of the by-election result looking ahead to next year and Labour Local Government Committee counterpart Tyrone Fields did not respond to The Star.
Last month Davies forecast an interesting build-up to the election, believing left-leaning candidates might opt to go with Labour rather than The People's Choice.
"What I think you will see next year is people just running Labour, which will be quite a significant difference," he said.  
Meanwhile, independent mayoral candidate Phil Mauger welcomed Donovan's victory.
"Christchurch is rejecting party politics. I want to see a council table full of independent voices making the right decisions for Christchurch, and not their political party."