The church on the corner it was named for has finally been restored to its former glory – St Peter's is again set in stone.
A decade after the focal point of the Anglican church's parish of Upper Riccarton/Yaldhurst was severely damaged by the earthquakes, a 'place of peace' at an old gateway to the city is poised to reopen.
Reverend Nick Mountfort received the keys this week and the first service since worship on September 5, 2010, was cancelled due to the earthquake a day earlier, takes place at Church Corner on February 28.
Although the resumption of services practically coincides with the 10th anniversary of the deadly February 22, 2011, earthquake, the timing was far from intentional.
"We didn't plan it that way. It's been a long process to raise the money and get approval for what we're doing," said Mountfort.
The restoration project cost around $4 million, about half was covered by insurance and the parish still needs $400,000 to cover expenditure – a cross Mountfort was happy to bear.
"The damage to the church was extensive and at one point we almost walked away because it was so bad. But at the end of the day we wanted to restore what was there, it's been a long journey," he said, acknowledging a family connection with the site.
"My great-great-great uncle Benjamin was commissioned to build a brick addition to the (original) little wooden church in 1876. His son added to it as well in 1900."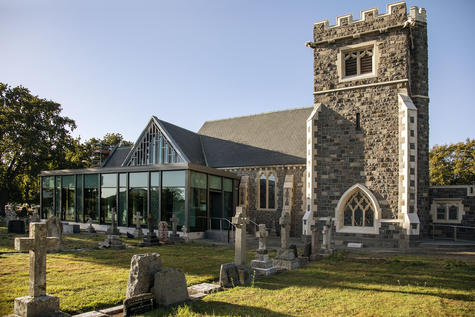 While the existing stonework was strengthened to specification and the only Austrian-made Rieger Orgelbau pipe organ in a New Zealand church has been restored, there are also new developments on land that was first consecrated in 1858.
A hospitality area has been added and the former sanctuary has been transformed into the Nurse Maude Chapel of Compassion, recognition of Sibylla Emily Maude's contribution to the well-being of the city's populace until her death in 1935.
"She is buried in the cemetery and the parish has an annual service where we give thanks for Nurse Maude. We thought it would be nice to have a chapel in memory of her that we can use," said Mountfort, who has been vicar of St Peter's for five years.
His arrival dovetailed with a ramping up of the fundraising drive in 2016 and Mountfort was delighted to see the project reach fruition.
"It's really good to be able to have a historic church back and running. It's going to be the best of both worlds. It's going to be warm and inviting with a hospitality space and it's also going to have the lovely historic part restored.
"Our motto has been 'Putting the Church back in Church Corner' and we've done it."