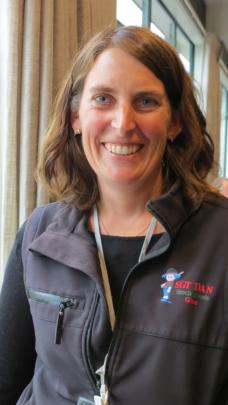 A productive cow is the dairy world's equivalent of a triathlete, ruminant nutritionist Andrea Murphy, of Alexandra, says.
Therefore, nutrition which meets her energy requirements is essential to keeping her healthy and productive and enhancing her longevity within the herd.
Ms Murphy was one of the committee that organised the New Zealand Association of Ruminant Nutritionists' first conference in Gore last week.
More than 80 people, including fertiliser company representatives, veterinarians, agronomists and animal feed consultants, attended the day.
''I often use the analogy of sport. Just like an athlete, the better the nutrition of the individual the better the performance, both in training and on game day,'' Ms Murphy said.
''Consider the planning and preparation it takes an Ironman triathlete to consume enough energy to swim, bike and run the 227km event; an energy expenditure of approximately 9000 kcal.
''Comparatively, a dairy cow has a daily energy requirement equivalent to the triathlete, on an energy per kilogram of body weight basis.
''The difference is, that our dairy cows are running that triathlon every day for at least 200 days in a row or more.
''It makes sense that the better the nutrition of the cow, the better her health and performance will be.
''A cow's longevity in the herd optimises economic efficiency, so by the time she reaches five years of age, her production has paid for herself and she is now making money for jam.''
The audience listened to several ruminant nutritionist speakers, including dairy nutrition specialists Howard de Klerk, who talked about optimising grass-based systems and understanding marginal milk analysis, as well as identifying misinformation in media articles about dairy production.
PGG Wrightson's veterinary nutritionist, Charlotte Westwood, discussed the best use of supplements.
Dairy consultant Helwi Tacoma talked about nutritional values of beets and brassicas and forage specialist Ian Williams discussed silage preparation and nutritional values.
They were followed by nutritionist Trish Lewis, who looked at the costs and food values of silage.
Dairy consultant Bryan McKay outlined what was needed to set up cows for lactation, including feeding in late gestation and early lactation.
Dairy nutritionist Natalie Chrystal talked about rearing heifers from weaning to calving and their requirements to become productive and valuable animals with the herd.
The final speaker of the day was Ms Murphy, who discussed identifying nutrient limitations and implementing solutions.
''I was absolutely thrilled [with the day],'' she said.
''The highlight for me was looking at the sea of faces and every single one of them, right through the entire day, was engaged and learning.
''There was a power of information shared.''
She said the committee was also pleased with the day.
''Chairman Jakob Kleinmans said he was proud to be part of such an innovative group,'' she said.
''One thing on reflection that maybe we probably should have done [was] a better job promoting the group and encouraging people to become members.''