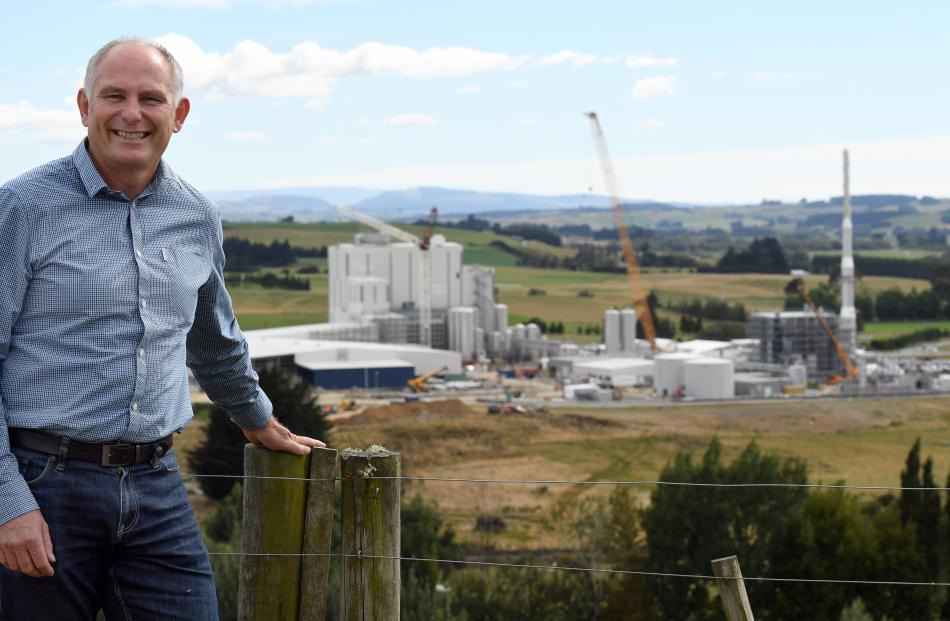 From bare farmland to a bustling construction site, the rural landscape of McNab, near Gore, has transformed remarkably over the past 18 months.
The population has been temporarily boosted through the day by about 350 people on-site during the construction phase of Mataura Valley Milk's new nutritional formula plant.
Work began on the site in August 2016, and the  $240 million project is on track for commissioning in May.
Once operational, it will be staffed by 65 full-time employees and process about 500,000 litres of whole milk a day to produce 30,000 tonnes of infant formula a year at full capacity.
Mataura Valley Milk is majority owned by Chinese company China Animal Husbandry Group and the majority of the infant formula is destined for export.
Project and engineering manager Brent Robinson says the plant will "put Gore on the map" once it is up and running."I don't think people realise what they've got on their back door," he said, during a tour of the site.
He said it had been a big project converting "just a paddock" on a 30ha area of farmland into the factory site.
From a dairying background on the West Coast, and previously engineering manager at Westland Milk Products, he said it was the biggest project he had been involved in, as far as a greenfield development was concerned.
For 18 months, only he, process site manager Sam Scott and general manager Bernard May were working on it, before the team  expanded.
His own specialty was utility management and there were plenty of challenges there, such as a 6km services corridor which involved the added complexity of drilling under rivers and getting easements.
But if the plant was to be laid out again, he believed there would not be many changes and no expense had been spared in having a "best practice" layout.
Staff recruitment had gone well and positions were about half filled; it was specialist drier and evaporation operators who were now being sought.
"The equipment we've got is top of the range  but you can't make the world's best infant formula product without great staff," he said.
The plant would "hit the ground running" at the beginning of August, with the new dairy season and the influx of raw milk from its suppliers.
There had been good farmer support for the development and suppliers were now being targeted.
A series of site tours had been held over the last two months to show potential suppliers  the plant.
Large numbers of suppliers were not being sought as  big volumes of milk were not required. Only between about 15% and 20% of the infant formula product was milk — the rest was made up of the likes of vegetable oils and proteins, Mr Robinson said.
Rather than focusing on volume, Mataura Valley Milk wanted to concentrate on a value-added premium product.
Suppliers were being sought from within about an 80km radius from the plant and they had to meet certain criteria.
Becoming shareholders in Mataura Valley Milk gave them some ownership of the company, and they would get a premium for their supply above the Fonterra milk rate, he said.
The focus once operational was very much on its core business but there was potential down the track to do something with the cream stream, which initially would be sent off site.
Potentially, it could be turned into butter or anhydrous milk fat, or a similar fat, and there was also potential for some canning on site.
The benefits for the Southland community were wide-reaching and did not just end with the conclusion of the construction phase, he said.
Workers  from all over New Zealand were staying in the region, while stainless-steel welders had come from overseas as there was a shortage of welders  at the moment because of the large number of projects requiring them.
Once completed, a series of open days were planned and a viewing gallery had been incorporated into the design to allow customers and guests to view the wet process.
Already, various groups had been on tours around the site, and the Gore District Council had been very good to work with, he said.
US Food and Drug Administration (US FDA) accreditation would be sought for the plant, at a cost of more than $1 million.