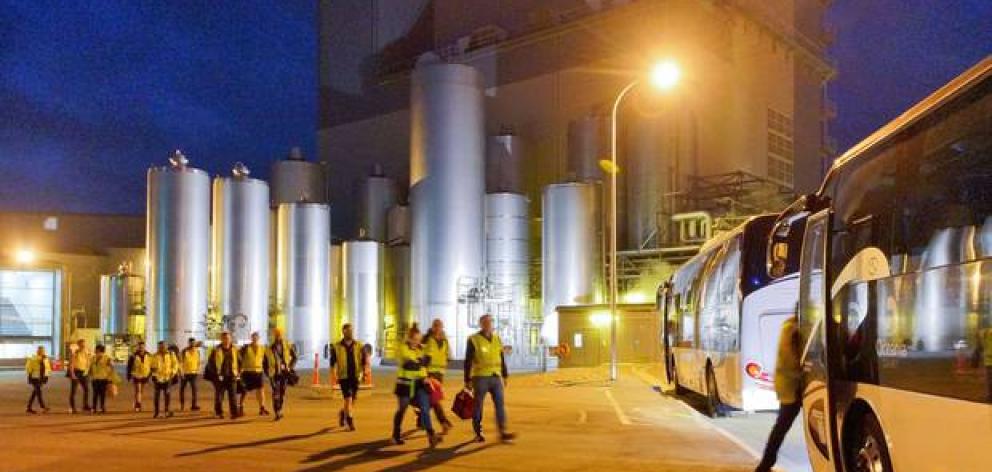 Worker buses for Oceania Dairy staff travelling from Timaru and Oamaru to the plant near Glenavy have been working well, the company says.
Oceania started the morning and evening return service at the beginning of May in a move to attract and retain staff.
''It has been going really well with a lot of uptake,'' plant operations manager Logan Hanifin said.
''It's difficult to give accurate figures because it does vary but at the moment we can get anywhere up to 20 people a day travelling from Timaru and there are pick-ups along the way.''
With the new season to start at the beginning of next month, it was expected more would make use of the service, bringing it back to similar levels in May when about 70 took advantage of it.
At present, more than 330 staff are employed at Oceania, which is expanding.
An ultra-high-temperature (UHT) milk-processing plant with new dry store, load-out facilities and service utilities is being built, as well as a new canning line.
''They're well under construction with equipment installed and it should all be completed by the end of the year,'' Mr Hanifin said.
The UHT plant was expected to be finished in 10 to 12 weeks.
A new laboratory is still in the design stage.
Oceania Dairy has contracted its bus service to Hilton Haulage, which also holds the contract to uplift its milk.
Oceania Dairy is a subsidiary of Inner Mongolia Yili Industrial Group Co Ltd (Yili), China's largest dairy producer, which recently bought Westland Milk Products of Hokitika for $588million.
The plant produces milk powder for export to China, where it is being used by Yili to produce infant formula.
-By Chris Tobin