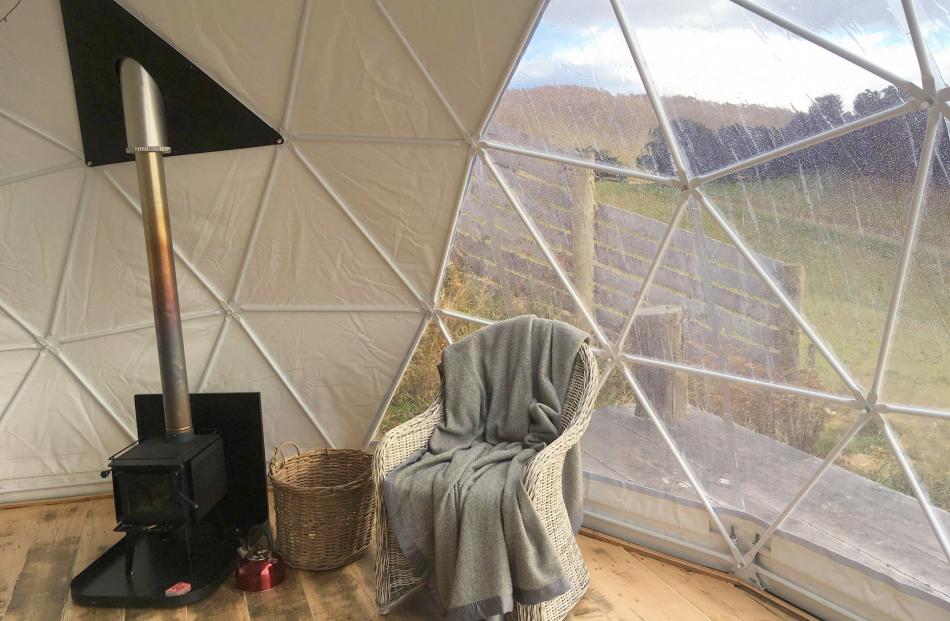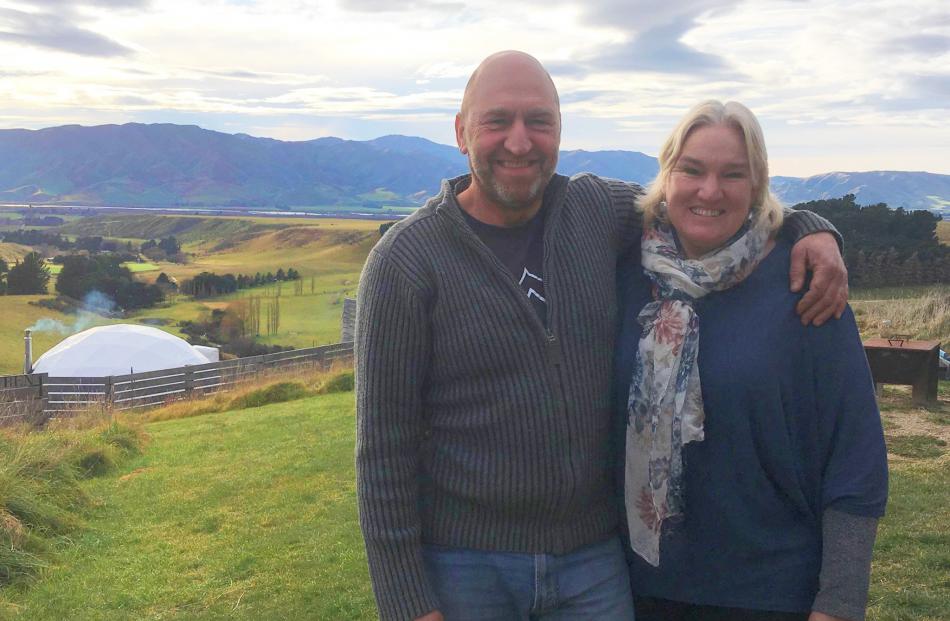 Patrick and Amber Tyrrell are genuinely living the dream.
It sounds a little like something out of a film script:  South African farmer's son meets Waitaki Valley farmer's daughter in a co-operative agricultural community in the Israeli desert.
Eventually, they move to the Waitaki Valley, where they build an off-the-grid home with spectacular views, and  focus on getting down to earth — literally. In February last year, Mr and Mrs Tyrrell launched Valley Views Glamping  (glamorous camping) on their property in the foothills below Mount Domett.
"It feels like we've found our calling in life," Mrs Tyrrell said.
Establishing such a business in what many overseas visitors would consider to be the backblocks was a big risk, they acknowledged. But it was fast paying off as they encountered visitors from around the world, with whom they could share their story and vision.
"Stuck up here up this hill, looking at the beautiful view, we had no-one to share it with before — [Now] we're sharing it with people all over the world. Even the locals don't know what's up these side roads," Mrs Tyrrell said.
Mrs Tyrrell (nee Slee) grew up on a farm just down the road from Valley Views, while her husband came from a farm on South Africa's Eastern Cape, about 100km from Port Elizabeth, which produced citrus, tobacco and vegetables.
It was a very similar area to the Waitaki Valley, although it had a different kind of beauty, the trained civil engineer said.
The couple met in Israel, during their overseas adventures, and were married 25 years ago. They later settled in Christchurch and bought their 40ha property, near Otiake, at the end of 2007. Their vision was simple — they wanted to build an off-the-grid house, they wanted a view, some trees and a creek, and they wanted to live a self-sustainable lifestyle.
"We're all about being kind to the earth," Mrs Tyrrell said.
They also wanted their four children to have the same sort of country upbringing they both experienced.
Until recently, Mrs Tyrrell managed a hut for her brother Slim Slee, at the back of their own property.
"Hundreds" of people had stayed there over a four-year period and visitors were constantly amazed by the view.
The couple kept thinking they should capitalise on that, and it was Mr Tyrrell who came up with the idea of glamping. They had "glamped" themselves in a safari tent on a game farm in South Africa.
He was on a flight to Wellington, sitting beside a woman who made upmarket cushions when she told him about Lotus Belle glamping tents. He checked them out and Valley View Glamping was under way.
It was a huge investment and a big risk to take. In fact, Mrs Tyrrell acknowledged that if they had any idea how much it was going to cost, it might well have scared them off.
But they also did not realise how many guests they were going to get.
In their first full season, from October to April, they had nearly 1000 guests from 26 countries, including many local visitors. It was also being used for functions, retreats and special events and it was bringing people to the valley, she said.
The couple, who utilised as much local skill and products as possible when developing the venture, were then able to outline the area's attractions.
They were now introducing geodesic dome tents and, as far as they were aware, were the only ones in New Zealand to have them. Imported from China, the tents are able to withstand high winds.
Valley Views was now open year-round and winter was a nice time of year to stay, with more settled weather, fires to keep warm and the view of snow-capped peaks, Mr Tyrrell said.
There were some very cool touches: from the outdoor baths with deer antlers for towel racks, to the basket, housed in a tent, which Mr Tyrrell's grandfather used to pick citrus.
Mr Tyrrell described himself as a "bit of an eco". That was how he was brought up, and his mother had never used chemical spray.
His passion was to bring people to New Zealand, because of its natural beauty, and bring them "back to nature".
In a world filled with plastic and material things, people were increasingly getting removed from the "reality of earth".
The couple refused to install Wi-Fi. Instead, guests would wake to a sunrise and hear the sounds of nearby cattle and birds, while watching the ever-changing reflection of the Waitaki River.
Valley Views was solar powered, its water came from a spring in the mountains and everything was recycled.
"That's the fulfillment of the dream. I love being out here, love getting in the dirt like when I'm a little boy," Mr Tyrrell said.
"You know what I say to people? Live your dream. Go with your passion. You might not find your passion right now but keep focus and you'll find your passion. Life's a choice. You make whatever choice you want."