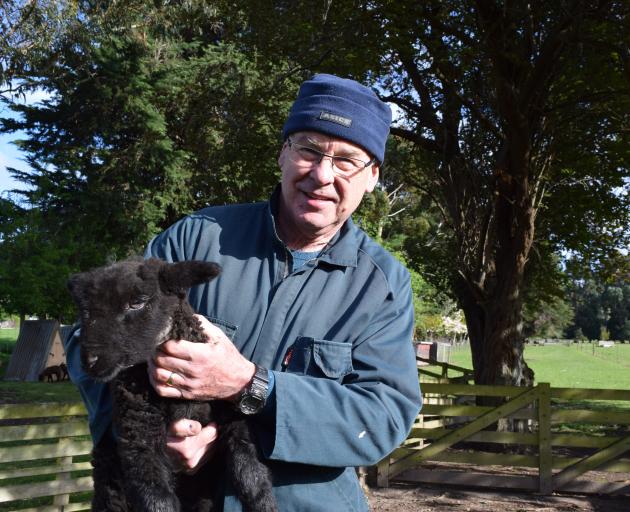 Black sheep is a term often used to describe an oddball family member but in reality the dark animals are a delight, a North Taieri lifestyle block owner says.
Black and Coloured Sheep Breeders' Association Silverpeaks branch president Phillip Craigie said the second annual lifestyle farm tour Spring Flock Crawl would finish at his place in Wairongoa Rd on Saturday.
The event was open to the public and would appeal to lifestyle block owners seeking advice on keeping black and coloured sheep.
The branch association members had knowledge to share.
"We learn so much from each another.''
After buying his home in 1988, he decided to buy animals to eat the grass on the property.
He bought sheep because they were easier to care for than other types of grazing animals, such as cattle, which needed plenty of water and stronger fencing.
Now about 40 black sheep graze his 0.4ha property.
As well as maintaining the grass level, the flock produced wool for sale.
As lambs, the wool was "jet black'' but the wool got greyer as the sheep aged.
"Just like we do.''
The condition of the flock had steadily improved over the years by ensuring that sheep with better qualities were saved from a trip to the freezing works.
"We started with pretty scruffy ones.''
The ewes in the flock were good mothers and never needed help caring for their lambs.
For the first time in a decade, a lamb had been taken on as a pet.
"He's a triplet and the mother was struggling and he was getting smaller and smaller and weaker and weaker.''
His grandchildren had named the lamb Sonny Bill, a nod to it sharing the same colour of the uniform of All Blacks rugby player Sonny Bill Williams.
Sonny Bill the lamb had visited Mosgiel rest-home Chatsford retirement village and was a hit.
"He's a bit of a celebrity.''
The free farm crawl starts at 756 Waihola Highway at 2pm on Saturday and includes an optional potluck dinner at the final stop.