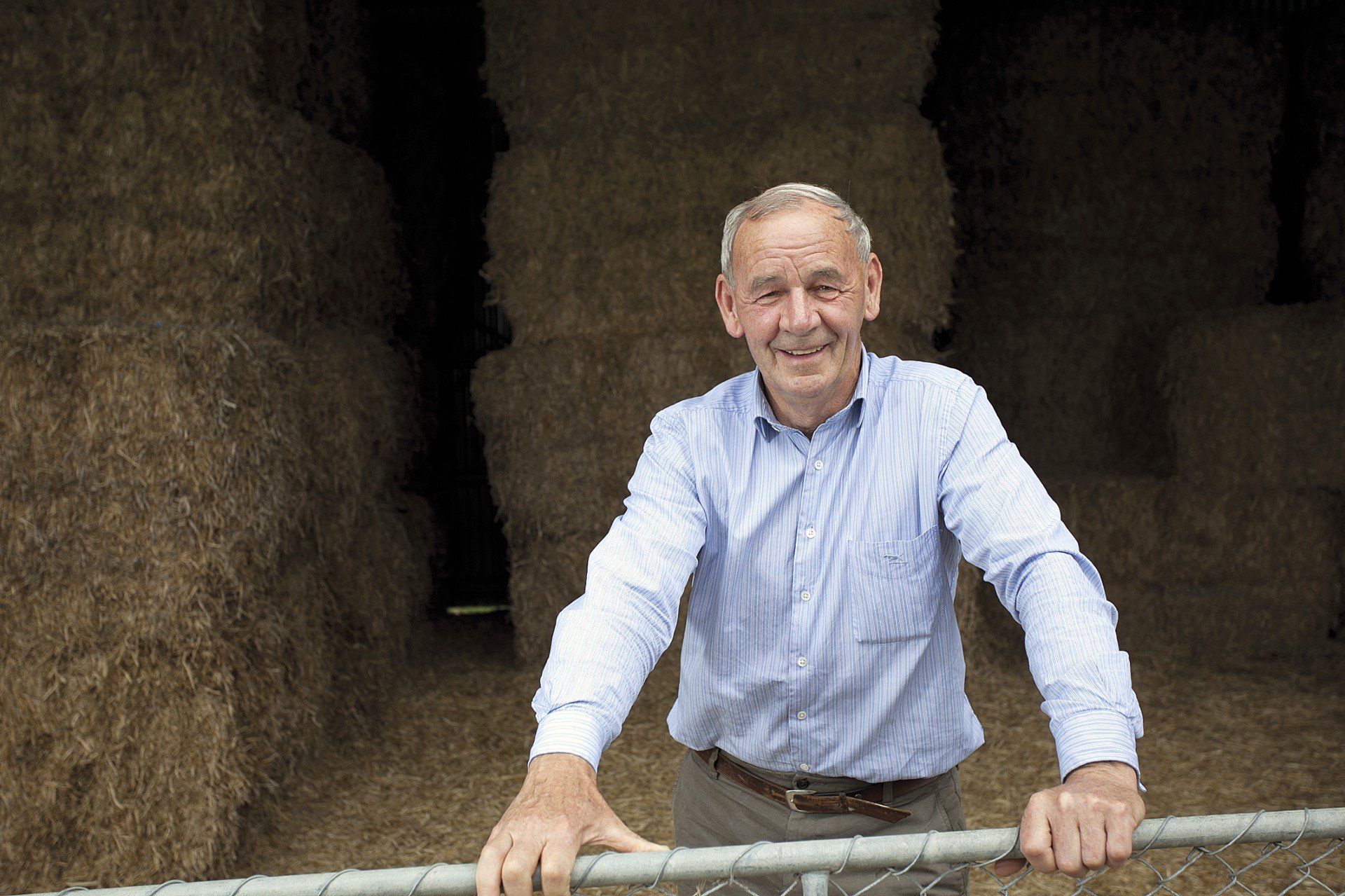 A Canterbury believer in back-to-basics farming takes pride in being a farm system scientist, writes Tim Cronshaw.
Tom Fraser knows what it's like to be thrown in the deep end on a sheep and beef farm.
Over the past six decades the Prebbleton man's been on more farms than most as a farming systems scientist and is known by many farmers for his work around the country.
But for four other brothers he might have been a Southland farmer until fate took him otherwise. He has no complaints.
"I was brought up on a sheep and beef property in Northern Southland which my father had since way back the late 1920s. I had that farming background and I had four brothers that farmed in Southland and I was the youngest. There was no land by the time it came down to me. So it was sort of suggested that I found something else so I went to Lincoln [College, now University] for a couple of years."
From there he went on to manage a property in the Te Anau basin in the "skinny sheep" days.
That was when government subsidies were the incentive for farmers to put as many sheep as they could on heavily stocked farms.
The property was a demonstration farm for the then Department of Agriculture.
"So that was really just subsistence farming. We were 90% lambing, 12 kilogram lambs and high death rates. They took over a settlement block because all those big properties in the Te Anau basin were all pastoral lease properties and the leases came up. The government took them back and the idea was to develop them and settle farmers on the land."
He was dealt a tough hand.
With little experience the youngster was placed on a marginal property of 120 hectares in the late 1960s.
On top of that, he had local farmers breathing down his neck to see how he was going to make this work with the expectation they could learn from his hard lessons.
"It was a big learning experience and a quick learning experience and in those days there were thousands of sheep and beef farmers in Southland and we would have field days where there would be 500 people."
Unlike today's assembly of sales people, bankers and other industry people, the audience was dominated by farmers.
"The idea was for people to go farming, but it became quite obvious that this was never going to work and it didn't because they actually had to take back some of the settlement farms, split them in half and give it to the neighbours to make it economical. We were settled with 1100 ewes, 300 hoggets, 30 breeding cows and a bull. In the first week the bull died. It was actually very, very borderline even in those subsidy days and that is why it just didn't work."
Farmers still rated the demonstration farm highly though as Mr Fraser and team were "pushing the wheelbarrow" with a pasture utilisation of 105%, he jokes.
Farm systems were heavily stocked to take advantage of a subsidy handed out on the basis of how many livestock were on hand come June 30.
Rightfully, that changed and he moved on to a job at DSIR Grasslands at Lincoln.
Employed as an agronomist he observed, somewhat incredulously, that pasture measurements were taken by mower with the grass cut, dried and measured.
"It became very apparent to me early on that this wasn't the right way of going about it because you could grow a whole lot of pasture, but if the animals didn't perform on it what was the point? DSIR bred some grasses the animals wouldn't eat. They were grasses with different endophytes in them and they were so toxic. How the animals knew I had no idea but you could have plots side by side and there would be grass so high and they would trim around the edges."
Instead, the sensible decision was made in the late-1970s to measure pasture production by weighing animals. More expensive — yes — and rudimentary compared with today's smartphone-linked weighing tecnology , but effective.
"I can remember weighing lambs in Kirwee on bathroom scales and it was pen and paper. That progressed through until DSIR divisions became Crown Research Institutes and most of the Grasslands people joined up with AgResearch. Then early to mid-2000s three or four of us decided we were going to call ourselves system scientists."
None of them had trained as system scientists, but they observed a lot of good research was being carried out by agricultural researchers with little farming background.
Mr Fraser was an exception to this rule.
"They would say 'look I've done this amazing research, but farmers won't take it up. Why?' And I would say does it fit in their farming system and they would say 'what do you mean?'. So it was very apparent to us that individual farmers had different systems. Put two sheep and beef farmers side by side on similar land and they'd have a different system, different production systems, different targets, different financial limitations, different soils. So all this amazing research would go out and the farmers would say " I don't know about this'."
Instead the approach was turned around with researchers asking how it would fit into a farm system. Sometimes it didn't fit, sometimes it did with modification and other times it worked.
Farmers also appreciated Mr Fraser was a practical farming person, down to earth and spoke their language.
As this progressed, farmer-friendly tools and models were developed that they could use for pasture quality. Before being taken out to farmers, the scientists went to farmer groups to see if they would work and to take on feedback.
Sometimes the reception could be blunt and the idea was claimed to be "a load of rubbish" or part of it was rubbished. This was taken on board, the idea reworked and refined until it could be made useful for farmers.
Among the many successes was a programme called Q-Graze for generating high quality pastures. Over three years it was taken out to about 400 groups of 15 to 25 farmers.
Workshops were carried out on a farm or in a country township hall with farmers walked through pasture quality, how they could measure this without going to a laboratory and what effect it had on animal performance.
Mr Fraser said they might explain how feeding pasture to lambs might result in them growing 100g a day whereas another pasture might result in 300g a day.
"Their eyes would light up and they would wake up. That programme is still being used, it hasn't changed. We used basics and I tell farmers today and tomorrow basic science doesn't change. Most research scientists play around the edges say in plant breeding and will do a little bit of plant improvement, but if we stick to the basics the basics don't change. The basics when I went to Lincoln and was taught by Prof Walker and Prof Cooper taught us in animal science, soils etc they teach exactly the same thing today. We always look for something new and the silver bullets that are going to solve our problems. That is one of the problems farmers have, well humans have, and that is we are always looking for the new thing that will solve our problem and if we actually go back to the basics 90% of the answer is there."
The likes of low-methane sheep he points out as an example of a solution producing a success rate of 1%, 2% or 3%, but not the 30% or 40% needed to change greenhouse gases.
While the sheep industry went from 90% to 100% lambing in the 1980s to 130% average lambing 15 years ago, there's been little change since.
The removal of subsidies with farmers replacing 45 kilogram ewes with 60kg to 65kg ewes coincided with lambing percentages suddenly going from 100% to 125%.
"You throw a bit of genetics in on top of that, but most of the increase in lambing percentage could be pretty well tied back to the increase in bodyweight."
He said farmers would do well to listen to processors insisting on them having good environmental credentials and more rigid greenhouse gas emissions.
That was because customers were going to be much more strict on environmental issues than any government policy. To do otherwise would only end up with farmers being left with a commodity product, he said.
"At the morning of those awards we went to The New Zealand Merino Company and I was actually blown away. They are greener than the Green Party. They are amazingly green because they are getting paid for the product. Go to a farm where a farmer is getting 25% to 30% more for his lamb because he is doing things what the customer has asked for."
The awards he's talking about are the Beef + Lamb New Zealand Awards in Christchurch, where he was named the winner of the significant contribution category.
Mr Fraser said he was honoured to receive the award among top finalists.
The judges praised his commitment to the sheep and beef sector and "legendary" research and on-farm work as well as his relentless passion for relevant and useful science that makes a difference.
By a country mile, the thing he's most enjoyed during a long career is the contact with farmers and being on farms.
Since leaving AgResearch about six years ago he's carried on working with farmer groups for industry-good bodies and the like.
Whatever you do, don't call him a contractor, facilitator or co-ordinator.
Farm system scientist would do nicely, he said.