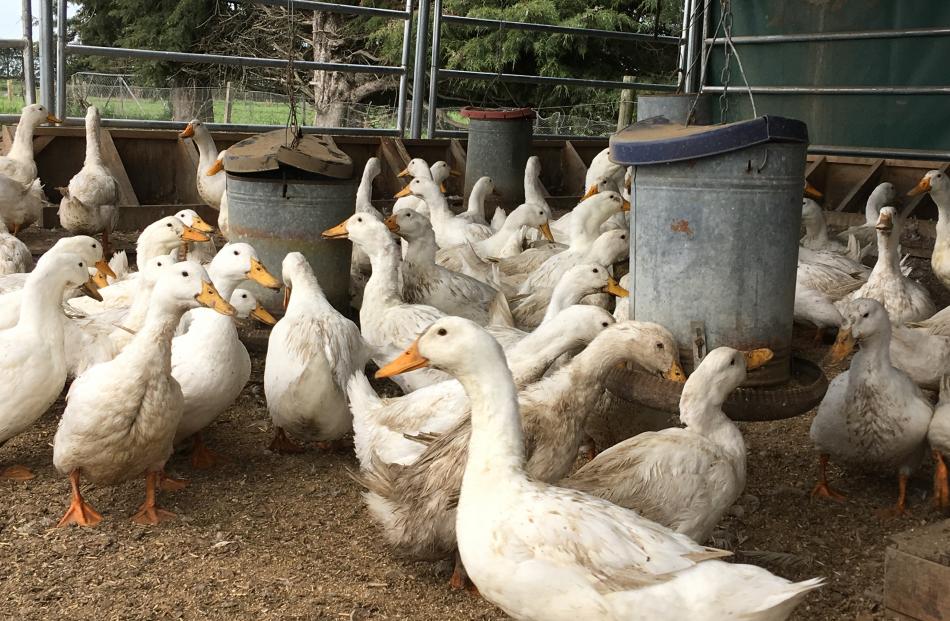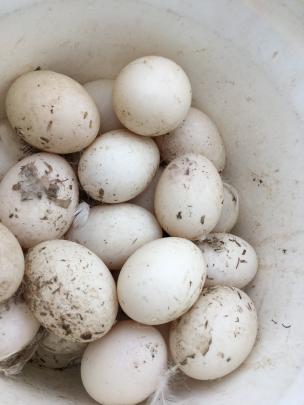 Crozier's Free Range Ltd are bringing duck to the plates of everyday Kiwis with their new commercially grown, 100% free-range duck products.
Their unique farming practice has all birds, including the breeders, 100% paddock-reared.
Monique and Kyle Smith took over Crozier's Free Range Turkey at Dromore three years ago, and along with daughters Isla and Ruby have adjusted to living on the farm, just north of Ashburton, in Mid Canterbury.
They have extended their product range and most recently added duck to their farm, which had become popular through television shows such as Master Chef and My Kitchen Rules.
Duck sausages, salami and bacon was available exclusively at the Farmers Market in Ashburton, along with turkey sausages.
''It's something we've always thought about. But it was getting hold of some good genetics,'' Kyle says about rearing duck.
They use the proven Pekin duck, a flightless, popular meat breed.
Kyle has 15 years' experience managing poultry farms with a range of specialty bird products including turkey, duck and quail.
''There is more duck consumed in New Zealand than people think, and it's not just for restaurants,'' Monique says.
They started processing duck in mid-September.
The processing of birds was done by the Crozier's team in their own small certified processing plant.
The salami and sausages were made off site at a local butcher's.
''We're building up a bit of stock before really getting stuck into it,'' Kyle says.
The Smiths, along with Kyle's brother, Aidan, work on the farm and between them deal with all facets of the operation - the breeding, egg incubation and raising.
Then, along with four part-time staff, the processing of products.
''Ducks are messy birds ... they make a huge mess 'cos they preen themselves. And they're open [beak] drinkers. They need fresh shavings every day.''
The Smiths' agree commercially grown duck has more fat - so more flavour - than the wild variety and, given they were processed at six and a half weeks, had very tender meat.
At the time of processing, ducks weigh between 1.8kg and 2.3kg.
''The challenge was getting the scalding, plucking and waxing process right,'' Kyle says.
''We make all our feed for our birds through our very own mill, on site at our farm,'' Monique says.
''All the grain is sourced from local farms and vitamins are supplied by an animal nutrition specialist; they also formulate the diets for the birds.
''We have replaced antibiotics, commonly used in poultry for gut health, with probiotics and blended essential oils.''
Maintaining optimum health for their stock was another reason they were not an intensive farm, they said.
The ducks' free-range lifestyle included a quarter of a hectare, per flock, of open paddock to forage.
The breeders also have cosy open plan nesting boxes with a supply of food and water close to hand.
They lay from 26 weeks, with each duck laying for up to 40 weeks. Egg incubation takes 28 days.
Crozier's Free Range sell direct at the Ashburton Farmers Market and stock over 100 butchers and specialty stores New Zealand wide.
''We are the smallest 100% truly free range turkey and duck producers in New Zealand. We are small and spectacular,'' Monique says.