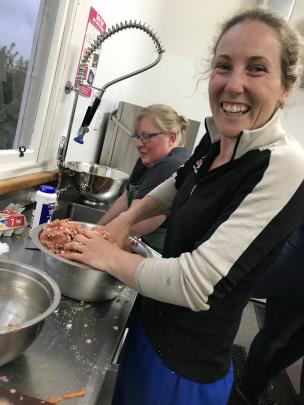 A food donation initiative has taken off in the rural town of Middlemarch recently as a groundswell of volunteers and donations stream in.
Co-organiser Anna Wilson said the initiative began with a conversation at play group one morning earlier this year.
''It's something that has been on the mind for a couple of us. We knew about other groups that do the same thing in other rural areas and we thought why not start one here?''
Mrs Wilson said the Strath Taieri Rugby Club donated $1000 to the group to buy a freezer and Community Constable Allan Lynch offered the police station as a central location for the freezer.
On average, two food parcels are delivered to people in need in the surrounding communities.
''The recipients are anonymous. We will receive a call or message from someone recommending a deserving person or family and one of us will drop a parcel off. It's been lovely meeting a number of people in the area whom I have never crossed paths with in the community before,'' she said.
''We just started with a call out to the local play group mums to donate some baking or cooked meals in small containers and the freezer was quickly filled.''
Word about the good deed quickly spread and Mrs Wilson said the group was approached by Mosgiel New World with an offer of meat, cheese and milk.
''As most of us are off farms and mince and sausage meat is often rolling around in the bottom of the freezer, we were kindly able turn down the meat offer.''
A fruit and vegetable retailer has also come on board and donated fresh produce.
With the bulk ingredients on offer, the group decided it was worthwhile coming together one night every so often to do a big cook up.
''A couple of weeks prior we put a call out on the local Facebook community page asking for volunteers and extra ingredient donations, we are so humbled by the generosity of the local people and [Strath Taieri] Rural Women offered to pay for the use of the hall kitchen,'' she said.
On the menu this night was sausage rolls, macaroni cheese, roast vegetable medley and meat loaf. The meals are portioned into foil containers and labelled with ingredients.
''It's quite heartening the response we have had; from those that have received a parcel and the volunteers who make it happen, it's community spirit at its best,'' Mrs Wilson said.
-By Alice Scott