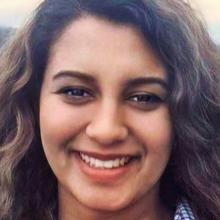 Growing up in Singapore, Ray Mohan always liked the idea of having a farm.
It was an unusual notion, given the island was about as far-flung from a farming nation as you could get.
But that dream has, in some ways, been fulfilled with her new role as a farm environmental adviser for Ravensdown which has her visiting farms throughout Otago and Southland. Ms Mohan (24) was 12 when her family moved to New Zealand, settling in Whakatane, which was a huge contrast to Singapore.
But the transition from city girl to country girl was not a difficult one to make, and she and her siblings embraced their new lifestyle. Interested in resource management, Ms Mohan headed to Massey University to study environmental science.
Her tertiary studies offered her different experiences including a project creating biodiesel from waste cooking oil,  working to bring sustainable innovations to rural areas, and a master's in business studies which focused on the use of Life Cycle and Carbon Footprint Assessment to measure the impacts on sheep dairying.
After completing her master's, she was drawn to Ravensdown's development programme because of the environmental consultancy and the work the company had been doing in the agricultural sector.
Sustainability had become a "buzz word" — "everyone's got sustainability in their vision" — but she felt the company was actually serious about it and not just "talking the talk".
In her new role, she was working alongside Mark Crawford, who had long been involved in the rural sector.
"I always liked the idea of consulting and working with people to use mitigation tools to find solutions.
"There's more issues coming to the forefront across New Zealand. You read the news and people are either for or against the regulatory changes and I've always felt that if you want to make a difference, you've got to get amongst it."
In October 2013, Ravensdown launched an environmental analysis and planning service, in the wake of increasing demands on farmers to meet environmental standards and regional regulatory requirements.
Much of her work revolved around working with farmers to establish whether they were compliant and, if they were not, helping them reach compliance.
She had been welcomed on to farms from Oamaru to Gore, she said, and it was nice to be able to chat to farmers about other aspects of her background, whether it was sheep dairying or remote area power systems.
Nutrient budgets were the first step in the environmental sustainability process —  they provided the "perfect snapshot" of what farmers were doing — and if more needed to be done, the environmental team could help further.
Ms Mohan enjoyed the chance to be "on the ground" and help make a difference. It was also encouraging to see most of the farming sector was "trying their darndest".
Things were constantly evolving and the space, tools and technology available now was mind-blowing.
"Conscious consumers" was a growing demographic, as people identified what made New Zealand produce so great — it was still pasture-based, and that was not found everywhere in the world, she said.