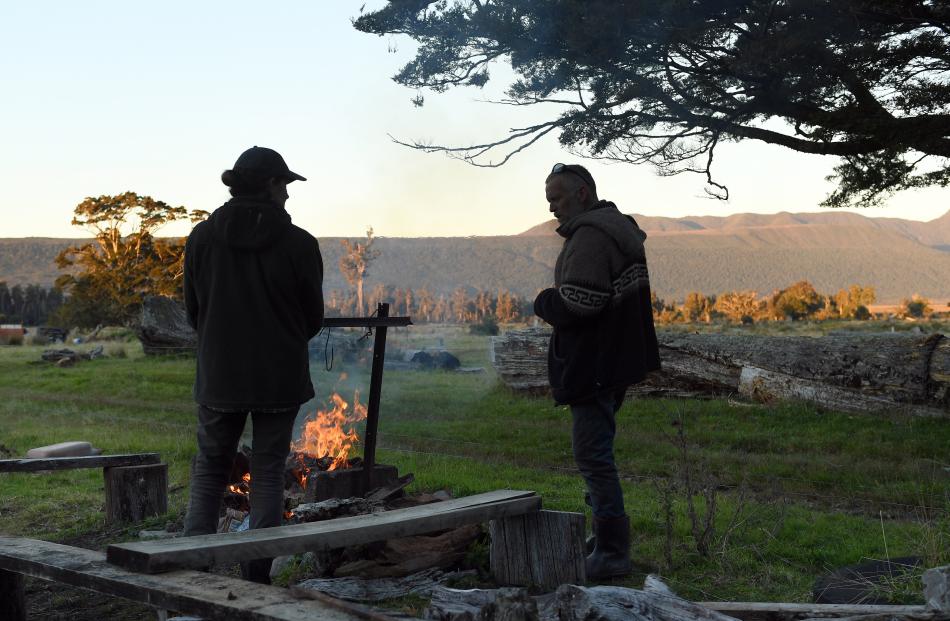 The likes of helicopters and, latterly, even drones, have replaced horses for mustering on many properties in New Zealand's back country. But in remote South Westland, traditions remain alive and well, as agribusiness reporter Sally Rae reports. 
Mustering in the remote and beautiful Cascade Valley in South Westland can come with its challenges.
But for Haast-based farmers Maurice and Kathleen Nolan, those challenges were amplified as they prepared for today's Haast calf sale.
The sale is a major calendar event for the Nolans, a name synonymous with South Westland since the family arrived at Jackson Bay, south of Haast, in 1876.
This year was no exception, but it was made more difficult as the couple were dogged with numerous challenges.
Wild weather lashed the West Coast last month, forcing the postponement of the calf sale for a week - and flooding Mr and Mrs Nolan's house, the water reaching over the top of their dining room chairs.
That same day, Mr Nolan, who is in his early 60s, was in Clyde, finally getting his broken leg in plaster, having limped around for two and a-half weeks.
Slipping over in wet grass in his jandals on the morning of the Wanaka A&P Show, he managed to incur three cracks in his leg.
Unable to get home from the hospital appointment due to road closures, the couple stayed in Wanaka and listened to regular phone updates on the level of rising water in their home.
But as he rested his leg on a chilly bin on the deck of his hut in the Cascade, Mr Nolan shrugged that he was "still alive", and being out in the valley - broken leg or not - was "awesome".
There were three days of mustering before the 400 cows and about 360 calves were driven down the expansive valley to a holding paddock before being weaned and sorted and trucked to the Turnbull saleyards.
That 8ha holding paddock, first fenced in 1964, was essential to the Nolan family's operation, despite being physically separated from the remaining area of their Cascade pastoral lease.
Three weeks before the calf sale, the paddock was cultivated and fencing pulled out, rendering it useless for stock and leaving nowhere to put their cattle.
Mr Nolan has battled for years to get Land Information New Zealand to acknowledge the area with the mis-siting of that parcel of land which appeared to have been taken from an indicative sketch map.
Their land - rather than being where the rectangular paddock was - was believed to be indicated on the official map as a round area of native bush.
He believed the problem originated because the then Department of Lands and Survey never followed through in surveying and registering the original area correctly.
The Nolans applied to LINZ for a boundary realignment in 1998 but the matter remained unresolved, despite repeated requests to get it sorted.
Just a few days before the sale, the Department of Conservation made available a 21ha block to use as a temporary paddock, potentially saving an unmitigated disaster.
Mr Nolan heaped praise on Doc for "coming to the party" and also those Doc staff who turned up at their house to help clean up in the wake of the flood.
On gaining approval, Mr Nolan and helpers quickly swung into gear and erected a temporary fence, ready for when the cattle arrived.
The crew included Sue Templeton and her partner Justin Maclean, and Oz Macdonald, described by Mrs Nolan as the muster's "main man", turning his hand to anything.
Sporting an infectious smile, Mrs Templeton loved the outdoor life and enjoyed helping the Nolans' with anything that needed doing.
"I mean look at it - it's gorgeous, all these big, open spaces. Like we say, it's always an interesting trip with Maurice. There's always something to fix. There's always a good story to be told, that's for sure."
For there were always fix-it jobs at the Cascade and they were always done with Mr Nolan's inimitable style.
Despite spluttering that he was more mobile before his broken leg was plastered, Mr Nolan still managed to hobble around - mostly without crutches - to "help wherever I can".
That included rigging up an outside shower - the shower "door" being a sheet of corrugated iron screwed into a beer crate - and sorting out water issues.
Then there were vehicles to be fixed - life in the Cascade leaves its scars - including the ute which needed the door hinges repaired so a cord was not required to hold it closed. Also a broken spring needed replacing and a shock-absorber, both sourced from the "spare parts" properly-broken-down ute out the back.
The muster itself was a traditional affair done by horseback - "you can't get around this country on a motorbike".
"It's pretty much the same team that comes in. If someone wants to get on the team, they've got to wait for someone else to die," Mr Nolan quipped.
For regular attendee Raymond "Tappy" Tapp, mustering the Cascade was "part of your life that could never be replaced" while newcomer James Crutchley described it as a "once in a lifetime opportunity".
Mr Crutchley, who farms at Palmerston, came with Duncan Smith, who farms in the Pigroot and who had also been the previous year.
The country was something that was "totally new" to Mr Crutchley but the best part of it was the good people involved.
"That's what makes it fun. If I was asked to come again, I would - oh s*** yeah," he reflected.
Thomas Condon, who runs the Flagstaff Herefords stud at Mahitahi, first came on a Cascade muster when he was about 13 in 1966.
Hut-bound for three days due to flooding, he would read aloud excerpts from diaries written by Paddy Nolan, Maurice's great-uncle.
Two of Mr and Mrs Nolan's four children were on this year's muster: Robert (33), a builder in Wanaka, who passed on his duties as Upper Clutha premier rugby team manager to a friend for Saturday's game against Wakatipu, so he could help out.
He returned three and-a-half years ago after working on cattle stations in the Northern Territory, including for reality television star Milton Jones from the television series Keeping Up with the Joneses.
Youngest daughter Bella (22) was only "tiny", her mother recalled, when she first rode her father's retired horse Bubba on a Cascade muster.
After a stint dairy farming at Dipton, Miss Nolan tried her hand at university, briefly studying architectural draughting in Dunedin, before deciding it was not her thing.
So she studied beauty therapy in Queenstown before returning to Haast to work for her parents, while still utilising her beautician skills and "keeping everyone pretty" in Fox Glacier.
She loved being at home and, when asked how she got on working with her father - himself a fairly forthright personality - she tactfully said "we have our discussions".
"Apparently I'm a little too sassy for his liking," she laughed.
The glue of the muster was undoubtedly Kathleen Nolan who, after a day in the saddle, was also chief cook.
Married for nearly 37 years, Mrs Nolan said she appreciated the Cascade and the muster more as she got older.
"When you're young, you just come and do your thing and go out again. I could spend more and more time here ... it's my happy place," she said.
As she prepared dinner in the hut, while the musterers sat around an open fire outside, laughing and telling stories - kea chortling in a nearby tree - her flooded house was firmly out of her mind until the sale was over.
"It's not a bad place to be on an evening like this," she said.