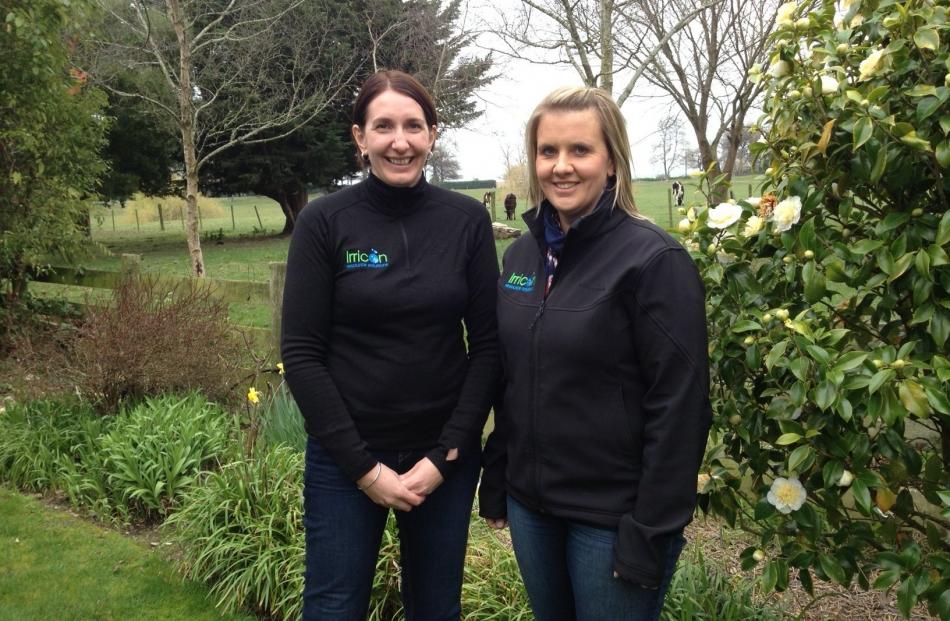 A Timaru business is a finalist in this year's Enterprising Rural Women Awards.
Irricon Resource Solutions Ltd is an environmental consultancy co-owned by Keri Johnston and Haidee McCabe. It is based at Washdyke but works throughout the South Island, offering services including designing dairy effluent systems, preparing and auditing Overseer nutrient budgets and farm environmental plans, water quality monitoring, aquifer and irrigation tests, ecological assessments, and resource consent advice.
Clients range from smallholdings to corporate farms.
Mrs Johnston and Mrs McCabe hold 90% of shares in Irricon; the other 10% are owned by their colleague, Gary Rae. They all started with equal shares but the women are buying out Mr Rae, who is winding down towards retirement.
There are seven other people working for the business, which also has an office in Ashburton.
Its innovation lies in allowing staff to work from their homes, spread across Canterbury and into North Otago. They have varying farming backgrounds, tertiary education and areas of expertise.
''That's one of the bonuses of the way we are set up,'' Mrs Johnston said.
''We have very talented staff. They can work from home, have their career, and stay working on the farm.
''We've got children of varying ages. We do most things from home.''
The staff choose hours that fit around their other commitments. She and Mrs McCabe do not mind if they put in a 10-hour week or a 40-hour one, as long as their contracts are completed by deadline.
''It's a little bit different,'' Mrs Johnston said.
''The reason we exist is our desire to be able to work while on the farm.
''We spent a lot of time putting our systems in place. A lot are web-based, including document filing.''
Internet speed could be a problem, but it was improving.
An advantage in working on farms was that the Irricon consultants could relate to their customers, Mrs Johnston said.
''That's one of the things that appeals to clients. We wear jeans and gumboots, not suits. We're happy to go out on a farm bike.''
Mrs Johnston, who farms 80ha with her husband at Geraldine, has a degree in natural resources engineering from the University of Canterbury, is a Professional Member of the Institute of Professional Engineers New Zealand and a Chartered Professional Engineer. As a consultant, she specialises in water issues and dairy farm effluent.
Mrs McCabe, who lives with her husband on an Albury lifestyle block, has a Bachelor of Resource Studies from Lincoln University. She has worked with irrigation companies throughout the South Island and in Western Australia and now specialises in catchment plans, surface water consents and irrigation.
Mrs Johnston said they considered entering the Enterprising Rural Women Awards last year, but felt unsure.
This year they thought: ''Why not'', and being named finalists was ''a nod to say we are doing something right''.
There are 17 finalists across four sections. Irricon is in the ''Help, I Need Somebody'' category, against an accountancy business and a boutique law firm.
The other sections are ''Love of the Land'', with entries including a plant nursery, a free-range pig farm and an apiary; ''Making it in Rural'', with a lamb coat manufacturer, blueberry venture, cheesemaker, bee products manufacturer, organic winemaker, and a soapmaker using peonies; and ''Stay, Play, Rural'', with high-end accommodation and a walking-track, car-relocation service.
The winner of each category vies for the supreme award, to be presented at the Rural Women New Zealand conference in Rotorua on November 15.
Mrs Johnston said now Irricon has made it this far, she and Mrs McCabe would love to win their section. If they did, both would attend the Rotorua event.
- by Sally Brooker 
Rural Women president Wendy McGowan said this was the sixth year of the contest.
''Each year we see a greater sophistication in the marketing and presentation of rural businesses that enter the awards.''