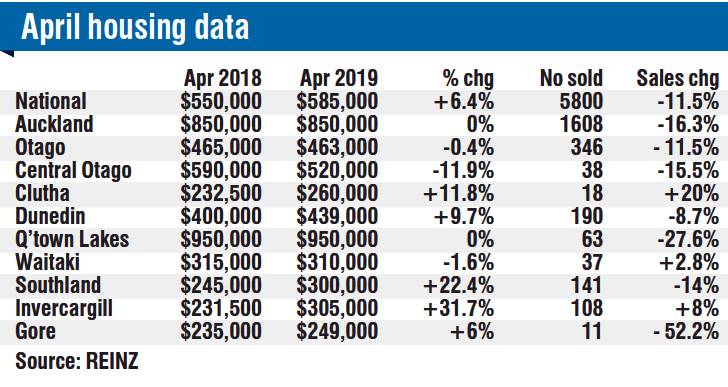 Southland shone through as the largest median house price percentage gainer around the country in April, as prices rose more than 22%, to a record $300,000.
While good news for homeowners, the continued strength in southern median prices and subdued listings meant more affordability pressure for first-home buyers.
While Queenstown and Auckland prices continued to ease, the national median price, underpinned by growth in the regions, was boosted to a record $585,000, Real Estate Institute of New Zealand data shows.
Median prices in Auckland and Queenstown were unchanged on a year ago, at $850,000 and $950,000 respectively.
REINZ regional commentator Liz Nidd said Dunedin's record median price of $439,000 was unchanged from the previous month.
''Affordability continues to be a talking point, particularly for first-home buyers,'' she said.
She said some of the decline in sales volumes had been attributed to buyer expectations, particularly as supply remained an issue.
REINZ regional director Gail Hudson in Queenstown noted sales volumes were low for this time of year, but unsurprising given in March listings were down more than 18%.
Listings had lifted in April, which could prompt a lift in sale volumes this month.
REINZ chief executive Bindi Norwell said median prices across New Zealand continued to rise and 13 of 16 regions recorded annual price increases.
Southland sales declined 14%, to 141, most likely because of the combination of school holidays, Easter, Anzac Day and Southland Anniversary Day.
Record median prices were recorded in Southland, Manawatu-Whanganui and Northland.
''Additionally, we've seen some strong areas of growth outside of those records, including the West Coast with a 16.3% increase year-on-year,'' she said.
''Surprisingly, Nelson and Otago both saw falls in the annual median price down 0.9% and 0.4% respectively.
Ms Norwell said given the strength of these markets during recent months, the declines were relatively small, suggesting these are just the early signs of the usual winter slowdown.