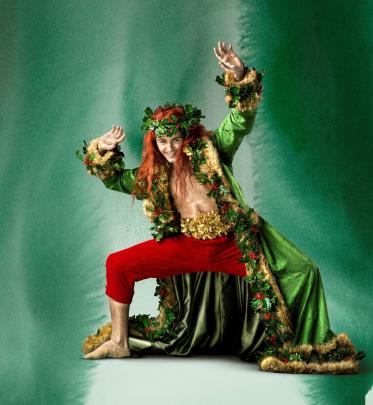 Putting on a full ballet production is always a big job but A Christmas Carol is bigger than most, ballet master Daniel de Andrade tells Charmian Smith.
Daniel de Andrade has worked on A Christmas Carol several times over the past 20 years, both as a dancer and as a coach.
He is in New Zealand teaching it to the Royal New Zealand Ballet, which will bring it to Dunedin on November 15 and 16.
It is the first time this work, created for the Northern Ballet, has been seen outside the UK although it has become the Northern Ballet's most frequent revival.
''There are many elements to this production that make it more than just a ballet. There is a strong narrative story to be told which comes from the traditional English literature of Dickens, so that has to be respected,'' the ballet master of the Northern Ballet says in a phone interview from Wellington.
''It's based on carols, traditional carols, which implies the dancers need to sing. I think the dancers were quite surprised about that and even scared, because it's quite daunting if you are not a trained singer to go on stage and all of a sudden have to perform, but they have embraced that and are really enjoying it.''
The Northern Ballet is known for its strong narrative ballets.
RBNZ has previously staged its productions of Dracula, Carmen and The Hunchback of Notre Dame.
Such ballets require acting as well as dancing.
The late Christopher Gable, former artistic director of the Northern Ballet, used to tell the dancers not to ''act'' but to ''be'' the characters on stage, Andrade says.
''It's a very different level of interpretation required by the dancers but it pays off because it's so absorbing for the audience. They simply have to sit down and the whole story is told through the choreography and through the dancing, which is beautiful.''
This New Zealand production is the sixth time Andrade has revived this ballet, but each time it's the same and the only tweaking that goes on is down to individual artists' abilities and interpretations, he said.
''We are very respectful of the way the ballet was created. Because I've revived it so many times, I've come to know it very well and I have a real vivid picture of all the people who have done these characters in the past. And it still rings in my head the voice of Christopher Gable and what he wanted to have from each scene we were rehearsing. He was very stringent: if the scene was happy, he wanted to feel happy himself, even though he had seen it so many times. If it was a sad scene, he wouldn't let the dancers leave the studio until he had a tear in his eye. He really got us involved.''
Andrade has danced many of the characters himself over the years and says the show has remained pretty much exactly the same for the past 20 years.
''It's wonderful choreography and a wonderful production and we respect that very much.''
The original choreographer, Massimo Moriconi, is coming to New Zealand to work with the dancers in the final fortnight before the show opens, he says.
''They are looking forward to that. It's always good from a dancer's point of view to see the person who's thought of every single step and get the flavour of things. It's a special experience, but by that time the dancers will know exactly what they are doing and they will be pretty much rehearsed. He will bring a lot of original knowledge and some freshness and some passion because he has that Italian passion going on. I learned a lot from him as a dancer so I'm looking forward to introducing him to the company,'' Andrade says.
The idea for creating the ballet based on the Dickens story came from composer Carl Davis.
''He thought the story had great potential as a dance production using traditional and perhaps lesser known carols and word songs as a basis for the score. Both Davis and Gable wanted to make a special production with a real meaning to it and that would be a good alternative to Nutcracker that many ballet companies do all over the world at Christmas, including ourselves,'' Andrade says.
Gable and Davis created the scenario.
Gable insisted that because it was Christmas, it had to be short, and each of the three acts should be only half an hour and deliver the story freshly and quickly, he says.
The costumes, hair and makeup are a huge part of this ballet, with 75 characters to be made to look believable and around 650 costumes to be fitted and adjusted for different-sized dancers.
The RBNZ is using the Northern Ballet's set and costumes.
Some are 20 years old, but others had to be remade to the original designs after a fire in the stores about eight years ago, according to Andrade.
Brought up in Brazil, he studied ballet in London and has danced in Europe and the UK.
Now almost 50, he says he's pleased to still be part of the creative process as a repetiteur, coach and choreographer.
''The sad thing about dancing, by the time you've learned the craft and you feel you've things to give as an artist, maybe your knee's not doing so well, or your back; it's definitely the case that youth is wasted on the young when you are a dancer. Your career has to come to an end sometime, but also usually by that point you have developed yourself into an all-round appreciator of the craft and you can pass that on to other dancers and share that and see the whole business from a wider angle,'' he says.
---
See it
The Royal New Zealand Ballet's production of Dickens' A Christmas Carol is at the Regent Theatre in Dunedin on November 15 at 7.30pm and November 16 at 3.30pm.
It will be accompanied by the Southern Sinfonia.
---