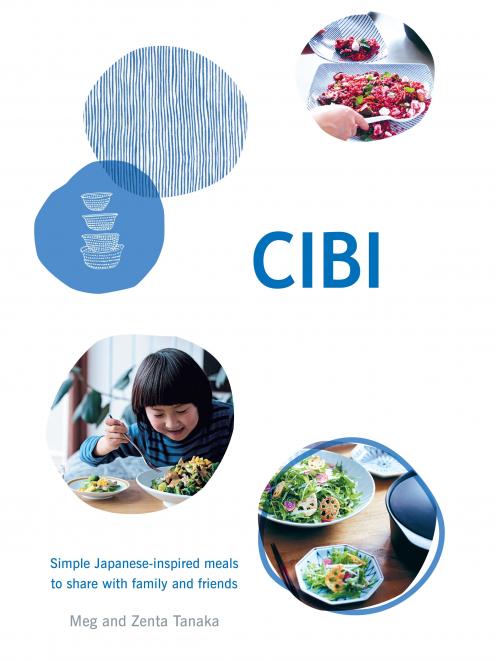 Simple Japanese recipes to share with friends and family are the aim of Australian cafe owners Meg and Zenta Tanaka.
They established Cibi (Japanese for ''a little one'') in Melbourne 10 years ago, combining their love of food and wine (Meg) and design and architecture (Zenta).
Cibi is also the name of their new cookbook.
The name is important to them as it signals what they are about, always ''curious, exploring and playing''.
''We create a menu of homely dishes to excite the senses and feed the cibi in you.''
In the book, about 80 seasonal recipes reflect their ethos - a fresh, simple approach to cooking with quality produce to create healthy and balanced meals that mix Japanese and Western inspiration.
''Japanese cooking can be intimidating, but it doesn't have to be.''
Mum's pork cha-shu
This is one of my favourite and most easy-to-make recipes from my mum - pork cooked in black tea. When you cook pork in black tea, the tannins tenderise the meat and reduce the fat, so it becomes light and clean.
All you need to do is make strong black tea in a heavy pot, put the pork in and cook it. You'll also use the marinade to dress the salad, so there is no waste - it is so simple, and so good. The leftover cold meat makes for a good summer lunch dish.
Serves 4-6
Ingredients
2-3 black teabags (Ceylon or English breakfast are nice.)
500g pork shoulder or fillet
50g mixed salad leaves
1 Tbsp finely sliced spring onion (scallion), to garnish
To serve
1 quantity Perfect Stovetop Rice
Cha-shu marinade
100ml soy sauce
100ml mirin
3 Tbsp sake
3 Tbsp rice vinegar
Method
1. In a large stockpot, bring 1 litre (4 cups) of water to the boil. Add the teabags and let them steep to make a very strong black tea.
2. Remove the teabags, transfer the pork to the stockpot and bring it to the boil. Turn the heat down to low and use a piece of baking paper to make an otoshi-buta (drop-lid). Cook the pork for about 40 minutes, until it is firm to the touch and its juices run clear when you pierce the meat with a knife.
3. While the pork is cooking, make the marinade. Combine all the ingredients in a saucepan and bring to the boil for
2 minutes. Cool the sauce and pour it into a rimmed tray or bowl.
4. Once the pork is cooked, remove it from the pot and coat it in the marinade. Let the pork cool.
5. To serve, arrange some salad leaves on each plate and dress with the leftover marinade. Thinly slice the pork and place it on the plate, and garnish with spring onion. Serve accompanied by rice. Leftover pork keeps in a tightly sealed container for up to 1 week.
Note: This pork tastes even better after sitting for a day in the marinade, and goes well with daikon and mizuna salad and heirloom tomato salad.
Green tea muffins with sweet adzuki beans
We have served these muffins at Cibi every weekend since we opened. Two classic Japanese sweet ingredients - matcha (green tea) powder and sweet adzuki beans - give these muffins their distinct flavour and the unique green colour that has caught the eye of many of our customers.
Over the years, they have become the finishing note of our leisurely Japanese weekend breakfast experience. They are great with both green tea and coffee.
Makes 6
Ingredients
50g unsalted butter, plus extra for greasing
80g caster (superfine) sugar
1 egg
80ml full-cream (whole) milk
135g plain (all-purpose) flour
3 Tbsp matcha (green tea) powder
2 tsp baking powder
120g sweet adzuki bean paste*
To garnish
flaked almonds
Method
1. Preheat the oven to 180degC. Grease a six-cup muffin tin with butter.
2. Melt the butter in a microwave or using a hot water bath (the aim is to melt it, not cook it). Set it aside to cool slightly.
3. In the bowl of a stand mixer, combine the sugar and egg and beat at high speed until the mixture is smooth and pale, about 35 minutes.
4. Add the melted butter and beat until well incorporated. Pour in the milk and beat again for 30 seconds to 1 minute.
5. Sift the flour, matcha and baking powder into the mixture, then stir with a spatula until smooth and shiny.
6. Pour the batter into the muffin tin, half filling each cup. Add 2 tablespoons of adzuki paste to the middle of each muffin. Divide the remaining batter between the cups, pouring in just enough to cover the filling.
7. Sprinkle almond flakes on top of each muffin and bake for 20-25 minutes, until they are nice and fluffy and a skewer inserted in the middle of a muffin comes out clean. Aim to take them out of the oven just before they start to turn golden brown.
Allow to cool before serving.
Note: If you cannot find sweet adzuki bean paste, you can use 50g of couverture white chocolate.
Baked miso eggs with roasted eggplant and pumpkin
Ever since we opened Mina no ie in 2012, this baked miso egg dish has been one of our signature breakfasts. I'm really happy with this great marriage between Eastern and Western flavours - everyone loves eggplant and miso (plus cheese).
We use our nanbu-tekki (cast-iron) pans, designed by Sori Yanagi, for a sizzling, stylish oven-to-table service. You can bake and serve the dish in individual pans or one large pan for sharing.
Serves 4
Ingredients
500g eggplant (aubergine), sliced into 1cm thick rounds
pinch of salt
90ml olive oil
250g butternut pumpkin (squash), cubed
4 eggs
125ml thickened (pouring/whipping) cream
80ml sweet miso sauce*
2 Tbsp chopped spring onion (scallion)
150g provolone cheese, sliced
To garnish
coriander leaves
Method
1. Preheat the oven to 170degC . Grease a heavy cast-iron pan or gratin dish (about 30cm-25cm), or 4 individual cast-iron pans.
2. Soak the eggplant in salted water for 10-15 minutes. Arrange the eggplant in a roasting tin, drizzle it with oil and season with salt and pepper. Roast for 20 minutes, until soft.
3. Steam the pumpkin in a double boiler for 5 minutes, or until cooked through.
4. Distribute the eggplant and pumpkin evenly in the cast-iron pan. Gently crack the eggs over the vegetables. Pour the cream and sweet miso sauce evenly over the dish, then sprinkle over the spring onion and top it all with the cheese.
5. Bake for 10 minutes, or until the cheese melts. Garnish with the coriander and serve hot, straight out of the oven.
Note: You can swap eggplant and pumpkin with other winter vegetables such as cauliflower, spinach, mushrooms and sweet potato.
*Sweet miso sauce is great for marinating fish, meat or vegetables, as well as adding to salad dressings.