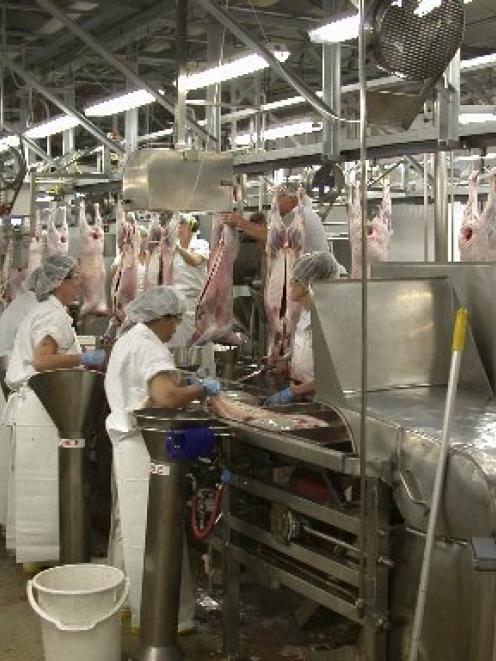 As the meat industry ponders moves to improve its fortunes, Sharyn Price argues that a merger between the Alliance Group and Silver Fern Farms is not the best way to go.
While everyone in the meat industry agrees that something has to happen to improve its fortunes, it does not automatically follow that "anything is better than nothing".
Silver Fern Farms' (SFF) latest push for a merger with Alliance Group Ltd (AGL) is a perfect example and worthy of discussion.
The idea has been canvassed repeatedly.
The two co-operatives have each considered it and the now defunct Meat Industry Action Group agitated for it.
A 2008 analysis for AGL concluded that the simple merger was too small.
Amalgamating some 50% of meat supply was not enough to secure the processing efficiencies or market domination required for success.
Instead, competitor power would continue to drive procurement battles and potential for price undercutting.
Only a vast structure bringing together 80% of the meat supply could absorb the setup costs and achieve the synergies sought.
Such a structure would have to include New Zealand's five major meat processors and would require regulatory approval in the face of international opposition.
The concept drew support for further investigation and simultaneously reduced interest in anything less.
When AGL shareholders voted overwhelmingly to reject a simple merger with SFF two years ago, some commentators labelled them conservative, but that view ignored AGL history.
Shareholders had already embraced change within the co-operative, especially reductions in processing capacity and the introduction of innovative lamb meat yield grading to reward producers for lambs that met tight market specifications.
SFF rejected the mega-merger concept.
SFF's board believed they had sewn up a deal to sell a share of their business to PGG Wrightson (PGGW) to inject capital and cut debt.
SFF refused to join mega-merger discussions despite interest from the other four major processors and ultimately both ideas collapsed.
SFF has paid down debt but, ironically, using money received in penalties when PGGW failed to complete the deal.
Even Craig Norgate, then of PGGW, could not prevail when international financiers showed no appetite for the risks in a heavily indebted, unprofitable meat company.
The financiers found that lending to such an entity - much less buying into it - did not stack up.
Annual reports for the financial year ending 2009 are the most recent available for comparison.
The reports paint contrasting pictures:
- AGL's operating revenue totalled just under $1.5 billion but operating profit after finance costs was $42 million (2.8% of revenue).
- Despite sales revenue around $2 billion, SFF's operating profit after finance costs was $5.1 million (0.26% of revenue).
- AGL returned $15 million to shareholders while SFF distributed $153,000 to members.
- AGL's profit after tax and all other deductions was $19 million.
SFF looked good at $43.6 million but this included $42 million in penalties from PGGW.
SFF's near zero operating profit is an obvious motivator for their renewed desire to join forces with AGL.
This year's spring lamb losses make it more urgent than ever.
SFF does not want to borrow to compete for lambs in short supply but cannot increase prices without an operating loss.
Without further bonus income from failed buyouts and facing the spectre of plants running well below capacity, its future is not rosy.
A lot rides on how much 2009 profit remains to stave off under-supply this season.
Farmers must ask if SFF shareholders will not pump capital into their co-operative, why would AGL shareholders do it for them?
They have already paid the price of historic over-capacity and rationalised, leaving their company in a strong operating position with persistent profits.
Although SFF can show some progress, it has repeatedly deferred major rationalisation.
AGL is clearly the stronger business in recent years.
Shareholders have long enjoyed benefits in profit sharing, dividends and increasing capital value.
Farmers who want to join a financially sound, farmer-owned meat exporter do not need a new co-operative structure.
They can buy shares and supply product to a proven business without the additional risk of merging with the lower performer.
It really is that simple.
New AGL shareholders buying in would increase total equity in AGL while securing greater supply, certainty of delivery and a powerful negotiating position in international markets.
It is a low-risk strategy with predictable outcomes.
Farmers should have no illusions that merging AGL and SFF would immediately show the claimed synergies and increase farmer returns.
There is risk of losing direction as key personnel fight for positions and old enmities rage.
Cleaning out directors and senior staff is no better, as the co-operative would lose vast industry knowledge and take longer to settle.
Merger and restructuring costs would be extreme, increasing debt (unless new capital was added) and reducing short to medium term profit (assuming ultimate success, far from guaranteed).
Clawing this back through processing efficiencies and increased market power would take years.
How long do farmers want to wait for profit? New AGL shareholders are not encumbered by historic costs and inefficiencies but can immediately share in profits and dividends.
Returns from a merger would be lower in the short term, uncertain in future and entirely lost if competitors destroyed a weakened co-operative lacking in critical mass.
The 50% co-operative would be vulnerable.
Decline could be swift and unrecoverable if it was be forced to pay more for supply while facing higher debt servicing, both to be covered by returns from a declining market share.
It would be naïve to believe that farmers would commit supply or inject capital to support a losing battle.
A mega-merger remains a viable option but merging the two big co-operatives is not a logical first step if 80% industry aggregation is not guaranteed.
Farmers have a simple choice - build a historically profitable co-operative into something more powerful with further increases in equity and market clout, or create a clumsy, politically fraught co-operative that remains exposed to competitors.
Great financial wisdom is not required to spot the more profitable scenario.
Sharyn Price is a farming educator and farmer near Maheno, North Otago. She and husband Julian are committed Alliance Group Ltd shareholder suppliers.