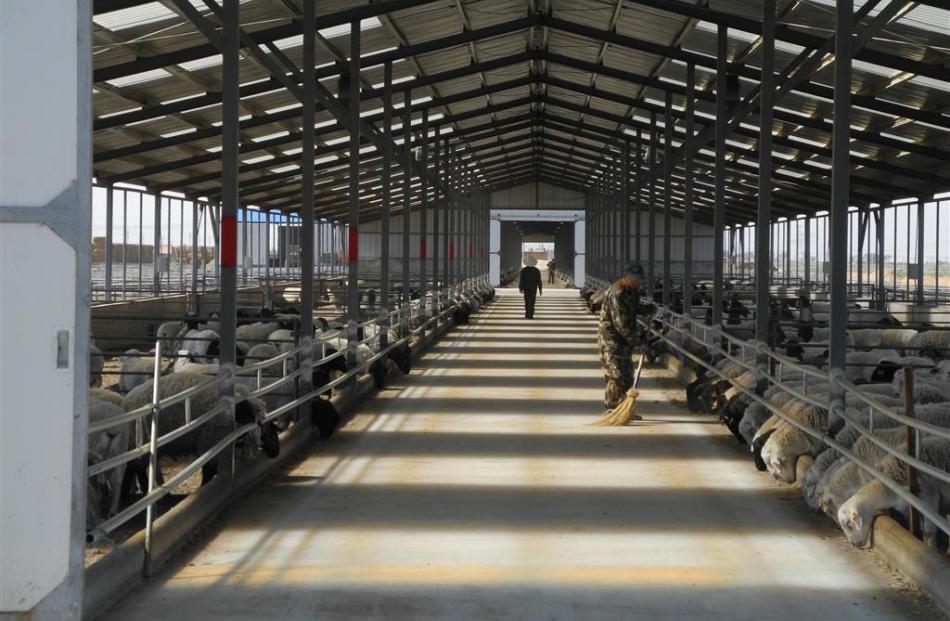 The vast region of Inner Mongolia is an important agricultural producer in China. Agribusiness reporter Sally Rae pays a visit.
The sight of an elegantly dressed woman, complete with red high heels, unloading sheep at a saleyards in Inner Mongolia is a little unusual.
But it is China after all.
Expect the unexpected.
Having spotted a small truck carrying a load of sheep, a detour proves enlightening for a group of Silver Fern Farm shareholders as the truck is destined for a sheep-trading centre in Wuchuan county, surrounding the capital city of Hohhot.
It is discovered, thanks to an interpreter, that the woman and her husband are business people rather than farmers, buying stock directly from farmers and then selling them at such centres.
If not sold at one centre, then the couple simply move on to another, often driving every day to a different market.
Buying between about 30 and 50 sheep at a time, they usually make about 20 yuan (about $4.30) profit on each.
Farmers brought their stock to the centre and some were bought by the meat-processing company next to the saleyards, which killed between 500 and 600 sheep a day, and some to other business people - like the woman in high heels.
Prices equated to about 8.5 yuan ($NZ1.80) per 500g - so more than $90 for a 25kg lamb liveweight.
Inner Mongolia is a vast land - the largest grassland area in China - and an important agricultural producer. With a total area of 118 million hectares, it is China's third largest province and has a population of about 25 million, similar to that of Shanghai.
But that's where the similarities end. It is a world apart, a much less frenetic pace of life to the cosmopolitan, heavily Western-influenced showplace of China
"Rocky'', the inimitable Hohhot-based tour guide, who speaks so proudly of "my hometown'', is one of only 10 English-speaking guides in the region's capital. Westerners are few and far between.
Hohhot is known as the dairy capital of China, home to such dairy giants as Mengniu, and the Inner Mongolia Yili Industrial Group (Yili), which has a factory at Glenavy in South Canterbury.
Corn is the leading grain crop grown in the area while other major crops include oil-bearing crops such as sunflower seeds, and vegetables.
It is a leading production base of potatoes.
Industry is highly related to natural resources and mainly consists of further processing of natural resources and agricultural products.
It is one of the leading coal producing areas in China and aims to become a major national base for energy, metallurgy, and green agricultural production.
It is the leading electricity generator for neighbouring provinces and generates the most wind-powered electricity in China.
A massive solar farm makes a spectacular statement on the landscape.
In 2010, sheep numbers in the region were estimated at 100 million, with about three million cows, although those numbers, particularly sheep, have fallen since then, Rocky said.
For thousands of years, the vast, windswept grasslands were home to nomadic pastoralists grazing their flocks.
That traditional lifestyle came under threat from decades of overstocking and mining, which took its toll on the grassland.
In recent years, China has worked to fix the severe environmental degradation and return grazing land into grasslands.
Various environmental protection measures and projects, including subsidy and incentive funds, have resulted in a marked improvement in grassland ecology.
Not only is it an endless landscape - think of the Maniototo Plains and multiply that by a few thousand - but it is a harsh and cold climate, with winter and its freezing temperatures lasting about six months and only a two-month summer.
Annual rainfall is about 300mm.
Like China in general, it is not easy being a farmer and life is hard, another Chinese guide explains.
There is a common perception among urban-dwelling Chinese that farmers are "backward''.
Most Chinese wanted to live a "trendy life'' - live in the big cities and enjoy modern life.
If a farmer came to the city and did not understand city life, they were looked down upon, she said.
Inner Mongolian farmer Ba De Ma does not look like he would care much for the bright lights and glitz of Shanghai.
He is the biggest sheep farmer in his area, with access to between 80ha and 90ha of land for grazing.
He sells about 100 male lambs a year.
In an area with "resorts'' dotted on the landscape, featuring traditional yurts to cater to local tourists, he was promoted as an example of a traditional farmer for tourists to visit.
It is a role he looks somewhat uncomfortable with.
Seated on his motorbike, after bringing his mob of sheep closer to view, he looks like he would much prefer to open the throttle and disappear off into the vast vista than answer questions from a curious bunch of New Zealand farmers.
Not nearly as uncomfortable with visitors, however, as his giant, unfriendly "lion dog'', as it is quickly dubbed, quite possibly the most peculiar-looking dog ever, chained up to warn of strangers.
It was a basic farming system - each day, he took his sheep out to graze, returning with them during the day for water.
Shearing was once a year - friends helped out and he, in turn, helped those families.
But make no mistake, sophistication and technology is coming to farming in the region and, in some places, is already there.
Saio Reproductive Biotechnology is an impressive and tidy operation, established in 2014 and subsidised by the Government.
Its aim is to make the region the best sheep-meat producer in China.
It has been importing frozen embryos and semen from Australia, mostly Dorper and Suffolk genetics, to cross with local breeds.
The Government supported the business, through subsidising the 8000 yuan cost of a ram, because it would help farmers.
The price was likely to be lower in the future so more farmers could afford to take advantage of it, a spokesman said.
The local sheep were a big tail breed, usually with a lot of fat, so the aim was to produce lean meat and less fat.
In July, 1200 rams and ewes were due to arrive from Australia.
In a short time, the gains being made were substantial.
Yields had increased from between 41% and 43% to 56%.
The production line at one of the Mongolian Sheep Animal Husbandry Co Ltd's five factories was imported from Australia.
The abattoir, which operated for 11 months of the year, slaughtered about 2000 sheep a day, with capacity to kill 5000.
Stock was sourced from the company's own farm, as well as local farmers.
The meat was largely destined for the Chinese domestic market, with some sent to Hong Kong and Israel.
Across the five plants, 1.15 million sheep were slaughtered annually, producing a total sales volume in 2015 of 1.8 billion yuan ($NZ390 million).
The chain was easily viewed behind a glass-walled corridor, while an impressive showroom caused some mirth, as images supposedly of Chinese farming were clearly from New Zealand.
One of the most popular dishes in Inner Mongolia is hot pot, a style of meal many cheaper New Zealand sheep meat cuts are destined for.
While a pot of stock simmers, ingredients including thinly sliced meat are placed into the pot and cooked at the table.
The Fu-Hua Meat Co, which has its headquarters in Beijing, is big on hot pot.
The beef-processing company, which has three factories, was established in 1997, originally providing beef mostly to four- and five-star hotels and embassies.
To expand its beef sales, the company started promoting beef hot pot in the Beijing area, a traditional food, using lamb, of Inner Mongolia and northern China.
It has proven a successful move and it now has 50 hot pot restaurants in Beijing and 160 throughout China, resulting in a big increase in sales volumes for beef.
The business, which included a feedlot behind its head office, slaughtered cattle twice a week with 50% of product going to its hot pot restaurants and the remainder to supermarkets as fresh product.
For Federated Farmers meat and fibre chairman Rick Powdrell, the Inner Mongolian grasslands were one of the highlights of the China trip.
"To understand the immense size, yet the very historical, traditional farming methods, and when you look at that area, you can see potential and barriers,'' he said.
He was unsure about the Government-supported tourism ventures involving farmers in a bid to reduce grazing on the grasslands.
"They accept they need less sheep on the grasslands ... taking sheep off and replacing them with tourism in an environment with people hosting them that have never had any experience with tourists ... how successful that will be, I don't know.
"I think, for a lot of them, it's going to be a bit outside their comfort zone,'' he said.
Mr Powdrell was also impressed with the work at the breeding centre although cautioned that how that translated to the wider industry was another matter.
At the centre, there was the ability to feed the sheep so well.
Transposing those sheep to the grasslands would be the big challenge, he said.
- Sally Rae travelled to China courtesy of Silver Fern Farms.