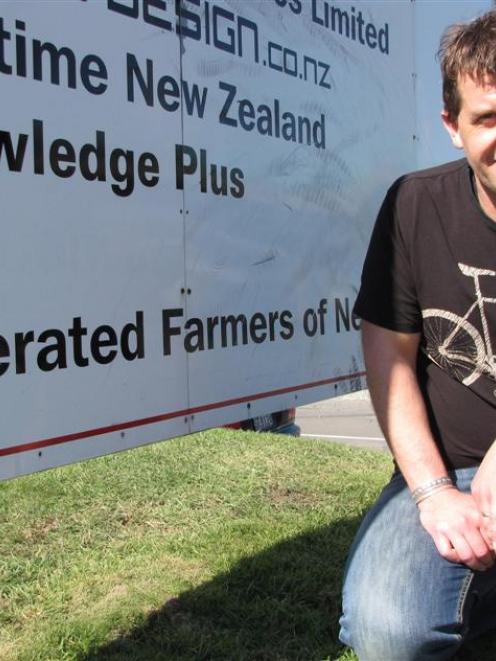 Representing the farming community has been a ''privilege'' for Matt Harcombe.
Mr Harcombe is leaving Federated Farmers, after 12 years working for the rural lobby organisation, to join the Ministry for Primary Industries in a Dunedin-based policy role.
The main highlights of his time with Federated Farmers had been the relationships established with farmers and working closely with the organisation's provincial presidents and national board, he said.
Brought up on a sheep and beef farm in southern Hawkes Bay, Mr Harcombe switched to agricultural science after his first-year vet studies at Massey University in Palmerston North.
After graduating with a BAgSc in 1992, he worked as a research technician at AgResearch in Palmerston North for two years, where he wrote several research papers, before heading off on his OE.
On his return, he completed a postgraduate diploma in journalism and PR at the Auckland University of Technology, before joining Federated Farmers in Dunedin, in a policy role.
He later became Federated Farmers regional policy manager South Island and looked after the South Island Federated Farmers policy team.
In his new role, with the MPI's resource policy group, he would be doing similar work to what he was doing now, but working for the Government.
While he was excited about the new job, which he starts early next month, he also had mixed feelings, as he still loved his involvement with Federated Farmers.
''It's just been amazing. What blows me away is what farmers do every day and that's what kind of motivates you,'' he said.
The beauty about having all those farmer contacts and relationships meant he could call on them ''to connect with real people''.
There had been quite a lot of change recently within the Ministry for Primary Industries, there were lots of exciting things going on and he was also looking forward to working with some new people.
There had been some ''amazing'' projects he had been involved with at Federated Farmers. He spent three years as the only rural representative on the Secondary Futures group, a Government-funded project looking at opportunities to future-proof and ''take New Zealand education into a new age''.
He had been involved with technical working groups with both Government and councils. He led a Resource Management Act project from 2005 to 2008 and now, in the latest discussion document, the fruits of some of that work were being seen.
He also led Federated Farmers' submission on the review of the emergency 111 communications centre. Like any role, there were challenges and, at times, there was a ''huge expectation'' from farmers of what Federated Farmers might be able to achieve ''and you feel that expectation very keenly''.
''You've got about 14,000 bosses in the country,'' he said.
There was a ''wonderful'' group of staff employed by Federated Farmers and their relationship with farmers was ''quite unique'' and made the organisation very effective. It was increasingly important that farmers stood up and gave a voice for farming.
While a lot of people did respect farmers, equally, farmers got ''bashed'' over various issues, particularly water quality.
It would be amazing if farmers were ''celebrated a bit more'' for the investment they were making to try and address potential effects of agriculture on water quality.
''We have to acknowledge there are effects ... but that doesn't mean they are ignoring those effects. It does take time to progress things,'' he said.
Mr Harcombe has been involved with the Ballance farm environment awards since their inception in Otago, including chairing the committee for three years.