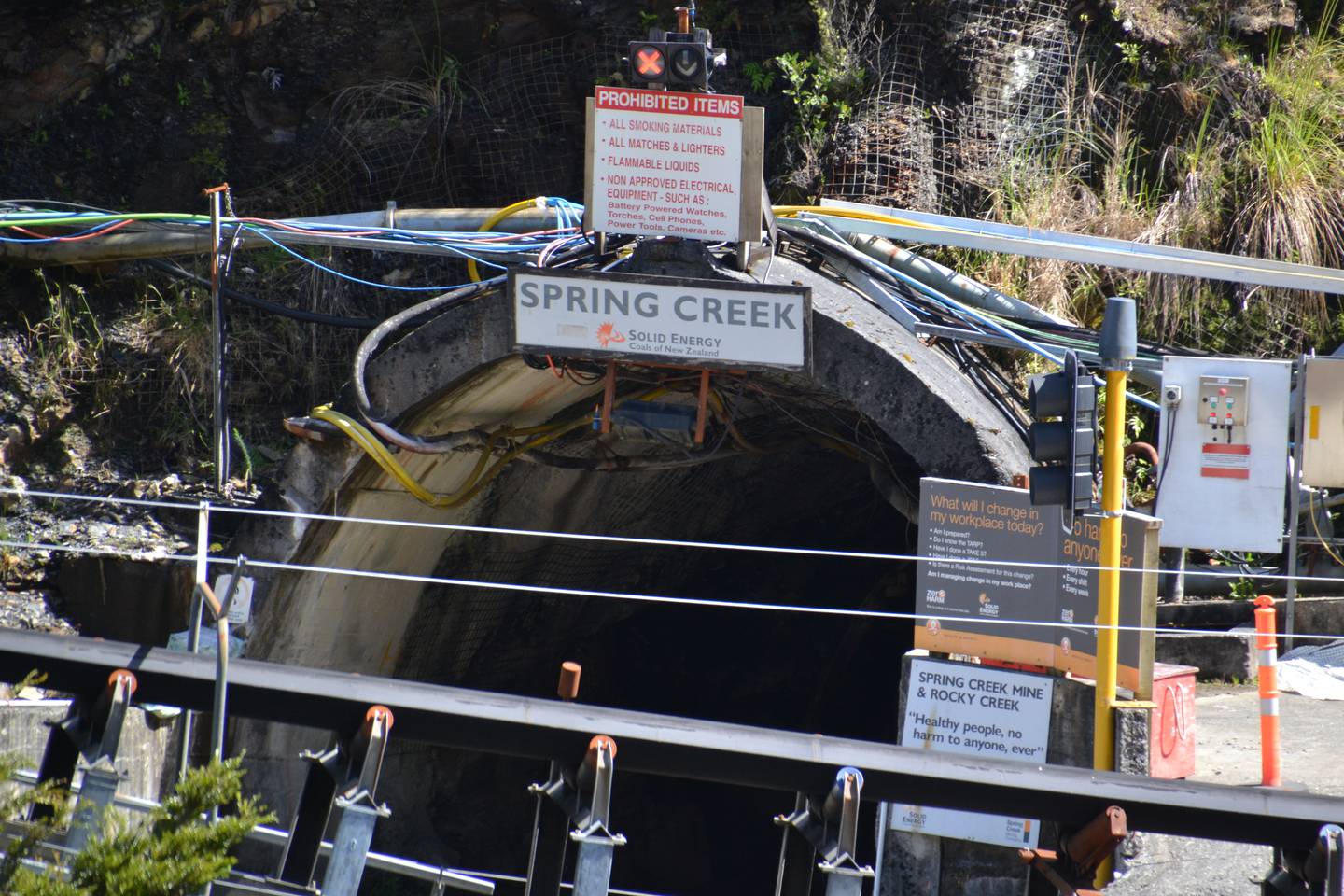 An experienced miner who once headed Spring Creek is behind plans to reopen it, with a decision from regulators due mid-2021.
Failed state-owned miner Solid Energy put the coalmine, behind Dunollie township, into ''care and maintenance'' in September 2012, leaving 222 mine staff and 130 contractors redundant.
With the collapse of Solid Energy the mine was closed for good at the end of 2017, and the pit was partially flooded.
Terra Firma Mining Ltd announced in July it wanted to drain the mine and reopen it with a smaller operation, targeting the specialist market of silicon manufacturing.
It would target about 200,000 tonnes of coal a year and employ 60 staff when in production.
Terra Firma has already applied for the minerals permit, and says it has the staff and equipment ready to start work.
It is now waiting for word on that permit; however, the Government says it will take well into next year.
The company's mining executive Craig Smith has spent almost half a century in the industry, including at Huntly and Spring Creek.
He said yesterday they were waiting for news about its permit, after NZ Petroleum and Minerals (NZP&M) came back a few months ago with questions, which it then answered.
As soon as it gets the go-ahead, it will prepare its health and safety management plan for WorkSafe.
"We hope the application will be processed on its merits."
Mr Smith started in the industry in Australia, an engineer by trade, moving to Greymouth in 1980 and the old Strongman mine. He remained with the state miner until Solid Energy went under.
He worked his way up to South Island production and development manager; then in 1999 became the general manager of North Island operations (Huntly). He then headed operations in the North and South Islands as general manager, with Spring Creek one of his responsibilities.
He said Solid Energy believed that Spring Creek could make a good profit, and was a well run, safe operation. It had low ash, low sulphur coal.
While Solid Energy did hydro mining there, which led to some issues around ventilation management, Terra Firma favoured continuous mining, which it was experienced in.
Terra Firma provides specialist services to the mining sector. It is known for underground operations and health and safety management.
A Ministry of Business, Innovation and Employment spokesperson said the assessment to grant a new mining permit was a complex task.
NZP&M's guidance for this type of application had a target average timeframe for assessing a new tier 1 mining permit application of 120 to 240 business days.
The Terra Firma Mining Limited application was for an underground coalmine, which was the most complex type of application.
''It is therefore more likely to take nearer and possibly longer than the 240 business day target timeframe.''
The application was submitted on July 3, which was about 80 business days ago. A decision was unlikely to be made before the middle of next year.
Mining began at Spring Creek in 2000 by Solid Energy in a joint venture with Todd Energy, as a replacement for Strongman 2 underground mine, which closed in 2003 after being worked out.
Spring Creek was later a joint venture with Cargill International.
With the 2017 closure of Spring Creek, and Huntly East mine in Waikato, underground coalmining in New Zealand came to an end.
The surface infrastructure at Spring Creek has been kept in place by new site owner Birchfields.