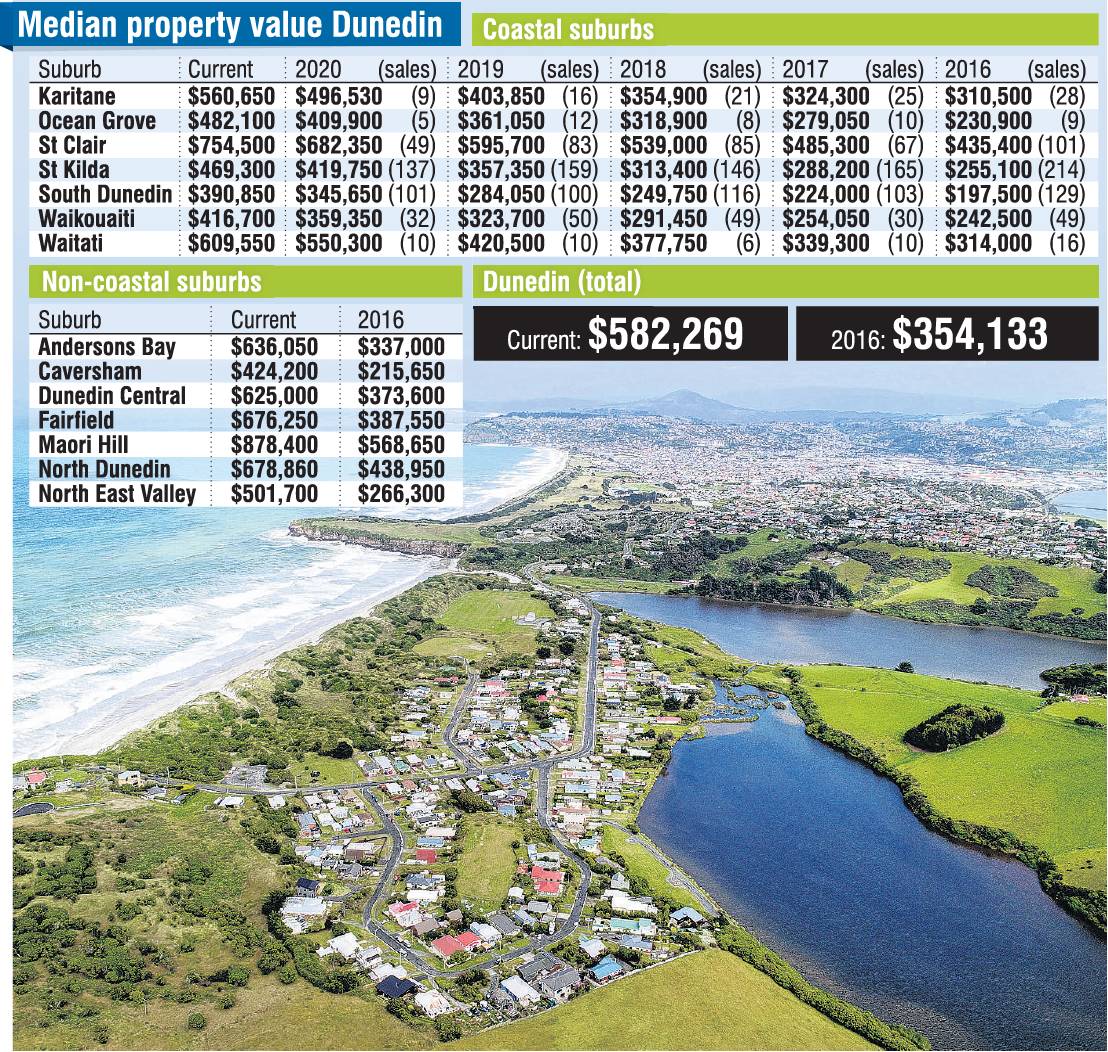 Interest in coastal properties in Dunedin is as high as ever despite warnings intense storms, increased floods and rising insurance premiums will batter owners' bottom lines.
Dunedin is often cited as home to some of the most vulnerable land in New Zealand as sea levels rise around the country.
Nevertheless, CoreLogic data for the city shows over the past five years concerns about coastal properties have not been a factor for buyers.
Most properties in the city, including seaside suburbs, have recorded significant value increases and the number of sales across all suburbs has remained steady.
Otago Property Investors Association president Kathryn Seque said there was definitely still a higher demand for coastal-type properties in the city, many of which were more affordable after being inundated in the 2015 flooding.
Investors still wanted into the market in South Dunedin, St Kilda and St Clair, while prices had jumped in hill suburbs such as Mornington, Waverley and Andersons Bay, she said.
"I believe a lot of people don't really look at coastal problems when they buy property at this stage — we keep getting told about it, but nobody seems to really listen, especially when the house market is as hot as it is."
University of Otago economist Nathan Berg, who holds the DCC professorial chair in entrepreneurship, said prices people were willing to pay could be explained in several ways, including buyers believing living near the coast was more important than the implicit risks.
Prof Berg said buyers might believe because insurance and credit were still available and prices were increasing, seaside properties would continue to be a similar investment to those on the hill suburbs for some time.
Or buyers might be buying into the coastal suburbs out of a feeling of necessity.
"Given the very real human costs of the ongoing affordability crisis and lack of clarity about where future housing supply will come from, it may be completely rational to purchase a seaside property (relative to the alternative of forgoing a purchase and risking being priced out of affordable housing in the future)," he said.
"I'm really not sure."
Whatever the reason, the trend reported in Dunedin matches those recorded in other parts of the country earlier this week.
CoreLogic head of research Nick Goodall said regardless of where a property was in Dunedin, over the past five years values across the city had followed a similar trend — up.
Buyers were apparently not giving too much thought to climate change or its potential impact on future property values or insurability.
But that could change as information on the risks of buying coastal property became clearer and more mainstream.
Increases in property values in a suburb at present did tend to reflect the affordability of the suburb more than its proximity to the coast.
Suburbs with a median value below about $500,000 had had the greatest growth in Dunedin over the past few years, he said.
CoreLogic head of insurance sales Richard Deakin said insurer focus was already turning from earthquakes to flooding and coastal risks.
As land retreated and the waves got closer, the risk of damage to property increased significantly, and this concerned insurers, he said.
Mr Deakin said he suspected it was only a matter of time before insurance companies pulled back from coastal properties.
"The net effect of this could be that coastal property that is less impacted might find its values rising as demand for those properties increases — it won't be uniform."
Recent research also suggests it is likely to be increasing insurance premiums that start to turn the tide on buyer interest in seaside properties.
Climate economist Belinda Storey wrote an often-cited government-funded report for the Deep South National Science Challenge on "insurance retreat" last year.
A key motivation for the research Ms Storey did was to identify locations that were overvalued relative to the risk.
Insurance for property ought to become problematic for coastal Dunedin home owners by 2030 at the latest.
Cities now needed to talk about how they retreated from hazardous coastal areas, Ms Storey said. Even if individual buyers did not buy property in a location that was in a flood zone, if local councils continued to allow development in those areas, the entire city would end up paying for it, she said.
She expected there would soon be a gradual change in coastal property values.
For now people could still enjoy the beach, as long as they did not try to "fight against the sea".
Property owners could still enjoy the beach for the next two to four decades, she said.
But the coast was not going to be theirs forever.
"The sea is coming and they don't own it indefinitely," she said.