This week Paula Benson-Gamble reviews the latest children's books.
THE CLOAK OF STARS
Judith Raymond-Penny
Puffin, $19.99, pbk
When Marika, a beautiful princess, turned 16, she was told by her father it was time to get married.
Her father chose five suitors.
Marika said she would marry one only if he could fulfil her heart's desire - by bringing her a wedding cloak that twinkled like the stars in the night sky.
This is one of those special storytelling books that really gets a child's imagination going.
It is beautifully illustrated by Bruce Potter and will no doubt be treasured for years to come.
Suitable age: 4-8.
DUCKY
Dave Gunson
Puffin, $18.99, pbk
Ducky, a rubber duck, dreams of becoming real.
She watches other birds fly past the window and longs to be able to call out.
She wishes on a moonbeam to be a real duck, and then something magical happens.
There's a lot of mention about time, and the concept of time, in this story, which isn't tangible for most young children, yet the illustrations appear to be aimed at very young children.
I remain puzzled.
I like the storyline but I don't think it gels well with the illustrations.
I'm also not a fan of the offset paper which, to me, looks and feels cheap.
Suitable age: can't say.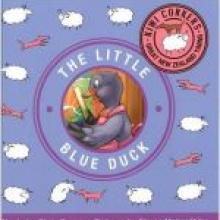 THE LITTLE BLUE DUCK
Chris Gurney
Scholastic, $17.99, hbk
This is a retelling of The Little Red Hen.
This time Little Blue Duck decides to make a pavlova, and asks her friends Tui, Kea and Weta if they can help her find the ingredients she needs.
Of course they come up with every excuse under the sun as to why they can't help - that is, until it's time to eat the finished product! A fun, entertaining read.
This book has wonderful, vibrant, eye-catching illustrations which adults and children will enjoy time and time again.
Suitable age: any.
TREV AND THE KAURI TREE
Chris Gurney
Scholastic, $17.99, pbk
This story is a makeover of Jack And The Beanstalk.
Trev's mum tells him they don't have cash to pay bills or buy food so they must sell his bike.
Instead of selling the bike, Trev ends up swapping it for seeds.
His mother angrily throws the seeds out the window and they grow into a spectacular kauri tree.
This book has a great rhythm to it (which allows the reader to have fun and be expressive), it's amusing and it has a cool taniwha.
But I prefer to read it to older children because of some of the language and messages inside.
Suitable age: 6 onwards.
ANTON CAN DO MAGIC
Ole Könnecke
Gecko, $18.99, pbk
This is a lovely, simple story about a boy who believes he can perform magic.
Anton has a magic hat, a real one, and he wants to make something disappear.
Anton tries to make a tree disappear but he can't, so he tries his luck on a bird, and it works.
Then his friend Luke comes along.
Anton manages to make Luke disappear, too.
Can he bring him back? Children will really enjoy the easy-going nature of this story.
It's perfectly aimed at their level and has thought-provoking illustrations.
Lots of opportunities for open-ended discussions.
Suitable age: 2-6.
Jack Gabolinscy
Puffin, $17.95, pbk
Greg Grimsby doesn't like things to be clean and tidy.
He is happiest when he's surrounded by mess and covered in dirt.
Every day his bedroom becomes more revolting and every day he grows happier and more comfortable among the mess.
One day, Greg doesn't come out of his room, and his parents are worried.
They very slowly open his door . . . and see that he has turned into a bug! Children will enjoy this rather unusual story with its wonderful yuck factor.
Theo Krynauw's quirky illustrations make the perfect partnership.
Suitable age: 4-8.
Kate Moetaua
Puffin, $18.99, pbk
Junior is always running off with Papa's jandals as a joke.
But Papa loves his jandals and doesn't like Junior borrowing them.
One day, Junior can't find where he's left Papa's jandals so he tries to track them down by asking everyone in his street if they've seen them.
Junior eventually finds his uncle has used Papa's jandals to fix his leaking roof.
This is an appealing story for children and a nice way of introducing aspects of the Cook Island way of life.
There are also subtle links to the author's other novel, Papa's Donuts, within the storyline.
Appealing illustrations by Bruce Potter.
Suitable age: 4-7.
• Paula Benson-Gamble is a Dunedin mother and kindergarten teacher.