A roundup of the latest in children's books.
WHO STOLE THE RAINBOW?
Vasanti Unka
Penguin Random House
This fun and inventive picture book is pitched as a mystery thriller, with dazzling illustrations and an informational bent to boot. There is plenty to like.
Inspector Beagle is on the case of the missing rainbow, interviewing the key suspects Cloud, Wind and Rain, and sourcing clues from TV weather reports. Eventually, Sun makes an appearance and all becomes clear.
New Zealand author/illustrator Vasanti Unka has packaged a simple concept - how rainbows occur - into a vibrant parcel of playfulness.
The attractive back matter reveals the science of rainbows in an accessible way, and features a link to a cute online animation on the subject, too.
Ages: 2+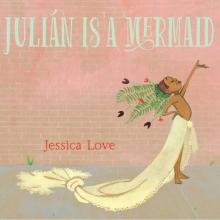 JULIAN IS A MERMAID
Jessica Love
Walker Books
A young boy travelling by train with his nana becomes transfixed by three fellow passengers dressed glamorously as mermaids.
At home, Julian says he is a mermaid, too. While his nana takes a bath, Julian fashions his own mermaid outfit from ferns and curtains. How will she react when she sees him?
Julian is a Mermaid is joyful and uplifting, not only for its themes of freedom of expression and acceptance, but also its sheer physical beauty.
Debut US author/illustrator Jessica Love renders her illustrations in gouache on brown paper to stunning effect.
The endpapers alone - featuring Julian's nana and her friends aqua-jogging in brightly patterned togs and swimming caps - took my breath away.
A knockout book.
Ages: 2+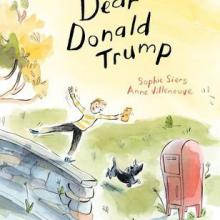 DEAR DONALD TRUMP
Sophie Siers and Anne Villeneuve
Millwood Press
Sam hates sharing a room with his big brother, so when he hears Donald Trump talking about building a wall, he thinks he has found the perfect solution.
The story, written by New Zealander Sophie Siers, unfolds through a series of letters from Sam to the US President: "I don't know about you, but I'm getting a lot of negative feedback.''
Mentions of other exclusionary walls, such as the Berlin Wall and the Great Wall of China, provide plenty of great fodder for meaningful conversations with children.
I found this a surprisingly charming and funny read, and Anne Villeneuve's lovely watercolour illustrations match the tone perfectly.
Ages: 4+
PUFFIN THE ARCHITECT
Kimberly Andrews
Penguin Random House
Puffin is an architect with a knack for designing perfect abodes for her clients, but a home for her own family proves a tougher nut to crack.
She takes her children - the pufflings - on a tour of some of her impressive projects, including Otter's houseboat and Moose's treehouse.
But she must return to the drawing board to satisfy her pufflings' desires for a cosy coastal cottage.
The artwork provides plenty of interesting details for children to pore over, while the rhyming text trips off the tongue easily. There are some great repetitions in the descriptions of the houses, which add to the read-aloud fun.
Ages: 2+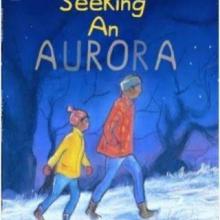 SEEKING AN AURORA
Elizabeth Pulford and Anne Bannock
One Tree House
Otago author Elizabeth Pulford tells the tale of a boy whose father wakes him one wintry night to see the aurora australis.
The boy has lots of questions, but his dad gives little away as they trudge through the silvery frost and up a steep hill to get a good viewpoint.
"Wide wings of light flew over the sky ... Dad and I said nothing at all.''
But on the way home, they cannot stop talking about what they have seen.
This is a sweet and gentle book, and both text and illustration do a fantastic job of capturing the stillness of a dark, icy-cold night and the magic of witnessing the aurora.
Ages: 2+
Emma Wood is a Dunedin writer and communications specialist.