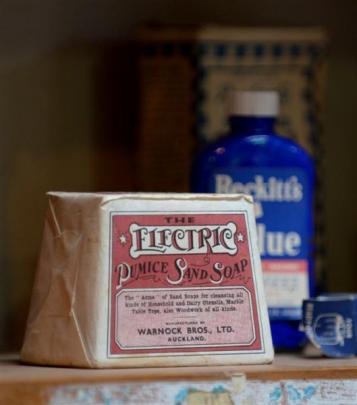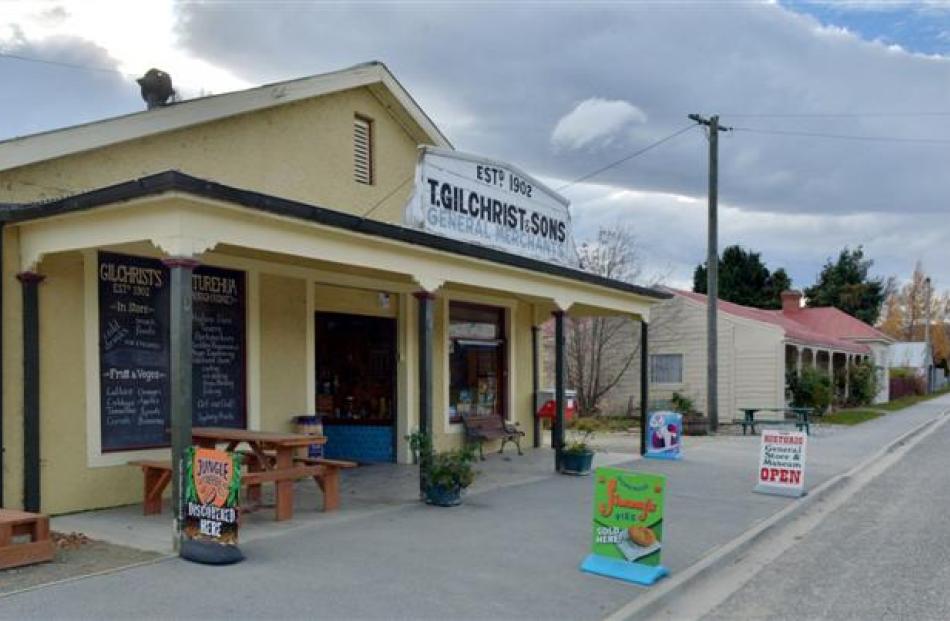 Never heard of Normacol Intestinal Evacuant or Elliotts Kidney Vaccine? Well, head to Gilchrist's Store, Oturehua. It stocks all sorts of items, though some of them aren't for sale, says Shane Gilchrist.
Out the back of Becker's Transport, on the main drag through Oturehua, a man is cleaning the outside of a portable concrete mixer. The din echoing among the town's few buildings would suggest he is using an angle grinder to do so.
Quieter pursuits are taking place, too. A dozen or so cyclists, resplendent in fluoro vests, dart alongside a stock trailer parked near the town's pub. Nearby, a school bus, having done its morning rounds, has a few more hours' rest before an effervescent chorus again warms its interior.
Across the road, the well-worn brass handle of the door to Gilchrist's Store beckons education in another guise.
Beyond an entranceway where boxes of horseshoe nails share shelf space with a bottle of the curiously named Elliotts Kidney Vaccine, the shop's cave-like splendour is introduced by the chime of a bell and the smell of wooden floorboards maintained with a mixture of linseed oil and kerosene.
Apparently, the latter ingredient is used to prevent customers losing their footing on the oiled surface. Regardless, the store's history offers slippage of another sort: here, it's time travel sans any sci-fi machines.
Registered under the Historic Places Act 1993, the shop is described by the New Zealand Historic Places Trust as ''a place of historical and cultural heritage significance and value ... a good example of an early 20th-century store which still services the small rural community''. According to a report submitted to the trust at the time of registration, the interior of the store was hailed as ''particularly significant'' because its shelving, bins and counters remain in original condition and thus have ''potential to demonstrate the history of retailing in rural New Zealand''.
Certainly, time spent browsing the store's well-stocked shelves reveals more than a few brands that have evaporated, from Normacol Intestinal Evacuant to pumice sand soap, Phillips Solution ''for ladies' and children's soles'' (what about those of men?). Elsewhere, biscuit tins bearing images of Queen Elizabeth II and a rather imperious Winston Churchill hover above a long row of metal bulk bins once home to tapioca, sago, split peas and barley, among other ingredients.
Still, this place is as much about the present as the past.
Outgoing proprietor Rhonda Campbell, who with husband Ewart has run the store and neighbouring bed and breakfast for the past seven years, says the business, like many in the area, has benefited from the Otago Central Rail Trail. Officially opened in 2000, the 150km trail between Clyde and Middlemarch attracts more than 14,000 riders annually and contributes more than $12 million to the local economy, according to the Central Otago District Council.
Just over 85km from Middlemarch and 64km from Clyde, Oturehua's location means it is often visited on the second day of what is typically a three-day rail trail trip, by which time some riders are feeling a little saddle-sore.
''In the peak of the cycling season, we have an `aches and pains' table and sell a lot of Voltaren, Arnica anti-flamme and knee-strapping,'' Mrs Campbell notes.
''People who think they can get on a bike after 30 years and expect to ride 150km ... we just laugh and take the mickey out of them.''
The business also deals in mileage of another sort.
''We have the RD1 and RD2 mail runs as well as being a courier depot. And we deliver bread and milk three times a week,'' Mrs Campbell says.
''The mail arrives on the Otago Daily Times truck in the morning between 5 and 6am, as do all the farming papers. We come in and sort the mail and newspapers. People also have standing orders for milk and bread. The girls out here are also good online shoppers, so our courier parcel load has also increased.''
The importance of the mail runs and grocery deliveries to the community can be found in the local ownership of the shop building.
Following the decision by the long-time owners, brothers Herbert and Bruce Gilchrist, to sell in 1989, a trust was set up to ensure such essential infrastructure continued.
''Perhaps the biggest thing was the rural delivery services that were attached to the business; they went right over the Ida Valley as well as to Cambrian and St Bathans. The mail run is an integral part of the business,'' Oturehua farmer Barry Becker explains.
''People also thought the shop was important to keeping people here. [Former proprietors] Grant and Mary Rolston wanted to buy the business, but not the shop building and the land it was on.''
In 1995, the trust became a company, Gilchrist's Oturehua Store Ltd, with trustees becoming shareholders. According to Mr Becker, who is chairman of the company, shareholders now number more than 60.
Mrs Campbell is proud to have served such a close-knit community.
''I couldn't have come here without the shop,'' she says, adding she moved from a retail background in Dunedin and, having sold the business, now plans to retire in Waikouaiti.
''To be in a rural area, I need people around me and to be busy. This has been good. The community are so amazing with the things they do around here, from organising our own water scheme to the Brass Monkey,'' she says in reference to the motorcycle rally, held annually over Queen's Birthday weekend.
''Things don't faze them. They step in and take care of things. They did 744 meals at the last bonspiel. Others would call in a large catering firm. It's amazing.''
For the past week, the Campbells have been introducing new owners John and Helen Hellier to the various facets of the business. John has been accompanying Ewart on the morning deliveries of mail and, at times, groceries; Helen, meanwhile, has been learning the shop's various systems, although she is avoiding taking too many notes lest it lead to more confusion.
''We had farmed inland from Oamaru for 13 years but were after a change in our lives,'' Mrs Hellier says.
''I had been in the shop a handful of times over the years and, certainly, I remember things from my childhood that I would see in the shop. I can relate to a lot of the things in the shop, including the memorabilia.
''John is a farmer at heart, so he enjoys getting out and seeing the countryside and what other farmers are doing. We are still very rural here.
''We saw this business for sale and thought it's something we could do for quite a long time.''
Regardless of the store's ownership, one thing remains unchanged. And that's the sign outside the shop. It reads T. Gilchrist & Sons, and hints at a family's long history of trade in the town.
Thomas Gilchrist jun established the business that still bears his name in the Ida Valley town in 1902. Known as Rough Ridge until 1908, the town benefited from both coal mining and flour milling. According to family records, Thomas jun, the third child of Thomas and Hannah Gilchrist, was born on June 27, 1858, at Carngham, Victoria, Australia, where he grew up on his parents' farm before leaving home at the age of 12 to accept a job as a cabin boy on a ship trading between Australia and Fiji.
Though there is no record of how long he spent at sea, Gilchrist arrived in New Zealand in 1872, eventually making his way to Hyde, then Puketoi, where he worked on a sheep station for some time before returning to Australia, finding work as a boundary rider.
He eventually returned to the Hyde-Macraes area, trying his hand at goldmining as well as farm work before opening a butcher's shop in Hyde and marrying Alexina McKay on June 26, 1890. However, Alexina (22) and 7-month-old son John both died in 1893. Alex, the first-born, was cared for by his grandparents.
With the intention of building a shop in the Ida Valley, Gilchrist had timber railed to a location six miles outside Rough Ridge. However, on learning businessman James Caldwell had already built a small shop in the township, Gilchrist purchased Caldwell's wooden store in April 1902.
That same month, Gilchrist (then 42) married again, to Elizabeth Lily Crozier (29), who had initially moved from her family's farm at Waitahuna to be his housekeeper.
The couple had four children, Albert John (Jack), Elsie, Herbert and Gladys. Gilchrist's first son, Alex, also lived with the family until 1918, when he married Emily Harrex. Gilchrist worked hard to expand his business, and in 1929 a new shop was built which remains to this day, the original store being used as a storeroom. The new premises included a bakery, run by Thomas' son-in-law, Alex Robertson. Another shop was opened in Ranfurly in 1932 (initially run by Alex and Emily).
Gilchrist kept an interest in the business up to his death in 1940 at the age of 83. Elizabeth died in 1953, aged 80.
The couple's children all worked in the business; these included Jack and wife Jane (nee McKnight) and their children, one of whom was Bruce Gilchrist.
Speaking from Timaru, where he lives with wife Dorothy, Bruce (77) recalls his grandfather's motto: ''Have got it, can get it, or it isn't made''.
''I think it would be hard for people to believe what we stocked. It ran from gelignite to farm gates, stock lick, barbed wire, right through to drapery of all descriptions. I can remember we had women's frocks and men's sports coats, as well as working boots.
''We were agents for drycleaners, watchmakers, bootmakers ... all sorts of things. We sold curling stones and enamelware, including chamber pots that arrived packed in straw in a 400-gallon steel water tank,'' Bruce says.
''I remember working in the back, sweeping out and so forth. It was the only job I'd ever had ... and as soon as I came back from high school in Dunedin in 1952 I worked full-time. I loved the life.
''There were three of us in it: my brothers, Herbert and Raymond, and myself. Herb and Ray were older than me so they were already there by that stage.
''Ray eventually went to work for DIC in Dunedin so Herb and I carried on. It was a busy shop. We had five staff. My wife and I did the mail runs. When I came home from Poolburn and Moa Creek, she would head off to St Bathans.
''I took over the office side of things as well. We ran accounts. Some people would pay once a month, if you were lucky. Some took a bit longer than that.''
The long-running family business came to an end in 1989, when Bruce and Herbert (who, at 87, now lives in Dunedin) sold the venture to Grant and Mary Rolston, ''though the community bought the building off Herb and I''.
''Our kids were all grown up and they weren't that interested in carrying it on,'' Bruce explains.
''Our kids all did their stint in the shop, mucking out the spuds, cleaning up and so on.''
There is evidence of youthful occupation at one end of a long wooden bench, where a scattering of initials, some etched, others in ballpoint and another in black felt-tip pen, reveal some children had more on their mind than merely helping Mum and Dad.
There are other musings, too.
Populated by advertisements for outings ranging from garden tours to a Lord of the Rings-inspired ''Land of the Rohan'' experience, the shop's community noticeboard also features an item that celebrates the area's non-commercial appeal.
It's a poem by Brian Turner, who lives a few hundred metres up the road. It's titled, simply, ''Oturehua''. There is no point paraphrasing the poem, for that would dilute Turner's words. Instead, a hint to its contents might be found in a conversation that is batted back and forth across the wooden counter:
''Howzit goin'?'' asks a man who has entered wearing gumboots, two-tone rugby shorts and beanie.
The reply is, again, both a question and a friendly acknowledgement: ''Waddaya know?''
''Not much.''