An adventure to commemorate Ernest Shackleton's remarkable feat of Antarctic survival 100 years ago turned up lessons that resonate still today, writes Tom MacTavish.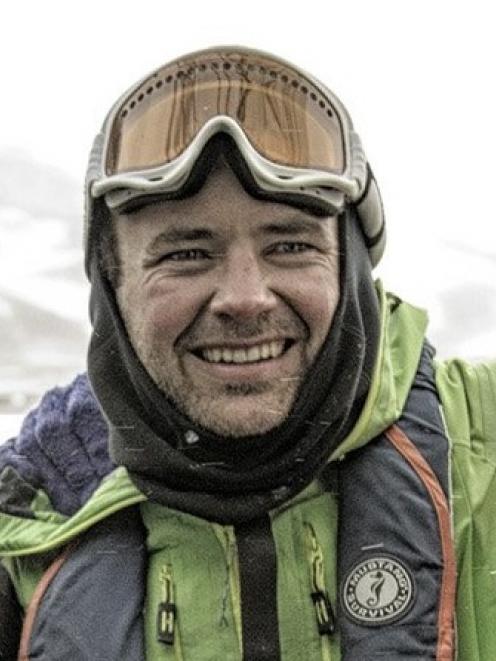 The wind wrenches my heavy pack sideways. With knees and toes pressed inward so my skis form a wedge, I fight desperately to maintain balance and control. But before I fully recover, another gust strikes, whipping my skis out from under me and throwing me on to the icy surface.
The scene around me seems apocalyptic. The pass we are trying to cross has become the tube of a giant vacuum-cleaner, and we're stuck inside. Stinging missiles of ice and rock pepper my body and mountain guide Kevin Nicholas, thrown to the ground not 5m in front of me, is only periodically visible through wave after twisting wave of billowing snow. Yet perhaps it is the sound that is most frightening: it's that giant vacuum-cleaner again, and it sounds like it's sucking on something too big for the tube.
For a moment, I lie there, stunned by the force of nature. I think of all those tales of polar explorers desperately grappling with the elements, and I realise that, here, now, these tales are taking on an entirely new meaning.
I pick myself up, ski poles spread wide for support, and fight my way across to Nicholas and the other four members of our team. Together, we're attempting a centennial recrossing of Sir Ernest Shackleton, Frank Worsley and Tom Crean's famous 55km route across the subantarctic island of South Georgia. It was on this very pass that the three men saw the old whaling station of Stromness far below and shook hands, knowing they would finally be safe. As I stare through ice-crusted storm hoods and goggles and into the wide eyes of my companions, however, I can see that we haven't yet reached that point of safety.
Sean Brooks, the other mountain guide, starts gesturing and shouting wildly. I cannot hear a single word but I can guess what he's saying: we need to transition to crampons and ice axe and get off this pass fast.
Clipping free of my skis and sitting on them for fear that they'll be flung off the side of the mountain, I begin fitting crampons. The six of us are virtually side by side but the wind entombs us in our own thoughts. Mine are with Shackleton, Worsley and Crean. As heat is stripped from my body at an alarming rate, I can't help but wonder what such weather would have meant for them and the 25 others left behind on Elephant Island whose lives depended on their success or failure.
On May 20, 1916 - 100 years ago - Englishman Sir Ernest Shackleton, New Zealander Frank Worsley and Irishman Tom Crean staggered into the whaling station of Stromness, South Georgia Island. In so doing, the three men simultaneously completed not only the island's first crossing, but also what Sir Edmund Hillary described as "probably the greatest survival story in recorded history''. Indeed, their island crossing was but the final act in an epic journey that began when their ship, the SS Endurance, was crushed by pack ice some 2000km away. It's a story with all the ingredients of a "boy's own'' adventure: southern ocean sailing, undiscovered polar places, desperate circumstances, problem-solving genius and lucky escapes. Moreover, Frank Arthur Worsley was one of our own, which makes the story part of the heritage of our nation.
Worsley was born in 1872 at the then sleepy coastal settlement of Akaroa. Before leaving, our team made a pilgrimage to the old Worsley family farm. These days, the land is under the stewardship of inspirational conservationist Hugh Wilson, but in Worsley's time it was a typical pioneering property. His was a childhood I could well imagine, a mixture of hard physical work and daring pastimes. His days on the farm were the building blocks of a remarkable life of adventure, which included his time as captain of the Endurance. Although easily overlooked, his contribution to the survival of Shackleton's crew was pivotal. It is perhaps best encapsulated by an exchange between him and Shackleton at the beginning of their journey from Elephant Island to South Georgia. Huddled at the helm of their little lifeboat the James Caird, Shackleton said, "Do you know, I know nothing about boat sailing.'' to which Worsley replied, "It's all right Boss, I do.''
In the belief that epic stories of exploration are of enduring value, the New Zealand Antarctic Heritage Trust, an organisation with a mission to conserve, share and encourage the spirit of exploration, has set itself the task of keeping such stories alive. With this goal in mind, the trust chose to take three young explorers representing the nationalities of Shackleton, Worsley and Crean on a commemorative expedition to South Georgia with the aim of sharing their experience with others. Yet how does one reach and inspire the current generation with such tales when Facebook and Twitter increasingly overthrow traditional stories and fireside anecdotes? Their challenge became my challenge when, as part of my selection pitch to represent Worsley, I promised to share our South Georgia expedition with the small town South Island schools that I had attended.
But as I stood, conscious of my receding hairline in front of classes of 8- to 14-year-old Kiwi children to introduce our South Georgia expedition, I couldn't help but ponder what I was hoping to achieve. What relevance do the exploits of Shackleton, Worsley, and Crean have to these young people? Would I be able to convey the inspiration I felt and would they listen? I was still contemplating these questions as I set off for South Georgia, carrying a Hampden School tea towel as a "surrogate'' for the children.
Thunnk! I shrank as the wheelhouse door slammed shut behind me. In a room where one could hear a pin drop, that must have sounded like a cannon. During the preceding 72-hour journey, we'd been a raucous bunch, but now the ship had grown silent in anticipation. We were entering King Haakon Bay.
Coughing as the dagger-cold air pricked at my lungs, I leaned on the bulwarks and gazed forward. Dulled by days in the lonely expanse of the Southern Ocean, my senses were suddenly sent into overload. Chinstrap penguins porpoised to port and starboard and a vanguard of South Georgian cormorants steered us towards pointed peaks and snow-plastered walls of rock that reared out of the ocean like the turrets and ramparts of a mystical white castle. It was a place of raw beauty, and it also evoked a strong sense of the past. As our ship squeezed delicately into the bay's upper reaches, I imagined the tenacious little James Caird sailing ahead. Recognising the same glaciers, islands and kelp reefs that Worsley sketched on to his map 100 years ago, I was aware that very few people since had reached its lonely shores.
The elephant seals, too, are still there. Our zodiac taxi, laden with skis and climbing equipment, nosed on to a flat shingly beach littered with them. Worsley had noted their presence with enthusiasm, writing that "the hoarse, coughing, raucous roar of the bull sea elephants - pashas of the harems - told us food would be plentiful''. I confess to being somewhat alarmed by the presence of these monsters and hastened past a battle-scarred bull that had fixed me with its giant red eye.
As the retreating zodiacs became distant specks, it was a strange sensation to be left on that beach knowing that our only transport home was about to sail to our rendezvous on the other side of the island. But with whom was I to share this isolation? There was Nigel Watson, executive director of the Antarctic Heritage Trust and expedition leader; James Blake, an Anglo-Kiwi film-maker and adventurer who had been raised by his father - the late Sir Peter Blake - on bedtime stories of Shackleton; Lieutenant Sinead Hunt, who, like Tom Crean before her, proudly serves in the Irish Defence Force. And then there was Brooks and Nicholas, two skilful and seasoned Antarctic mountain guides with One Ocean Expeditions. The company was reassuring.
Noon had come and gone when we finally got under way, and, although later than hoped, we skimmed quickly across the surface with our lightweight touring skis and synthetic climbing skins. Such equipment, complemented with crampons, ice axe, avalanche equipment, harness, and synthetic climbing rope, are the necessities of the modern ski-mountaineer. But here, on remote South Georgia, our packs were further laden with camping and survival equipment and food for four days.
I wondered what Shackleton, Worsley and Crean would have made of our heavy, tech-savvy approach, or, for that matter, our rather late start. They set out at 3am on Friday, May 19, 1916 carrying just a sawn-off carpenter's adze, 90 feet of rope and food for three days. Although ship's carpenter McNeish had skilfully used screws from the James Caird to give their boots traction on ice, Worsley writes that they were very quickly sinking up to their knees in deep snow. Nonetheless, with straps starting to bite into my shoulders, I decided that while they might have been jealous of our skis, they'd have been mighty glad to have avoided our heavy packs!
Our first taste of South Georgia's notoriously hostile weather came that same afternoon as we crossed the Murray Snowfield. There, relentless squalls drove curtains of freezing cloud and re-suspended snow that transformed my companions into ghostly silhouettes. When the original party were engulfed by thick sea fog in a similar location, Worsley wrote: "Never have I felt so puny, nor realised so clearly the helplessness of man against nature ... ''. I couldn't agree more, and we were navigating with the luxury of a GPS and map! I felt no bigger either, when a momentary clearance revealed our surroundings - a vast, icy wasteland that had us lost like six commas in the middle of a blank white page.
That night, the wind was frightening. In anticipation, we'd sought the only shelter there was - a behemoth of a mountain that stood at the southeast corner of the Murray, its gloomy black flank towering over us like the Gates of Mordor. My camera lens cap had begun freezing shut beneath my jacket as we rushed to fortify our tents in the failing light. We buried our skirting flaps with snow, used skis rammed in vertically as tent pegs, and attached our guy-ropes to ski poles that we'd buried deep in the snow. But it was not the anchors that I worried about as the wind tore through our camp that night. Rather, it was the resilience of the poles that would bend down and slap me on the back with each gust and the strength of the tent fabric, which created a noise Blake likened to the sound of a launching space shuttle. In the morning, my first sight was Blake's eyes streaked with rivers of red. I guess he was as pleased as me that the night was finally over.
Our view that morning was one out of history: the Trident Mountains. It was this crenelated row of crags separating the Murray from the Crean Glacier that was the scene of Shackleton, Worsley and Crean's famous slide. In searching for a safe route to pass through, the three men had chosen the right-most notch and climbed up, only to find, in Worsley's words, "precipices and icefalls, with no possible descent''. Forced to retreat, they'd been repelled twice more before they found themselves standing at the final notch. Yet now it had grown late and a combination of gathering darkness and sea fog obscured what lay below. Deciding that to stay at that altitude through the night would bring certain death, Shackleton instructed that they straddle each other "and slide in the fashion of youthful days''. Of the bum slide, Worsley wrote that "the slope was well-nigh precipitous and a rock in our path - we could never have seen it in the darkness in time to avoid it - would have meant certain disaster''. Ironically, the three men descended the steepest route down.
With the benefit of modern cartography and the experience of Nicholas' previous crossings we headed for the right-most notch. As I looked down at convex rollovers and the foreboding blue depths of giant crevasses, I understood why one might be tempted to seek an easier way. Nonetheless, with careful route selection, we were able to ski an easy gully system down on to the giant Crean Glacier that lay below.
Two things struck me as I contemplated Shackleton, Worsley and Crean's descent route from below. The first was that it was not as steep as I'd perhaps imagined it would be. At about 35deg, the slope is the equivalent of an expert ski run on a skifield. Perhaps more striking, however, are the rocks that now dot their descent route. Their emergence has been linked to glacial retreat. In a recent study that analysed the advance or retreat of 103 of South Georgia's 160 glaciers between the 1950s and 2010, it was found that 97% had retreated. It was also discovered that the average rate of retreat had increased more than four-fold during that same period. It's a sobering thing to see first-hand that even the world's most sparsely-peopled polar places have now been reshaped by the ruthless hand of humankind.
Ascending the Crean Glacier was a struggle. I was reminded of New Zealand's desolate Fox and Franz Josef glacial neves on the west coast of the South Island as the accumulated snows of yesteryear gave way to ocean on our left and rugged peaks on our right. But after a couple of hours of skiing towards a nunatak that appeared to recede at the same pace, I realised that we were contending with a landscape on an entirely different scale.
Shackleton, Worsley and Crean had plodded the same glacier on the evening of the 19th under the luminous glow of a full moon. By this stage, they'd been on the move for upwards of 16 hours and exhaustion was taking its toll. Every 20 minutes, the three men would collapse on the snow and lie spreadeagled on their backs for two minutes. Occasionally, they'd break for a little longer, and, digging a pit in the snow, set their primus to work on a pot of hoosh: a lard-based antiscorbutic concoction that had been their main source of sustenance since leaving Elephant Island. Without mugs, they'd lie around the cooker and dip their spoons in the pot. Worsley described it as an "equitable arrangement'', although at one stage Shackleton accused Crean for having the biggest spoon, to which he replied, "Holy smoke, look at Worsley's mouth.'' It is further measure of the wisdom of these men that they managed to maintain a sense of humour despite their circumstances.
Late in the day, we'd removed our skins and were skiing down the gentle grade of the Fortuna Glacier. We were looking for an offshoot glacier that would take us to our planned campsite on the beach at Fortuna Bay, but a strange potpourri of sun and heavy snowfall was making navigation difficult. I suggested to Nicholas, rather impatiently, that I was sure our trajectory would be too far to the left. Moments later, however, he led us through a veiled gap in the crevasse field and on to a saddle directly above Fortuna Bay. Clearly, I don't quite possess the navigation skills to match the man I was there to represent.
Aware of our absolute isolation, we'd skied very carefully down from the Tridents. But here, above Fortuna Bay, with a firm surface and the joy of a stirring sunset, I allowed my skis to dance a happy jig all the way to the confluence of glacier and beach. Though the downhill skiing won't be one of the first things that comes to mind when I think of our expedition in years to come, the beach on which we dismounted from our skis most certainly will be.
Never in my life have I felt more like an alien intruder as I did on the crowded beaches of South Georgia. The ocean that surrounds the island is home to the most concentrated phytoplankton bloom in the Southern Ocean, and, accordingly, the assemblies of wildlife are simply staggering. That night in Fortuna Bay we ate our meal beside clusters of tuxedo-clad king penguins and then lay in our sleeping bags and listened - awe-inspired - to the nasally roar of bull elephant seals. Still somewhat wary of these slug-like monsters, I remember commenting to Blake that they sounded quite close. He replied that I wasn't to worry because "Watson and Hunt's tent is between us and those elephant seals''.
We traversed Fortuna Bay the following morning with squalls of snow settling like icing sugar on the biscuit brown female elephant seals that lay slumbering above the tide. At one point, we paused to remove our ski boots to cross an icy cold stream and I watched a gang of vulture-like giant petrels squabble over the corpse of an elephant seal pup. Murderous squawks broadcast their ruthless deed, but the adult seals didn't stir. Here, survival seems to squeeze out sentiment.
Although we'd noticed the weather begin to change, none of us had anticipated quite how strong the wind would become on that final pass into Stromness. The mood within the team was that we'd probably completed the hardest part. One senior member had even been heard to utter the famous last words "nothing can stop us now!''. As it turns out, nothing did. Yet as we descended from the pass and out of the vacuum-cleaner - the ferocity of the wind tempered a little by every downward step - the relief among our team was palpable.
Following a team embrace and a celebratory nip of "Shackleton's whisky'', I surveyed the remains of Stromness whaling station. It had a ghostly appearance amplified by gale-force winds that carried shrouds of dusty snow and forced shrieks from the ramshackle buildings. Looking past a series of old warehouses, I could see a derelict house. It was here that Shackleton, Worsley and Crean had found Thoralf Sorlle, the station manager, a man with whom they'd socialised 18 months before.
Shackleton, Worsley and Crean had still been some distance from Stromness when they began to believe that they might just make it, but realising that a break for sleep would probably merge into death, they'd trudged on through the night. At 7am, approaching Fortuna Bay, they heard the unmistakable sound of the whaling station's morning wake-up whistle. That sweet sound gave them a new lease of life which carried them down slopes "so steep ... that we felt an unreasonable fear, whenever we lifted our heads off the snow, that we would fall outwards and down'', across Fortuna Bay, and over the final pass to Stromness.
It was, in Worsley's words, "a terrible-looking trio of scarecrows'' that finally presented themselves to Sorlle at 3pm on May 20. After a moment of silence, Shackleton had asked, "Do you know me?'' To which Sorlle responded, "No.'' When the unrecognisable men finally uttered their names, one can only imagine the goose bumps that arose on the Norwegian's skin. Here were three men that he must have long since given up for dead.
Back on our own ship, and tucked up in my warm bunk that night, I had time to reflect on our adventure. All six of us realised the seriousness of the weather on our final crossing into Stromness. We recognised that, in spite of specialist equipment, we would have been in survival mode had that wind struck us on the exposed and shelter-less glaciers of days one and two. As for Shackleton, Worsley and Crean, already weakened by 16 months of desperate survival and with clothes held together by safety pins, such weather would surely have spelled disaster.
It struck me then that we'd been given a first-hand glimpse of the remarkably fine line that Shackleton and his men had walked between success and failure. It was a line they'd walked, not just on South Georgia, but right from that ill-fated day when the Endurance was crushed by sea ice. Unquestionably, they had incredible luck - for example, a weather window on South Georgia - but that luck would never have been realised if they hadn't been prepared to keep pushing in the face of seemingly insuperable odds.
Such insights helped convince me that there were depths to this historic story that were worth sharing with the schools. That is what I did on my return. But following the school visits, I remained curious regarding their wider relevance to the next generation.
Some weeks later, I went to visit John Laing, the principal of Hampden Primary School to seek insight into what his pupils had taken from their involvement in our expedition. Perched on a pupil's desk, I watched my former teacher settle himself in his chair. Twenty years suddenly seemed like yesterday.
I began by asking him whether he felt that the kids had been inspired in any way by their exposure to our expedition. He directed me back to the thank you letters that they'd sent a few days before. "If you look at the letters that they sent you, they were quite honest,'' he said.
It had been a real buzz for me to read those letters. Some had written about their interest in the equipment we'd used, some of their wonder at South Georgian wildlife, and many of plans to have their own adventures in years to come. He added that he was surprised at how much of it they had retained. "They keep referring back over here,'' he said, as he nodded towards the children's work, a wall of colourful posters and art that told the tale of Shackleton, Worsley, Crean and their ill-fated Endurance expedition. The centrepiece, I noticed, was a rather grubby tea towel.
According to Mr Laing, a fascination for heroic stories like that of Shackleton, Worsley and Crean transcends generations. But he also believed that the interest of Hampden kids was heightened by the small town New Zealand link that we all share with Worsley. "They learned that you don't have to be a recognised adventurer or you don't have to come from overseas ... You can come from smalltown New Zealand - you can come from Hampden - and still have an adventure.''
A chance sighting of a newspaper article then led me to chat over coffee with Damian Scarf, a psychologist at the University of Otago. He'd been researching the increased resilience demonstrated by adolescents who've sailed on the Spirit of Adventure. Dr Scarf told me that participants developed a faith that "if they come up against a challenge, they can look at it ... and they can overcome it''. When told about the character traits Shackleton valued most highly in an explorer - optimism, imagination, patience, and courage - he said, "It's those same traits that we pick up in our resilience scale.''
I felt like I'd hit the jackpot. If, through sharing stories one can inspire adventure, and adventure nurtures resilience, then, 100 years on, the exploits of Shackleton, Worsley, Crean and others are at least as relevant as they were in their own time. There is no doubt that the challenges the next generation face are daunting. But, as Scarf says, we can draw strength and reassurance from past inspiration in order to overcome future challenges. It seems to me that the exploits of the men who successfully completed the greatest survival story in recorded history isn't a bad place to start.
Tom MacTavish is a Moeraki/Otago born conservation worker and keen adventurer. 
• For more information on the expedition to South Georgia, including the route map, visit www.nzaht.org