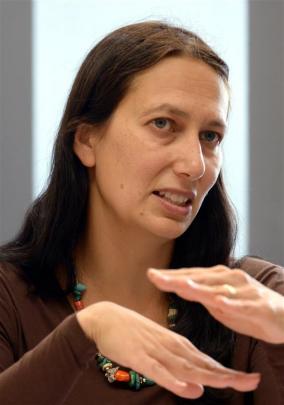 What is the future of the Treaty of Waitangi after the apologies and economic redress? Many will be surprised to discover significant political and legal change could lie just over the horizon. But the public has nothing to fear and much to gain, those involved tell Bruce Munro.
The entrance to the University of Otago Arts Building, where politicos, historians, theologians and literary and language buffs beaver away, is through a tunnel of scaffolding and tarpaulin at the Albany St end of the rectangular four-storey concrete box that has occupied this spot since the late 1960s.
It was officially opened in 1969.
In the same year, former arts student James K. Baxter established his Jerusalem community on the banks of Whanganui River, alcohol limits were introduced for drivers and the first major oil strike was made off the Taranaki coast.
It was the year before a radical new Maori activist group, Nga Tamatoa, would add volume to calls for the Treaty of Waitangi to be ratified; six years before a mass land march from Northland to Wellington would force the Government to establish the Waitangi Tribunal to investigate Treaty grievances.
Associate Professor Janine Hayward's office is on the fourth floor of the building, towards the north end, facing the Cerebos Gregg's coffee factory.
The internal layout, including what is now Prof Hayward's office, does not appear to have changed in any respect during those almost five decades.
But change, if not constant, is inevitable.
Outside her window, workmen are busy hacking off balustrades and balconies before further weighty chunks of corroded concrete fall without warning.
In fact, in another three years the whole building will be pulled down and replaced. And if the offices and hallways have not changed, what is taught and talked about within these walls certainly has.
The conversation Prof Hayward is having now would have been as unlikely as it would have been impossible without the changes of the past few decades.
"We've been doing some really important things for our nation,'' Prof Hayward, who teaches Treaty politics, says.
"The Crown's apologies for what happened are hugely important in terms of nation-building ... The economic redress has really helped to change the economic circumstances for a lot of iwi and hapu.
"What people are much less aware of, is that once that's finished there are still a lot of conversations that the nation needs to have which are still important for the Treaty ... Because the economic issues by and large will have been addressed, but there's an awful lot of political issues still to talk about.''
It is as though there are two parallel histories of New Zealand, Prof Hayward says.
"And the mainstream history keeps getting these really important glimpses of the other history.''
It happened when the land marches of the early 1970s revealed that New Zealand race relations were not as wholesome as many liked to think.
The government of the day reacted by establishing the Waitangi Tribunal.
"It was much better for them to institutionalise all that anger into the Waitangi Tribunal than to have it stay on the streets and cause international embarrassment. Frankly, the Government did not have any clue what they were getting themselves into when they did it. There's plenty of evidence of that.''
As a result, people are now a little better informed. "They generally have a sense that historically something did go wrong, and that the Government is making amends for that.''
But if people are still coming to grips with the detail and meaning of the settlements, they are bewildered by brief sightings of what comes next.
"That was most apparent at the end of last year. The Waitangi Tribunal released its Northland Waitangi Report and the headline from that was that Maori, that the Treaty, did not cede sovereignty to the Crown.
"That's a good snippet of the kind of conversation we've got ahead. Because the thing that the Treaty settlements has not settled is Maori tino rangatiratanga.''
Those who knew Treaty history and were familiar with the Tribunal found the report "no surprise'' and "fairly self-evident'', Prof Hayward says.
"With Treaty settlements and greater economic clout, Maori can make more decisions for themselves. But that is economic independence, not political. We are yet to have the conversation about that.
"It's a really big surprise to a lot of other people. There's a big gap to bridge there.''
Talk of tino rangatiratanga and sovereignty causes fear.
That is not a reason to avoid the conversation, Prof Hayward says.
"When people hear about tino rangatiratanga they think we are going to end up with two parliaments ... That's not the conversations about tino rangatiratanga that I hear about.
"That is why I think it is really important that we start to listen to what it is that Maori are talking about, and realise that what they want to do will benefit all of New Zealand because it will be a good thing for Maori communities to take control of their own affairs.
"If I know that other New Zealand communities are happier and healthier and economically more sound and people are achieving their potential, why would I not want that to happen?
"But I do think it is really important that we have a chance to talk about it so people don't leap to thinking this is going to be divisive, because its actually going to be the total opposite.''
Prof Hayward's career in Treaty politics research had its genesis in Samoa when she was a teenager.
"It gave me the experience I think every New Zealander should have; of being a minority in a culture you are not familiar with. I always, from then, had an interest in why New Zealand isn't doing such a good job in recognising cultures and allowing them to flourish.''
How the "by Maori, for Maori'' conversation will come into the public arena is unclear.
Public protest put Treaty grievances on the agenda, and in the end government drove the Treaty settlement process.
But politicians are unlikely to continue to take the lead, Prof Hayward says.
"That's why I'm interested in the United Nations Declaration on the Rights of Indigenous Peoples, which New Zealand has signed.
"My guess is ... local governments and communities will start to recognise that the kinds of things the declaration talks about make a lot of sense in New Zealand ... It may be more of a bottom-up growth.''
Law 'designed to evolve'
A couple of hundred metres north and overshadowing its artsy cousin is the university's Richardson Building, home to the law faculty.
In the high-ceilinged foyer hang three large panels bearing a poem, Rain, by Hone Tuwhare.
Tuwhare has been described as "New Zealand's most distinguished Maori poet writing in English'', a man merging two worlds in one body, one mind and one extraordinary gift.
On the eighth floor is the office of Prof Jacinta Ruru. Central Otago-raised, of English and Ngati Raukawa extraction, the law faculty's newest professor is excited by a noticeable growth in student interest in the Treaty during the past decade.
Prof Ruru's vision of the Treaty's legal legacy is as unexpected as Prof Hayward's talk of political independence. She warms up to the topic by mentioning the Te Urewera Act 2014, which was a key part of Ngai Tuhoe's Treaty settlement.
The Act recognised Tuhoe as the national park's host and guardian and established a board to provide governance of Te Urewera.
"It is a real example of how we can be thinking in a new, exciting, innovative way, an inclusive way, about the ownership and management of national parks,'' Prof Ruru says.
Ownership begs the question; whose definition of the word is being applied?
"Maori do not use the English understanding of ownership ... The English concept is usually associated with exclusion, being able to do whatever you like with that land; in other words, full alienation right to the land. Those ideas are derived from common law.''
But the definition, according to Maori custom and law, is different.
"It doesn't necessarily mean exclusiveness. It doesn't necessarily mean full rights to dispose of it in any way that one sees fit."
And here comes the surprising rub: "We've already had a Supreme Court decision, in 2012, recognising that tikanga Maori, or Maori law, is part of our common law''.
What Prof Ruru is foreshadowing is a morphing of our law into something that is not Pakeha law nor Maori law, but something new and distinctly New Zealand.
"Yes. I would love that,'' she says. "Law is designed to evolve and be dynamic and be part of society.''
This is the direction that four decades of wrestling with the Treaty is leading us towards, she says, citing Te Urewera Act and other moves by courts to recognise Maori law.
The conversation has already begun, albeit mostly in Maori legal circles. But it has begun to flow outwards.
Prof Ruru is working with Justice Joe Williams on a major book on the subject.
Justice Williams, who was the chief judge of the Maori Land Court and chairman of the Waitangi Tribunal, is now a High Court judge. A team of academics is also involved, including recently appointed High Court judge Matthew Palmer.
The book will cover Maori law, common law, Maori land law and treaty settlements.
It will also look at different areas of law - family law, criminal law, intellectual property law, environmental law - and examine the Maori dimension of that law in the New Zealand legal system.
It will be published later this year.
"We hope this will be a landmark book which develops the conversation,'' Prof Ruru says.
"I think this is a real future for New Zealand; to consider our New Zealand law and the place of Maori law within it.
"It would become a New Zealand way of understanding our legal system and history and future.''
---
The genuine articles
Edward Ellison is cautiously amazed by his iwi's change of status within one lifetime.
Mr Ellison (65), ONZM, is chairman of the Otakou Runanga's external issues group.
He is also chairman of Kai Tahu ki Otago Ltd (KTKO), an iwi consultation service that works with local government, government departments and private parties on Maori-related aspects of resource management, environment and land issues.
He is surprised by progress in the relationship between Ngai Tahu and other parties, especially since the iwi's Treaty settlement in 1998.
"Before the Waitangi Tribunal started no-one knew who Ngai Tahu were,'' Mr Ellison, who was raised at Otakou, on Otago Peninsula, says.
"Thirty years ago, my perception is, we were public enemy number one because of scaremongering by people who thought we were going to claim private property and so on.
"It has gone from that to a much more mature and informed and engaged and relaxed relationship, such that now it is productive.
"I've seen that in just one short lifetime; it's quite amazing.''
But he remains cautious about how the partnership relationship will develop, particularly with government departments.
"In my view the threats come from the Crown's capacity to change shape, colour and personnel; to reshape themselves,'' Mr Ellison says.
"There is always the risk when you've got governments restructuring or changing the way they do things that the settlement we signed up to fades away.''
The Department of Conservation (Doc) is a case in point, he says.
"Doc, with the significant change there, it's become difficult to have our traditional interests understood and recognised.
"That's no criticism of the local people. It's the restructure that has created these gaps. So, places that are of high importance to us, we're not aware of what is going on with them.''
In November, the iwi found out by chance that someone wanted to alter the natural bridge on the Kawarau River, a site of significance about which they should have been consulted.
"It's an example of how, when change occurs, they need to make sure it is not harming the Treaty relationship.''
Mr Ellison says Ngai Tahu is not pursuing allocated representation on local government councils.
"We try for the structured relationship so we have the engagement, not with an individual who is put there, but meeting with representatives in a structural way ... so we can engage on important issues and work them through and have a strategy to work together.
"That's how we have been going about it.''
The Otakou Runanga continues to seek a mataitai, a customary fishing reserve, in Otago Harbour.
The maitaitai, which it applied for in 2008, would allow the runanga to manage all non-commercial fishing in the harbour.
"We are waiting for the minister to decide on that. We've been told, yes the decision is close at hand, but there's been no clear indication of when.''
If granted it would be "a significant venture in the city'', Mr Ellison says.
The Treaty settlement and the way it continues to be worked out has changed how Mr Ellison feels about his homeland.
"Oh yeah. It's not there yet, but I think it is starting to reflect what our ancestors thought they were signing up to.''
---