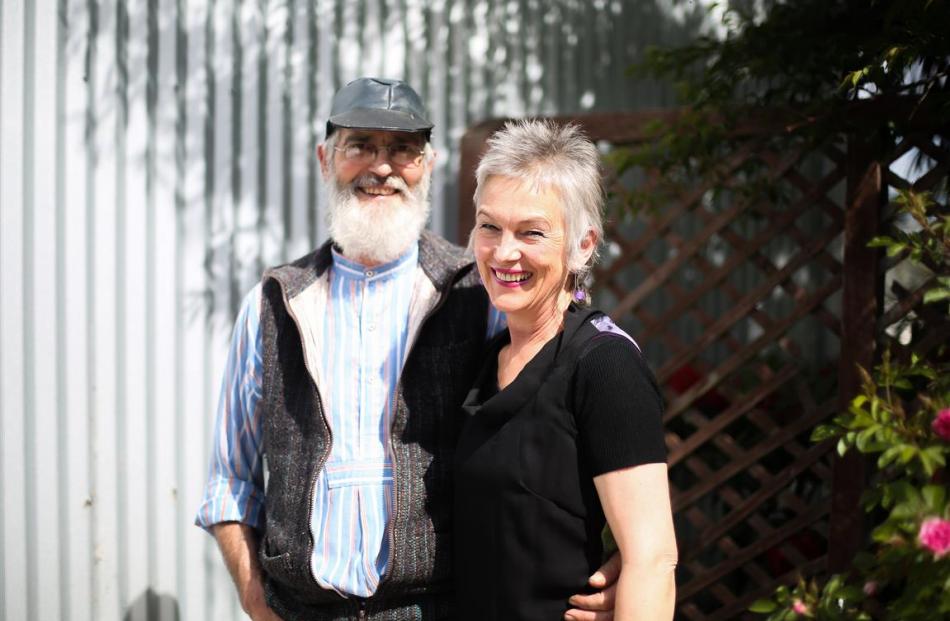 Designed in 1918 by George Hattersley, the Hattersley Domestic Weaving System became the mainstay of the Harris Tweed industry for the best part of the 20th century and provided soldiers injured in World Wars 1 and 2 with rehabilitation and a means of earning a living. Now the looms have played a similar role for Rod and Sue McLean, writes Rebecca Ryan.
In a shed at the back of his Greta St home, Rod McLean sits at a Hattersley loom and clatters it into life by pedalling. Weaving with the full antique Hattersley Domestic Weaving System has become much more than just textile art for Mr McLean.
The looms, and the art of weaving, has helped him through some of his toughest years, playing a huge role in his rehabilitation after a brain haemorrhage and contraction of myalgic encephalomyelitis, a form of therapy after the death of his son Lachlan in a house fire in 2007, and now they have become his and wife Sue's main source of income.
The McLean & Co story started in the small Southland town of Tuatapere in 1979.
After graduating from teachers' college, Mrs McLean was posted to a teaching position in Tuatapere and in her first week in the deep South she met and fell in love with local lad Mr McLean. They married the same year.
In 1988, as the result of an arteriovenous malformation, Mr McLean suffered a brain haemorrhage. He was a 31-year-old self-employed plumber, and Mrs McLean was pregnant with their third child, Lachlan.
Mr McLean survived, but required extensive medical, physical and social rehabilitation.
Then, three years later, just as some normality was returning to their lives - and Sue was pregnant with their daughter Rhiannon - Mr McLean contracted myalgic encephalomyelitis (ME).
In 1993, with their four small children, Mr and Mrs McLean moved to Oamaru.
As Mr McLean was unable to work, Mrs McLean was the sole income provider for the family, teaching part-time when the children were young, and then full-time as they grew up.
Working around the constraints of his illness, he cared for the children after school and gradually renovated the family home.
Mrs McLean's respite from the associated stresses of being sole provider came creatively, particularly through her love of vintage textiles.
After exhibiting some of her stitched artworks in 2001, she went on to complete her City and Guilds certificate in design and stitched textiles.
Then in 2005, they were told of a set of Hattersley looms for sale in Lawrence.
They purchased and transported the Hattersley Weaving System, which included three looms, a bobbin and pirn winder and warping mill, to Oamaru's Victorian Precinct. But the system was in a state of disrepair.
Only one of the three looms was working before Mr McLean restored them to full functionality , all the while learning to weave with help from the previous owner, a variety of books and much trial and error.
The couple dreamt of turning their weaving endeavour into a retail experience in Oamaru's Victorian Precinct, where people could see the looms working and buy their textiles and product.
All plans were put on hold in August 2007, after the death of their 18-year-old son Lachlan in a house fire. The looms did, however, play a huge role in helping the couple through the grieving process.
Mr McLean built a shed behind the family home in Greta St to house the looms, and moved them in the following year. He wove, she stitched, the pair's efforts resulting in an exhibition of Mrs McLean's works - "Echoes'' - depicting the turbulent period following her son's death.
"It was the best thing that we did - building the shed and bringing the looms home,'' Mrs McLean reflects.
Now, the great plans for McLean & Co Weave and Stitch have been revisited and revised.
Mrs McLean has left her full-time teaching position at Oamaru Intermediate School and studied small business management through the Southern Institute of Technology.
Using their antique looms, they are weaving short runs, of up to 200m, of traditionally inspired tartan and tweed fabric using New Zealand wool and alpaca fibre and selling fabric by the metre, as well as a range of limited edition textile pieces, including baby blankets, scarves, throws, wraps, purses, coasters, brooches and bow ties.
They sell online and at various markets around the South Island and are in talks about possible exporting opportunities.
The products' image and the unique story behind their journey had proven to be powerful marketing tools.
"People are always astounded and awestruck about the whole thing, the quality of the work and the fact that for every thread that runs across the fabric, Rod has actually pedalled it,'' Mrs McLean says.
"It's not a machine. If he doesn't pedal, nothing gets woven. You can't flick a switch, because there's no switches to flick.''
Their Hattersley domestic weaving system is believed to be the only full set of its kind in New Zealand, and possibly the world.
Most looms had been broken up, separated, smashed or melted down as they became obsolete in the modern industrial fabric industry.
"They are unique and the fact that the whole weaving system has stayed intact since it was manufactured in the early 1900s is pretty incredible, really,'' Mr McLean says.
"They work perfectly and, best of all, they work without electricity.''
For Mr McLean, it's a stimulating hobby.
"It's really satisfying and also, it's a bit like life. Once that shuttle has gone across, you've got to let it go, because it's coming back the other way,'' he said. "And if it's not, there's a very good reason for it.''
He is in the shed for at least six hours each day, except Wednesdays, when he can be found working at the Resource Recovery Park.
Because of the looms, her husband's health and mental acuity had improved greatly, probably 100-fold, Mrs McLean says.
Their income has slumped since Mrs McLean's career change, but their love of the looms and the fine fabrics they produce more than compensates.
"Like most things in our life, it seemed like a good idea at the time,'' she says.
"Sometimes I think it was a wee bit crazy to give up a permanent job, but overall I'm really happy that we're doing this together.''
Mrs McLean would love to see a high-end artisans' co-operative established in the Victorian Precinct, where she would also like to have a retail space for McLean & Co one day.
Right now, though, the biggest opportunity they see is to have all three looms in production and to be exporting fabric.
"In which case, Rod needs to find two more weavers, with me possibly being one part-time,'' Mrs McLean says.
Getting to grips with the intricacies of the looms has been a steep learning curve, and it had not flattened out yet.
But it has become easier and, as Mr McLean continues to learn, he is acquiring quite a stockpile of fabric.
One of the children's bedrooms has been turned into a sewing room and fabric storage area.
Mrs McLean is soon to become a weaving apprentice.
"I will be out there weaving in the next wee while, particularly as we start to develop some market contacts.''
Their aim: to live and share their passion for sustainable skills and textiles, conserve, use and promote their Hattersley Domestic Weaving System, share its history and protect its future.
"Because there just aren't many people who know how to weave and even less people who know how to weave on Hattersley looms,'' Mrs McLean says.
There is no instruction manual and there never has been.
Like all traditional skills, it has been passed down through generations.
None of their children - now aged 30, 29 and 24 - have expressed an interest, but they support their parents' new passion.
"After expressing disbelief of such a crazy idea, they are now embracing it and are really proud of us, but have no desire to follow the same path,'' Mr McLean says.
The couple hope to extend their Greta St home to have a self-contained room where people can stay, get a traditional Oamaru experience and learn to weave.
"That's in our business plan. We're just waiting to fall down a money mine.''